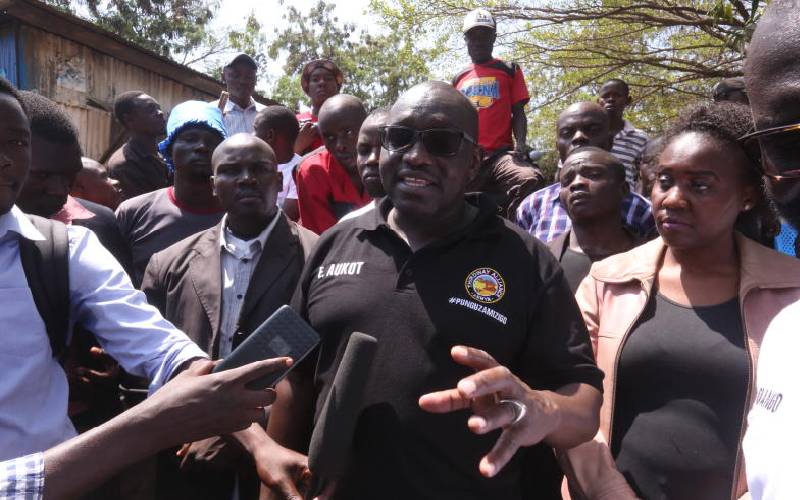 The Murang'a County Assembly has rejected the Punguza Mizigo Bill, with members describing it as a waste of time and arguing that there were no avenues for them to push for their interests.
The MCAs said if the proposed constitutional amendments were allowed, they would kill the spirit of devolution and affect representation in the county assemblies and National Assembly.
In the Motion moved by Majority Leader Erick Kamande and seconded by Kamacharia MCA Wambugu Mwangi, the members accused Third Way Alliance leader Ekuru Aukot of "having sealed" avenues for public input on the Bill.
The assembly delayed to start deliberations on the Bill for two hours, with the members said to be holed up in a hotel located at the border of Murang'a and Kirinyaga Counties, where they deliberated on the merits and demerits of the proposed legislation.
They arrived at the assembly at 4pm and proceedings kicked off at 4.20pm, with Kiru MCA Morris Thuku as the temporary Speaker.
"I was nominated by the Jubilee Party to champion interests of the youth, among other marginalised groups. The sponsor of the Bill made a great mistake of failing to involve the public, which is against the Constitution," said nominated member Stephen Chege.
Kagundu-ini MCA Peter Mburu said the Bill was a letdown despite being popular with the public.
"The author failed to give assemblies the platform to have their input considered in the final draft," said Mr Mburu.
Kimorori MCA Amos Murigi said the draft Bill was outdated and should not be allowed.
"I am against the Bill because if it is allowed, it can plunge this country into chaos," said Mr Murigi. Others who opposed the draft were Cyrus Mwangi (Gaturi), Caroline Njoroge (nominated) and Passy Njeri (nominated).