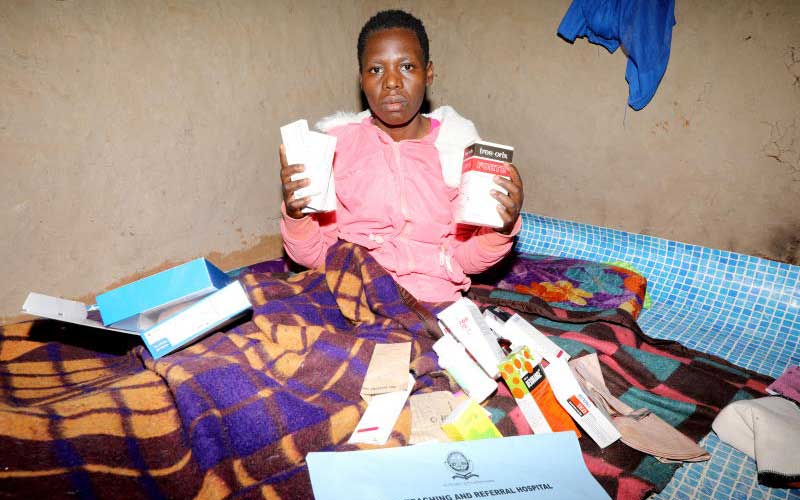 Lucy Adhiambo's life has been a cocktail of problems, and it keeps getting worse. When we meet at the Kisumu Ndogo slums in Langas, Eldoret, she is lying helpless in a mud-walled room. Adhiambo, 21, has been battling cancer for two years now and is living without a rectum. Her rectum was removed during a surgical operation as doctors battled to tame a fast spreading tumour. The former street child and mother of three, who has just been discharged from Moi Teaching and Referral Hospital (MTRH), struggles to speak amidst pain. Beside the four-inch soft foam mattress she lies on, is a box full of drugs, perhaps to alleviate the pain. It also contains 40 colostomy bags, which enable Adhiambo to pass stool. "My rectum was removed in 2017 and I have been using colostomy bags since. The upper part of my colon was blocked during the operation," says Adhiambo.
SEE ALSO: How umbilical cords can save lives of cancer patients
The once promising tailor uses two colostomy bags daily, with each bag costing Sh1,000. Her health problems started in March 2016 when she developed stomach pains and later spotted traces of blood in her stool. "I felt tired all the time. I went to MTRH in May 2016, where I was treated for typhoid for about a year, but the bleeding persisted. I went back to the same facility a year later and doctors discovered a tumour in my lower abdomen. They recommended further check up," she says. Adhiambo was referred to St Luke's Hospital in Eldoret for magnetic resonance imaging (MRI). In September 2017, her doctors found out that she had cancer.
SEE ALSO: Are cigarette alternatives the lesser evil?
"I was shocked. I cried a lot and there was nothing I could do. I had to undergo surgery at Kenyatta National Hospital to stop the tumour from spreading to other parts of the body," she says.
Raptured stomach
Adhiambo was admitted for three months but her condition did not improve. "The cancer spread after the surgery. My stomach raptured and I would vomit a lot. My tummy started swelling and an excruciating pain consumes me," she says. The patient went back to MTRH for chemotherapy, and that is when another nightmare began for her.
SEE ALSO: I ignored anti-smoking warnings, now I use a machine to speak
"A well wisher had paid my NHIF cover for a year. I was helpless, I had to take my three children to a children's home. Some well wishers have been paying for my chemotherapy sessions, even though I have missed several," she says. The mother has been at MTRH since December 2018, and was discharged a week ago to seek palliative care at home, where she has been surviving on milk and bread donations from neighbours. The ailing woman who is scheduled for further operation says her right leg is paralysed and doctors say the cancer may have spread to it. At her new home, she is attended to by community Social Worker Benson Akumu, founder of Amazing Grace Treat Care Initiative. "We rented a single room for her because she had been sleeping on the streets. Life has been difficult for her," he says. Dr Jesse Opakas, a radio oncologist at MTRH, says colon cancer at an advanced stage can be handled through palliative care. The oncologist says that counselling and education are key in stabilising the patient. "At locally advanced stage, colon cancer can be managed through chemotherapy alongside surgery. Chemo will only slow down spread of the cancer," says. He adds the tumour can fast spread to all body organs, except the hair and nails if not managed at early stages.