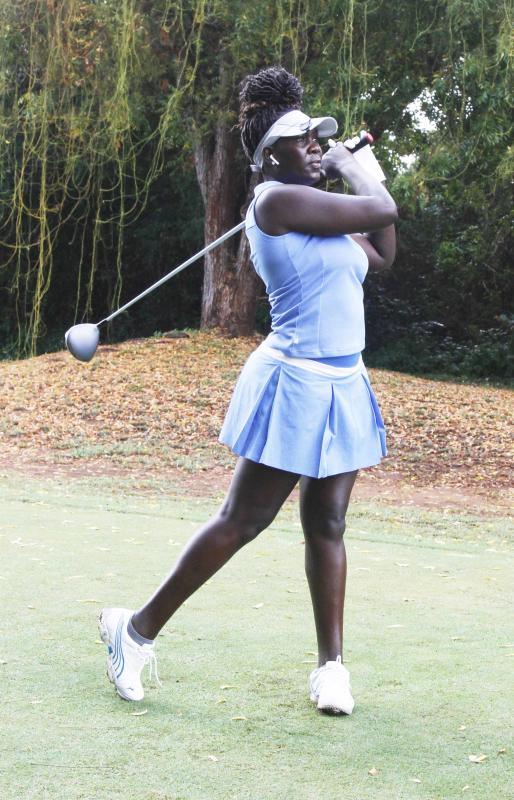 Evelyne Akinyi surprised a team of 109 golfers when she won the overall title in the Corporate Social Responsibility (CSR) Golf tournament at the par 71 Nyali Golf and Country Club, in Mombasa, on Saturday.
It was not an easy victory, however, after the handicap 31 rookie golfer survived on a two-way countback score of 39 stableford points to claim the title.
She had returned a low 17 points in the first nine and slightly improved on the second nine with 22 points to register her first major victory this year.
"I am happy for the win and will continue to practice more so that I can improve my swings and drives. I'm aiming for more victories in the coming events. We really enjoyed every moment of the game," said Akinyi.
She had tied on the same score with handicap 15 Lumatete Muchai, who finished second, while handicap 29 Charles Ndegwa was third.
Handicap 22 Justine Ongere won the guest prize in the day-long 18 stableford tournament.
At Ruiru Sports Club course, handicap 25 George Wandera posted 65 nett to emerge the men winner of the club's February Monthly Mug event played on Saturday. Handicap 18 Berenju Mugo was the runner-up on a score of 71 nett.
Jane Kanari, playing off handicap 26, was the Lady winner on 74 nett, while handicap 17 Lucy Kwendo, on 75 nett was the lady runner-up, while handicap 29 Joshua Wachira with 71 nett, triumphed in the Division Two category.
Handicap 13 Maina Nduati returned a score of 77 nett to lift the Guest prize title.
P.N.Gaitara, playing off handicap 14, won the first nine prize with 32 nett.
In Kericho, handicap 31 Kenneth Maritim returned a score of 47 points to emerge the overall winner of the Crown Paints PLC 2022 golf tournament.