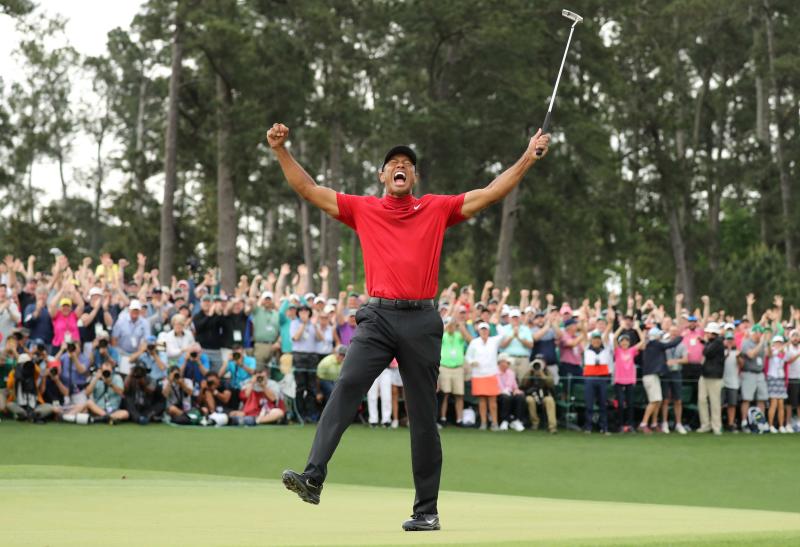 2019 was one great year in golf, both at the International and Local Tours. The biggest stories in golf this year was Tigers Woods returning to the winner's podium by winning the Masters after an eleven-year hiatus. That caught us napping. Or maybe not. After all, he had fired a warning shot across the bow when he won the 2018 end of season Tour Championship, in a field that comprised the 30 best golfers that season. The 2019 Masters win was truly amazing after a decade of psychological and physical challenges that had haters celebrating his every mistake, sponsors ditching him and wife decamping.
SEE ALSO: Young Din is keen to dim bright stars
The big question is whether he will win the Masters again this year, as defending Champion. He just might. When Tiger launched his career, he made it clear that his lifetime goal was breaking Jack Nicklaus' Masters record. Nicklaus record is 18 wins. Tiger is now at 15. To be truly the GOAT in golf, he has to get to 19. My contention since year 2008 when his knee and back started acting up, was that he will not. I still stand by that bet, but would love to lose it! To remind us that he is still on the hunt for records, in October 2019 Tiger won his 82nd PGA Tournament at the Zozo Championship in Japan, tying the long-standing record held by Sam Snead.
What a blast!
Here is an easy prediction you can take to the bank: Tiger will break the Tour record next year with his 83rd win. Just imagine what a blast it will be should that happen at the Masters!
SEE ALSO: McIlroy calls for more majors at public courses
What is also true is that Tiger's body conditions shall again be a crucial factor. He had undergone so many surgeries on his back, including fusing some of his back vertebrae, as well as his left knee that have limited his famous wrap around swing finish. Nowadays, his swing finish is so stiff it looks like a robot. He will want to save that knee and back. The strategy we saw him adopt last year was playing a minimum number of Tournaments, and only getting aggressive on competitions that he truly felt he had a chance to win; like at the Masters and the Zozo. We noted his almost deliberate mediocre performance at the other Majors once he knew he was out of contention. No need to push the envelope, just play a B game. For us Kenyans and East Africans, the biggest news this year was Kenya holding two maiden European Tour events: The European Tour and Ladies European Tour status.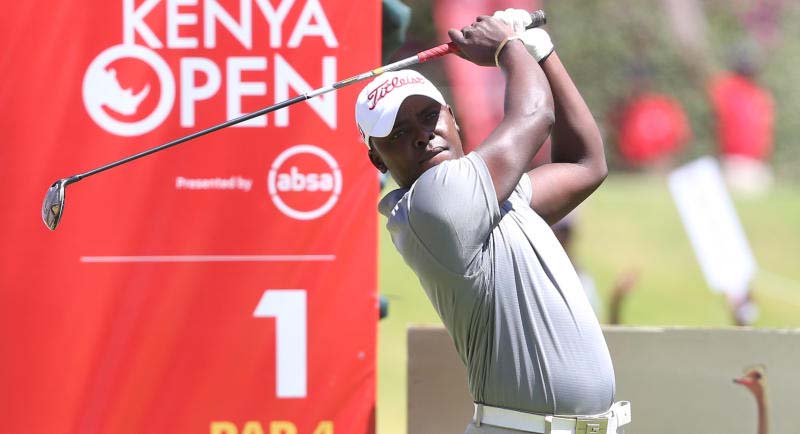 SEE ALSO: Lowry far from complacent a year after first major win
With an increased prize kitty of €1.1 million (Sh126 m) the European Tour boys came running from all over the planet for the points and the Race to Dubai Points. In attendance this year were three immediate past winners, Shubhankar Sharma, Sebastian Soderberg, and Lorenzo Gagli. But true to its penchant for launching new unexpected champions, a new winner, Italian Guido Migliozzi, emerged. Our boys didn't do well, once again. But we noticed the emergence of some promising talent, in particular, one Simon Ngige being the best placed, tying for 25th position. His chip-in at the last hole was a classic, "Take that; I will be back!"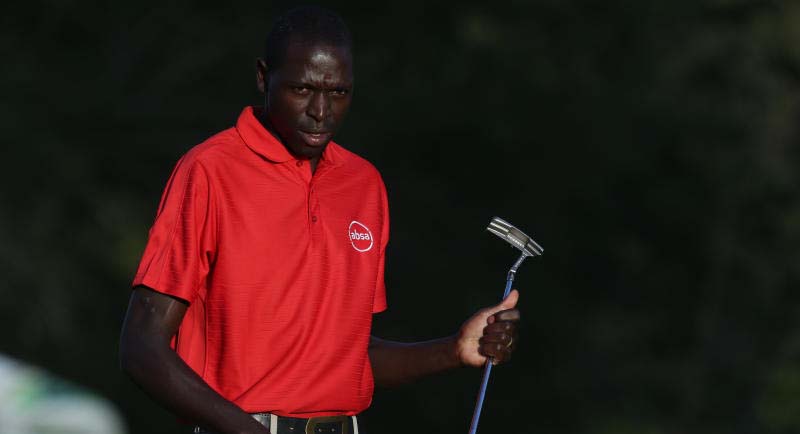 The only other Kenyan who made the cut was Justus Madoya, who sneaked in at the cutline. He would later prove his mettle by winning the Entebbe Open round of the Safari Tour in November by an incredible eight shots. For these two main achievements, I would declare him the 2019 Kenya Golfer of the Year. His team with amateurs Maurice Monni, Abner Onsomu, and Joshua Ichangi won the Safari Tour Pro-Am event. At the Kenya Open, one could not help noticing the huge age difference between the Kenya Pros, the oldest being more than twice the youngest. We need a younger brigade, one that can be trained and invested in over the next five to ten years if at all we shall ever see better results from the locals. On the local Tour, Dismas Indiza was not able to secure a sixth Uganda Open Title but he proved his mettle by breaking the course record at the new Serena Course on Lake Victoria. Uganda's Pro Ronald Otile could only stare in disbelief when the record he had set at 6-under 66 two days earlier, was smashed by Indiza's 9-under 63. At one point, Indiza had fired seven birdies in eleven holes. Indiza would also win the Great Lake Naivasha round of the Safari Tour in November. This Madala has game, or lacks local competition.
In Uganda...
University of New Mexico Alumni, Zambian Madalitso Muthiya won the Uganda Open this year, his second one. That raider from Kilimanjaro, amateur golfer Victor Joseph, who snatched the Muthaiga Open in 2018, beating Pros in the process, raided Kenya again this year.
Safari Tour
This time around, he challenged our golfers at the Kenya Amateur Strokeplay Championship played at the Thika greens course and won. That earned him a slot in the 2020 Kenya Open. The other greater Milestone for Kenya golf was, of course, the launching of a 12-event Safari Tour mentioned above, that would be held in four East African Countries; Kenya, Uganda, Tanzania and Rwanda, the Kenya Open Safari circuit. Tanzania and Rwanda were to host one event each, while Uganda would host three. Kenya had the other seven. Kenya Open Golf would support these events with a minimum $10,000 sponsorship for each event. Even better is that apart from these events serving as qualifiers for the Kenya Open, they would also hold parallel events for amateurs, juniors, and ladies, to grow the game of golf in the region, reaching a wider catchment and providing a path and opportunity to budding Pro golfers. Muthaiga's Greg Snow drew first blood, by winning the inaugural event at Nyali. Tony Omuli would win the third leg at Royal Nairobi Golf Club. A beautiful development, on this year's Safari Tour was the emergence of a new Lady Pro, Bhavi Shah from Mombasa. Since the days of Rose Naliaka, no other lady has turned Pro in Kenya. But on the other hand, we don't have a Pro Ladies Tour in East Africa. Uganda's Flavia Namakula has been playing on the South Africa Ladies Tour. Now she has competition. Without a Ladies Pro event, these two ladies had to tee it up with the men, from the Men's tees, a huge disadvantage. We need more ladies to turn Pro, and to set up a Ladies Tour. We do have some great lady golfers who qualify to turn Professional. The likes of Kenya Open winner Kelly Gachaga, and Tanzania's Angel Eaton and Madina Iddi. It's time, ladies, what are you waiting for? The other big story in golf last year was the issue of Slow Play in golf. Rounds are taking too long and playing is getting boring. Even watching on TV has become challenging. Slow play was terribly visible at the Ladies Solheim Cup, the bi-annual competition between USA and European lady golfers. Some matches took an atrocious six hours to complete. As much as weather conditions were tough, that was way too long. This of course came in the wake of even worse slow play antics by JB Holmes and Bryson DeChambeau at the PGA Tour. The European Tour finally said, enough is enough and has enacted new rules that will see players slapped with penalty strokes and substantive cash penalties.
No slothing around
Groups found slow will be put on the clock and warned. Those who incur two bad times will suffer a stroke penalty. Hopefully, that will help keep up the pace. Closer home, some regular and avid golfers have quit playing competitions because of slow play. In an upcoming issue, this column will suggest strategies that can help our golfers keep up the pace during our competitions and social rounds. As we said before, it is golf, not a wedding march. Other notable golf notable events last year include Kyle Berkshire crushing a 426-yard bomb at the final of the World Long Driving Final to clinch the title. Chloe Garner took the ladies' title with an outrageous 346-yards drive! I wonder how many of our famed Long Drivers here can beat that. In the local Team competitions, Uganda beat Kenya to retain the 2019 Africa Region IV Golf Tournament played at Bujumbura Golf Club, Burundi. Uganda also beat Kenya at the Kenya-Uganda Victoria Cup, after losing the last three times, by winning 14 points. The King of the Hill this year was Brooks Koepka who won golf's Ballon d'Or, the prestigious PGA of America Player of the year award, retaining it. But the PGA Tour players dissed him and voted Rory Mclloy the PGA Tour Player of the year, the latter being decided by Tour Members voting.
Stop the drama
A case of Sour Grapes by the PGA Tour players? Maybe, after all, he is still World Number one, having kicked their butts the whole year, and the one before. Stop the drama, and up your game, guys. Our year in golf in Kenya ended on a high with the staging of the inaugural Ladies Kenya Open as a European Tour event at Vipingo Ridge's Baobab course. It was the last event on their calendar and the Order of Merit Title was at stake. And what a spectacle it was!. German teenage rookie Esther Henseleit executed a 10-shot swing to overcome a 7-shot deficit going into the last round for a one-stroke win, with a course record 8-under final round. This was a shock to Order of Merit leader Julia Engstrom who had led on all the previous three days, but suffered a stomach ailment and dehydration. Our Kenyan girls fared badly. Naomi Wafula, who has recently been teeing it against the Pro Men from the back tees, returned the best result, but sadly did not make the cut. There is still a lot of work to be done by our Kenya Pros, both men and women. Vetlab's teen champion Chanelle Wangari played at Vipingo, is well aware of this and has been taking notes. Here is to a great 2020 golfing year. Keep it in the short grass.
[email protected], @pigamingi1