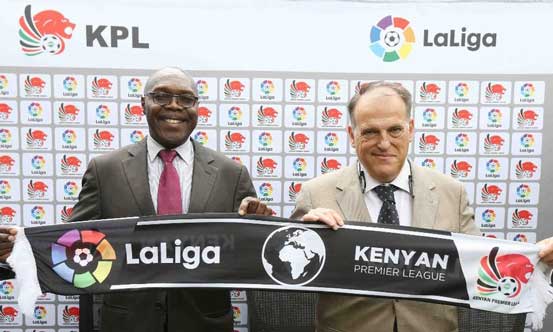 Kenyan Premier League All Star team will tour the Spanish LaLiga from July 17-25 where they will play two friendly matches with yet to be disclosed teams.
The team leaves for Spain four days after champions Gor Mahia will have played English Premier League side Everton in Dar es Salaam Tanzania.
Throw in the SportPesa All Star team that visited England to play Hull City and a return match to be played in Nairobi.
Mathare United's pioneering partnership with the Dutch Football Association (KNVB) introduced many young coaches to coaching methods abroad.
Train sports managers
On the financial front, several betting companies are now having a look at the Kenyan game. SportPesa title sponsors of the Kenyan Premier League besides also funding Gor Mahia, AFC Leopards and Nakuru All Stars.
Add Betika (Sofapaka), Elitebet (Ulinzi Stars), Betway (Mathare United) and Dafabet (sponsors of Celtic, Burnley, Blackburn, Sunderland) who have also set up shop in Kenya.
Before the deal became sour, Supersport put in over a billion shillings in local football besides training sports managers in conjunction with Strathmore University.
We have to pose there and ask; Just how lucky can Kenyan football get?
At first, when I heard LaLiga President Javier Tebas Medrano was to visit Kenya where a partnership with the Kenyan Premier League was on the offing, I said to myself, 'wait a minute, Kenya?'
Champions League
It was akin to Biblical stuff of Jesus telling Zacharia, 'come down today I will have a meal in your house.'
LaLiga president took time off his busy schedule to have a meal with KPL officials.
To be president of the world's top league means there is a lot of work that goes into it.
The Uefa Champions League trophy has been in Spain in the last four years.
Until Machester United won it last month, Europa League was Seville toy too.
A look at coefficient ranking of the European league's there is a yawning gap between LaLiga and second placed German Bundesliga, English Premier League and Italian Serie A.
And what better way to learn something from the masters of the game than this nascent partnership that begins with a KPL All Star team of 18 players visiting the LaLiga?
Many other countries must be asking themselves as to what is so special with Kenya that suitors are falling over each other to have a piece of her?
It will be preposterous to suggest that there is a lot for LaLiga to learn from Kenya. In any case, we are not a football powerhouse on the continent.
Question is; do Kenyan clubs care? I see in the KPL-LaLiga partnership an opportunity for club linkages, coaches training and an opening for scouts to scour the country for talent for the Spanish football market.
KPL may have had its failings previously but they should be commended for having a presence of mind to sit down have a constructive meeting that resulted in this partnership.
Instead of waiting for manna from heaven Kenyan Premier League club chairmen should be thinking of sending their management teams and coaches to LaLiga to learn how they can manage their clubs.
Harambee Stars coach Stanley Okumbi, just like former Gor Mahia and AFC Leopards coach Zdravko Logarusic bemoaned the slow pace in the local league. Our coaches could learn a lot from this LaLiga partnership on many aspects of the game such as inculcating tactical discipline and sports science.
Tried and tested
SportPesa have demonstrated a willingness to put money in the local game.
Have teams even approached them to fund their capacity building or it is often just hard cash they want?
The tried and tested sage that "teach a man to fish, and you feed him for a lifetime" still holds for our clubs.
Our clubs should use the KPL relationship with LaLiga to learn the best practices. It is far better than always pitching for cash.
Neighbouring countries must be wondering what good Kenyan clubs have done to deserve this interest.
The truth is, nothing. The KPL All Star team to LaLiga has two Ugandans, Martin Kizza and Mathias Kigonya and I am sure deep in their heads they are wondering if ever their country will get such a treat.
Imagine what Tanzanians will be thinking on July 13 when Gor Mahia takes on Everton in Dar es Salaam.
Yet, I am not sure our champion club will come home with a lesson or two. Can we make these favours?
Robin Toskin is the Sports Editor at Standard newspaper.