Factory of factories rolls Kenya innovation wheel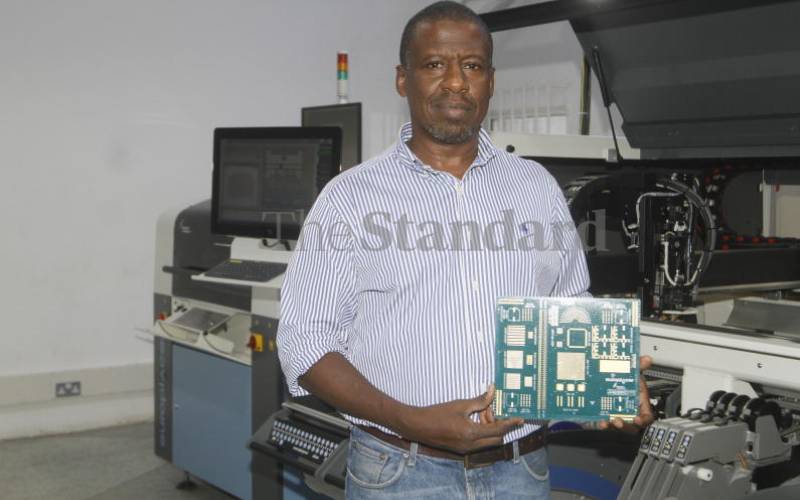 In Nairobi's Industrial Area along Enterprise Road, a local firm is redefining engineering.
At the company's reception, cogs of different sizes and molds are embedded on the wall; parts that you find in a vehicle's gearbox. They represent the firm's identity and name, Gearbox.
When Facebook's Mark Zuckerberg visited Kenya in 2016, he called on Gearbox and marveled at their innovations. Former British Prime Minister Tony Blair visited Gearbox too, as has President Uhuru Kenyatta.
Gearbox was founded as a non-profit innovation hub in 2014, primarily to give engineers a platform to prototype, training them on the finer details of their craft and catapulting them into the market.
One of the masterminds of this hub is Kamau Gachigi, the company's chief executive who also heads the National Industrial Training Authority, a semi-autonomous government body.
While teaching at the University of Nairobi's Mechanical Engineering Department, Dr Gachigi realised that Kenya needed some important adjustments in training to help graduate engineers transition from school to the workplace.
"I realised that Kenya did not have a national innovation system. These innovation systems have been defined by researchers as very important for industrialisation," he said during an interview with Financial Standard.
"I realised that we need a system that is constantly auditing the population for talent, and the talent can express itself commercially."
Take a quick survey and help us improve our website!
Take a survey
He sought help from Crispus Kiamba, the then Principal Secretary for Higher Education, Science and Technology, and pitched the idea of having a lab.
"Prof Kiamba agreed and the ministry bought us Fab Lab in 2009, an idea from Massachusetts Institute of Technology. Fab Lab stands for Fabrication Lab."
The university then set up space in Upper Kabete Campus in partnership with the Gates Foundation, equipped with digital fabrication tools and equipment. Later, Gachigi would be approached by Erik Hersman, who had been involved in growth of local software firm iHub, to set up Gearbox.
"I was the first Gearbox CEO," he said. Gearbox works in the model of a gym, giving people access to machines after they have paid subscription.
"We have equipped the workshops with a lot of machines so people can come and use our facilities to prototype. They pay Sh10,000 a month and then they are trained how to use the machines," the CEO said.
Early on, the model had some drawbacks because young innovators could not afford the Sh10,000 fee, or were not even clear on what to do.
"So we set up Gearbox Academy where students learn things such as digital design and fabrication, embedded systems - because almost all consumer products have electronics embedded - Artificial Intelligence and machine learning," said Gachigi.
The academy charges between Sh40,000 and Sh120,000 for a 20-hour course. Payment is dependent on the cost of the lecturer and what Gearbox incurs to run the course.
Among the many advanced machines in the Gearbox workshop is a Surface Mount Technology (SMT) line where circuit boards are made.
Latiff Cherono, the electronics manufacturing manager, says the machine is able to place 14,000 circuit components in an hour.
The machine, he says, provides an efficiency that should discourage people from contracting other countries for the production of circuits.
"Instead of going to China for the circuit boards, you can make them locally. We are coming to a place where we are manufacturing, not only prototyping. When you get the orders brought back after you have contracted some foreign firm, there are a lot of errors, some due to miscommunication," said Mr Cherono.
Gearbox trains not only graduate engineers but also 'makers' - people that have the gift of engineering but did not pursue higher education to specialise.
"One could be a neurosurgeon or a Standard Eight leaver but have a gift in engineering. We help them all," said Gichigi.