Hollywood is a mix of gold and mould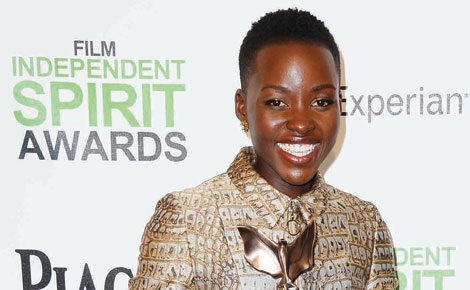 Lupita Nyong'o PHOTO: COURTESY
By GEORGE ORIDO
Los Angeles: Anyone visiting Los Angeles for the first time need not be introduced to what kind of business most residents are preoccupied with.
From billboards to long metro buses, bus stops to tourist maps and guides, TV commercials to newspaper and radio adverts, it is all about new movie releases.
The film industry is serious business in this city started by Mexicans years ago. Today, domestic box office sales for flicks coming mainly from Hollywood and other film-making enterprises in the US total $11 trillion annually.
That is roughly Sh946 trillion or simply translated, 630 years Kenya's total fiscal budget. So versatile is the silver screen sector that it is easy to miss other key economic activities in Los Angeles, including oil mining and one of the biggest IT industries in the world.
That is why film-making in Hollywood is core. With a huge market for movie products, stories and production styles are churned out of studios the way Nairobi's Industrial Area churns out consumer products daily.
Last year, 684 movies were released, up from 665 in 2012. Universal Studios alone rakes in $1.5 billion from TV adverts in the US.
A visit to its studios in Studio City is a marvel and crystal reminder of such big box office hits as Jurassic Park, Non-stop starring Lupita Nyong'o, Desperate Housewives, Snoop Doggy Dog, King Kong and Trek among others.
With bigger demands for entertainment and healthy balance sheets, a group of extremely wealthy individuals have been created. So wealthy are celebrities that their dollars drive fashion trends, beauty products, sports utility, luxury cars and property.
"It is said that Marylyn Monroe would take a minimum of four hours just to dress up for an outing," reads part of the literature around beauty products preserved at the Hollywood Guinness of World Records along Hollywood Boulevard. "These stars are known to own many homes in different parts of the world," says celebrity expert Bob Druwing.
As we drove through Rodeo Drive up the mountains, we get to see the King of Pop Michael Jackson's house, and his mentor Elvis Presley's a few yards away.
Today, the average price of a house in Beverly Hills is $20 million (Sh1.7 billion). Jennifer Hudson lives here, and so does Brad Pitt who two decades ago was a salesman in a gas station along Sunset Boulevard.
This is where Lupita Nyong'o plies her trade now.
Beyond imagination
It is a big a deal to be nominated for an Oscar – the highest ever stamp of approval on quality. Run by the Academy of Motion Pictures, Science and Arts, many an Oscar winner have had their fortunes grow in the industry.
"When I started, this was never in the picture. It is beyond imagination," said Lupita on being nominated for the best Actress in a Supporting Role for this year's Oscars.
Her nomination created a huge buzz, not only because she is Kenyan, but because an Oscar has been elusive for people of colour who have won just 30 since the Academy Awards were started 86 years ago. She made history as the first ever black African and first Kenyan to win an Oscar for her distinguished portrayal of Patsey in 12 Years a Slave.
"Now the sky is her limit," remarked Oscar winner Whoopi Goldberg as she congratulated Lupita on her historical win.
Her director Steve McQueen became the first black to win The Best Picture. "We are very, very happy of her win," said Megan Bophy who is one of her publicists at ID-PR, a consulting public relations firm.
Lupita's sterling performance has made her the most sought-after artiste in Hollywood today.
"She is not just good in what she does, she is beautiful, and she is extremely intelligent," said compatriot Adetokumboh McCormarck.
But not all is rosy for prospectus who want to make a mark in Hollywood. "Hollywood can be elusive and callously indifferent to many who have come here to look for a fortune," observes Ryan Mendez, an hotelier who does film part time.
Discreet nature
He recalls of a young beautiful female student who went to Hollywood but was abused and killed by her producer.
"Many young people's dreams hit a snag here because they come with high hopes and without any education in areas of film production such as camera work, sound engineering and the like," explains Kenya's Humphrey Onyango, who plays small roles in low budget movies.
At a tender age of 24, Peg Entwhitle climbed the most photographed sign in the world, the Hollywood sign, and jumped off the letter H to her death after being frustrated as an actress in September 1932. Locals say her ghost is seen occasionally dangling from that letter.
But many other industries thrive on Hollywood movies. The Hollywood Walk of Fame is one such example, where tourists flock to see the names of their silver screen stars engraved permanently on the 10-km walk.
"I really love Jami Foxx, that's why I must take a picture on his star," says Mary Jackson from Seattle.
Merchandising in T-shirts, caps, bags, and other trophies is big business here with shops raking in billions of dollars annually.
Due to their discreet nature, movie stars shop late in the night and in malls exclusively opened for them.
"We close late for the public but thereafter we are open to celebrities because they avoid the paparazzi," said Richie Evans, a retail mall chain manager on Fairfax Avenue.
In fact, the church of Scientology in Hollywood has more than 10 exclusive celebrity churches where privacy is guaranteed.
Actors Tom Cruise and John Travolta have come out publicly among others to associate themselves with this church that does not base its doctrine on the Bible but the book of Dianetics authored by its founder Ron Hubbard.
In her newly released book, Hollywood Scandals, Michelle Morgan explores 100 years of Hollywood sex, sudden death, robbery, murder and mayhem. They include the tragic death of Whitney Houston, the fatal stabbing of Lana Turner's boyfriend, the disappearance of Walter Collins whose abduction was revisited in the movie Changeling and the sad story of Patricia Douglas who was raped at a party for a production company's executives.
Hollywood is a mix of gold and mould but as they say, only the brave discover the gold.
For William Ray, a 25-year old storekeeper on Beverly Boulevard, marrying and procreation is off-bounds because, "the air in Hollywood is too polluted to raise a child."