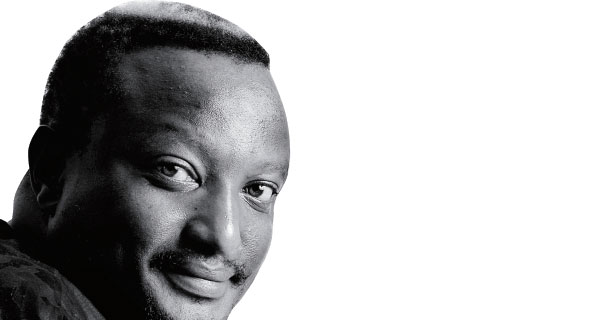 Binyavanga Wainanina
By Mbugua Ngunjiri
Binyavanga Wainanina is an evangelist, and it does not matter whether or not you believe in his gospel – of books and writing – he delivers his message forcefully and convincingly.
When he lifts his fierce pen, he sends his critics scampering; throwing the occasional barbs from a safe distance.
He freely dmits being is a 'loud' person. "I am an impatient person; I like things to move," he offers. "I detest a certain kind of passivity and mediocrity."
He will not hesitate to say whatever is in his mind. "Isn't that what you are supposed to do if you're trying to become a public intellectual or an artist?" he asks rhetorically. "There's always that person who can tell the truth," he explains.
Read More
Binyavanga stormed into the creative and literary scene in Kenya in 2002, when he won the Caine Prize for African Writing at a time when literary fires in Kenya had grown cold.
Ngugi wa Thiong'o was in exile then and the creative scene was largely inactive. Even Ngugi himself had not produced anything substantial in a long while.
Then comes this burly, dreadlocked man, with a strange name, made popular by an international literary prize few Kenyans were aware of. A man quite abrasive in the way he talks and writes.
During the awards ceremony in London, he took a swipe at Kenyan publishers, accusing them of killing Kenyan writing. His artistic mannerism soon attracts followers who identified with his kind of gospel; rebelling against established order, which they felt was stifling creative space.
Before long, the movement had morphed into an outfit calling itself Kwani? – so what? – from the name alone, the defiance was obvious. And this is where the war started.
High priest
This war, like a dormant volcano, occasionally rumbles to life throwing up bad tempered skirmishes over who, or what the Kwani? brigade, with Binyavanga as their high priest, think they are.
Initially, the Kwaninites used to give as good as they got – mostly in newspaper pages – but of late they have held their fire thereby making the fight a boring one-sided affair.
Today, 10 years down the line, Binyavanga, in a wide-ranging interview with The Standard on Saturday, reflects on the journey he and Kwani? have taken. Kwani Trust, starting Wednesday, is marking its tenth anniversary with various literary activities in Nairobi. To help them mark the occasion, Kwani? have invited celebrated Nigerian author Chimamanda Ngozi Adichie, whose second book, Half of a Yellow Sun, won the prestigious Orange Prize.
Binyavanga says it is a big thing that Kwani? is now celebrating 10 years of existence. "Literary or creative institutions don't last past five years," he explains. "This institution has grown.
It outgrew its founder editor (Binyavanga). New people came in and took it over; it is not a single person's project, it is its own thing."
He adds that it is the networks that Kwani? established right at the beginning that have taken it to where it is today. "We built networks with people who formed friendships around the things they loved. African writing at the time had become invisible. You needed to do joint hustle – not just the idea of getting published abroad. We realised almost at the same time (2001-2002) that we had to do local publishing."
Then, Binyavanga was in South Africa for studies.
"While in South Africa, I befriended Ntone Jabe, the person who founded Chimurenga in 2001. Chimurenga took off with a bang 'exploding' across South Africa. Kwani? was born a year later followed later by Farafina in Nigeria."
It has been said that Binyavanga is an excellent marketer and that he can sweet-talk any donor into parting with money to support a project of his choice. He, however, sees it differently. "I am not particularly good at convincing people," he says.
"I tried to convince investors to invest in my restaurant, no one invested. The business collapsed badly. I wasted a lot of years trying to do a B.Com… I failed in my B.Com… I failed six times. But you know, since I was six years old, I loved books. If you want me to convince you about something to do with books, that one I can. I sleep with it I wake up with it. It's in my stomach, people feel my energy."
After dropping out of college Binyavanga did not want his parents to know about it, so he ended up some sort of a vagrant.
His student visa had expired and could not secure a job. He became a freelance writer contributing pieces for South African newspapers. "I was staying in backpack tourist places. I couldn't afford rent, which you paid everyday. I started making African soups (I love cooking).
Learnt to cook
I had lived in campus with Ghanaians and Nigerians and learnt to cook their food. Then I started writing in newspapers about African food, researching African food and recipes, then some crazy mzungu (white man) came and said, "I have this restaurant, do you want to start making African food?" and I said, "sure." Then the restaurant fell apart for the usual reason that you shouldn't have an artist running such a business."
In 2000 his mother died so he had to come back to Kenya. He knew then that he would not go back to South Africa as his papers were not in order.
"I locked myself in my dad's house and started writing. I did not know how I would make a living, but since I had written for some of the largest papers in South Africa, I had already been validated that there was something there, so it was up to me to really work. I would have enough supplies of cigarettes and coffee and do my writing. For the one and a half years, a lot of the body work that carried me for six or seven years was written at that time – the short stories and discovering home. Within two years I had won the Caine Prize."
Before the award Binyavanga's father was getting worried about the direction his son's life was taking. All he seemed to do was write and spend time online where he interacted with the writers' community.
"My dad, who was a consultant was like 'why is my bill so high?' I used to steal his computer at night and work till morning," he says with a smile. "I am sure he knew but pretended not to know. He was like, 'If I leave this son he's going to become a thug on the streets, it seems he's unemployable anywhere else'."
So when he won the Caine Prize and the 10,000 pounds (Sh1.5m) his father asked him to go back to school.
"I talked to the Caine Prize people and they organised a full Masters scholarship in Creative Writing from the University of East Anglia. I did that thing for my dad. I was like, 'I don't want to give you more ulcers; I have given you enough ulcers'," recounts Binyavanga.
It took him close to 10 years to come up with his book, a memoir, One Day I will Write About This Place. It came out to wide acclaim and was even picked by the Oprah Book Club. Then came the 'review' in The Economist. This writer wondered why Binyavanga, who is in his early 40s, decided to write a memoir. When Binyavanga is reminded of the story in The Economist, he laughs in a way that says, 'I knew this would come'.
"I hate people who have secret personal agendas to get at you," he says, slowly at first as he warms up to the subject. "My publisher had sent what is known as an uncorrected proof copy to major papers before publication to see if they would pick it up."
Blood boiling
The Economist picked it up and the result got Binyavanga's blood boiling. He sought to know who had written the piece. Unfortunately for him, The Economist has a policy of not naming their writer. "So, I am back in the country and go to my bookshop and someone asks me 'what did you do to that The Economist correspondent that he's always gripping about you?" The guy is a mzungu novelist, he has two novels out, he was even in Kwani? about four years ago. He was launching a book at the same time my book was coming out, so the guy goes and plants a bad story about my book before it comes out." By now Binyavanga is raising his voice, tapping furiously at the table. "These foreign correspondents don't like the fact that you have a generation of younger Africans who can speak there and here. They are used to representing Kenya there. He doesn't like it that some Kenyan guy writes in The Guardian or somewhere else about here, which encroaches into his territory," he says speculating that his widely circulated story, How to Write About Africa, and which held a dim view of foreign correspondents, must have been the reason behind the 'sneak' attack from The Economist correspondent. "He wrote a book called Giraffe and it is not a bad one, so if his book is not doing well, and it hasn't, that is not my problem," adds Binyavanga. What about accusations that One Day I will Write About This Place makes for complex reading?
"I don't want to be Robert Ludlum – I enjoy his writing – who writes thrillers that are too dry. I wanted a language style that is able to create remembrance, but without that boring thing of "and then we did, and then we went." I wrote it in the present tense so that people are present in the memories of my childhood. I'll do my thing pungently, the way my imagination works. I can't make my imagination become the one that says … then at the climax he died, he fell again… I don't like that kind of s**t, it just bores me." Doesn't he then think he risks alienating some readers who can't hack heavy stuff? "They can read How to Write About Africa… If I wanted a good job, say creative writing, si I would have gone into advertising… then I'd do funky Omo… that's not me… I mean, if I try, I'll fail." "So wajipange?" I ask – it is up to them – "Wajipange," he says with finality. He reveals that his book is doing well in the market. "We just signed the Japanese translation," he says. "Already we have Spanish, German, Italian and Dutch translations. I am just from Nigeria where we launched the Nigerian edition published by Farafina."
In spite of the passage of years Binyavanga still has issues with a certain class of Literature professors who he accuses of harbouring 'Kanu-era thinking'. "You are producing new work and the university establishment is either too tired or too bored to try to read or to engage. I'm still waiting for someone from the universities to do a thorough review of one of the Kwani?'s. They keep talking around it but not inside it. It is not about whether it is bad or good but about engaging with it, even to engage with it to say it is bad."
Binyavanga, however, seems to be calling a ceasefire on the constant attacks from the Kwani? detractors. In his view, local literary debate should shift from the current Kwani? bashing to one where styles of writing – urban-based versus rural-based – are compared and contrasted. "That's a good debate to have, but it has not been made as a debate," he explains. "They are using slogans like bohemian rather than thinking. There's been cosmopolitan writing since the beginning of time, since there was a city built and people were writing on scrolls in Alexandria and China. There were people in the cities and they have never agreed with people in the hinterland, but it does not mean one is wrong and the other is right."
"All I'll say is that I happen to be an Anglo Kenyan, I don't mean an English Kenyan but a Kenyan who has no real deep roots in a village. That is what I can write out of. I am not trying to be representative of Kenyans."
"The other thing is, you don't really plan for the wind to carry you higher than you yourself have planned… which makes it a little bit difficult when somebody else has written a book and the wind hasn't carried him, yet it may be as good as or better than yours."
Kwani? generation
During the early Kwani? days, there was a feeling that the Kwani? generation of writers felt they were too good and that the older generation of writers should give way. Although he does not dismiss this notion, Binyavanga maintains he has never had issues with older writers. "You could not really associate me with that vibe," he says. "The first time I met Ngugi wa Thiong'o – for a writer of his age and achievement it can be daunting, and intimidating – we talk about writers things and in my case Ngugi has just been enormously generous. When they sent him a copy of my book to give his comments, he read it and responded within a week. Last year, we were in Sweden touring together. When Chinua died, we were together. The thing is, the older generation is very welcoming."
Binyavanga is full of praise for Yvonne Owuor's book, Dust, that was launched on Friday. Owuor's short story Weight of Whispers won the Caine Prize in 2003. "Vyonne cannot write a bad sentence. Weight of Whispers is the most powerful short story I've ever read. To date, people say that was the best short story that ever won the Caine Prize. Having read Dust, I can say it will have the same effect Chimamanda's book Half of a Yellow Sun had on Nigerians."
Giving the example of Timothy Kiprop and Clifton Gachagua, Binyavanga says there is a lot of good talent coming through.