How farmer saved business from loss making streak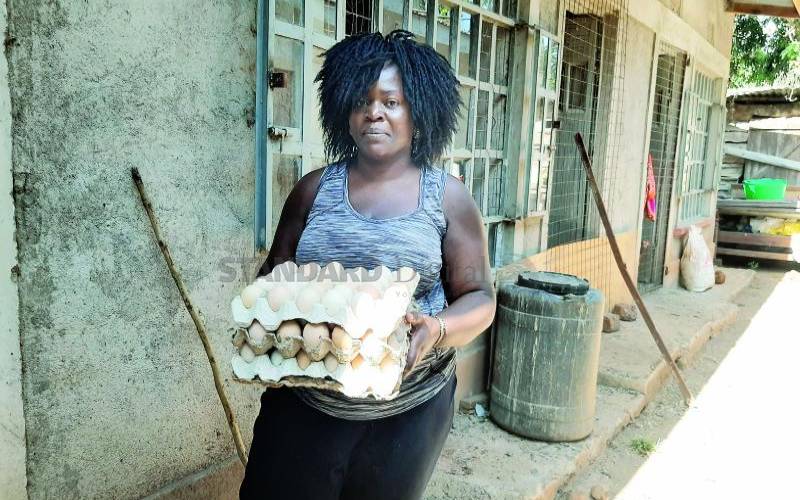 Noel Lutomia lost her job as field project consultant in 2017, and had to think fast on what next. She settled on rearing indigenous chicken breed on her farm in Eshikoka village in Kakamega County.
Ms Lutomia bought five hens at Sh2,500, which hatched and increased to at least 55 birds within months.
Everything was going on well until a disease struck and claimed almost the entire flock.
The mother of one could not understand how fast the strange disease managed to wipe out her birds. She was devastated.
"When I lost my job, I gave poultry farming my all, from my time to resources. It was such a blow! It hit hard. I was depressed," recalls Lutomia.
Not one to stay 'defeated', she picked the pieces again and gave the project another shot after recovery.
"A friend asked me why I had abandoned chicken farming and told me about a poultry farming training that was ongoing and urged me to attend. The training was godsend, and it inspired me to undertake poultry farming like a professional," she says.
To sharpen her skills, the 35-year-old also attended a training programme by Dakasi Poultry Farming in Mumias, Kakamega County.
"I was taught poultry rearing, market research and general management of the birds, including feeding and administering vaccines to improve on production,'' says Lutomia.
After the training Lutomia embarked on a new journey of rearing improved indigenous chickens.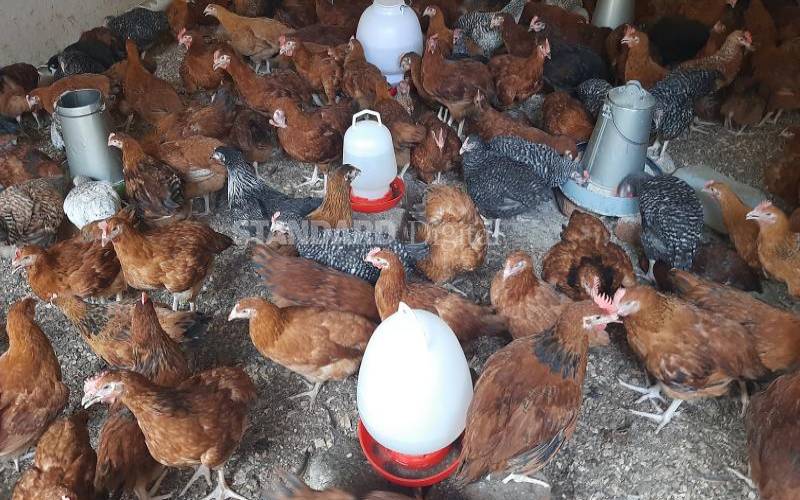 For a start, Lutomia bought a batch of 60.
She has since grown the flock to more than 2,600 birds and targets to have 5,000 in the near future. She is now a large-scale supplier of roosters and hens, especially to hotels.
She collects more than 160 eggs daily, which she sells to retail shops near her.
In a bid to expand the business, Lutomia used her savings to buy an incubator worth Sh60,000, with a hatching capacity of 900 eggs.
Disease management
She says the secret behind her success is being keen on how she handles her chickens and proper disease management and control.
"At week three, I re-administer Newcastle vaccine to my chicks and every month I administer fowl typhoid vaccines," says Lutomia, adding: "I keep my birds in an enclosed premise to prevent them from interacting with neighbours' chickens to minimise infection transmission."
Lutomia has 500 chicks that consume feeds worth Sh3,000.
To address this challenge of feeds, she makes her own meals using sunflower cake, mixed with crushed maize and amino amaranth.
"For my day-old to one-month-old chicks, I give sunflower cake for growth, which is highly rich in proteins. For the two-month chicks I mix sunflower cake with crushed maize, rich in carbohydrates," she says.
"For mature chickens I also use amino amaranth that I mix with water, and it acts as an anti-stress meal to prevent the birds from becoming sick.
For the mature birds she also supplements the meals with sukuma wiki and cabbages.
Currently, Lutomia sells each of the 160 eggs she collects from the improved indigenous chickens daily at Sh20.
The breeder sells a rooster at between Sh900 and Sh1,100 to individuals and organisations.
She says before enrolling for training, she used to collect 60 eggs per day.
"Currently, with the daily income I get, I'm able to educate my child and I take care of my parents," the poultry farmer says. [Benard Lusigi]
Want to get latest farming tips and videos?
Join Us