Emergency medical condition that targets pregnant and aged cows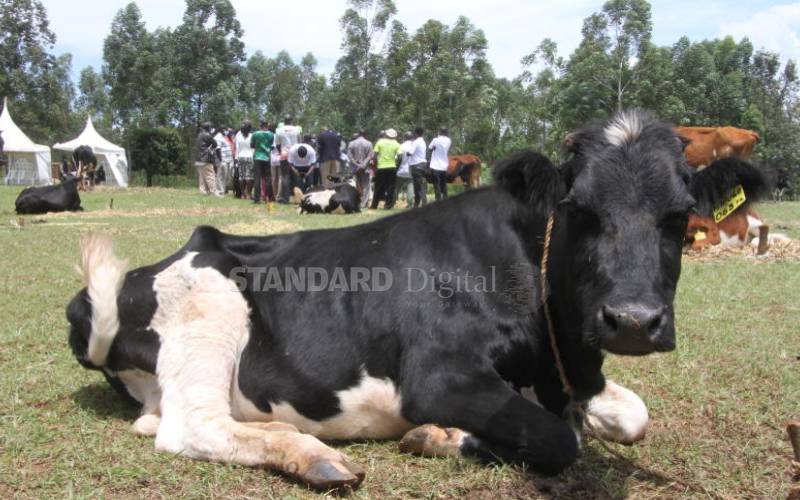 Dear Daktari
I recently went through a scary incident with my Friesian cow which was just weeks away from calving down. Part of its private parts came out in a scary experience. My wife insisted that it was witchcraft since she has never seen such a case in her over two decades of dairy farming. I quickly called in a vet who treated the animal, managed to return the parts inside and the cow calved down a few weeks ago successfully. The vet doctor called it prolapse. What causes this condition and is there anything I can do to prevent it from occurring again? [Jackson Ireri, Mau, Meru County.
Dear Ireri,
Thank you for your question and sorry for that scary experience. Your vet is right to have diagnosed the condition as Prolapse.
Prolapse is a medical term used to describe a condition where a body part falls or slips from its anatomically normal position. It can be scary if you do not have an idea what it is. Your wife is not the first to associate it with witchcraft. I have handled some of these cases in my practice and many farmers link it to black magic.
Treatable and preventable
Vaginal and uterine prolapses are common conditions that can be treated and prevented. So what causes it?
Vaginal Prolapse occurs due to increased abdominal pressure and is common in late pregnancy. It is common than uterine prolapse and presents itself as a pink bulge that can be as big as a ball. Sometimes it heals by itself – retracts once the pressure goes.
On the other hand, uterine prolapse is common immediately following or within a few hours of calving. The uterine prolapse is larger and deep red in colour and covered with the "buttons" where the placenta was attached. Cervical prolapse is common in older cows and occurs late in pregnancy.
Take a quick survey and help us improve our website
Take a survey
Now it is upon the veterinary doctor to classify the type of prolapse and this informs the interventions that follow. All these prolapses should be treated as an emergency and a veterinary doctor should be called in to correct the situation.
The expelled internal tissues are prone to contamination and subsequent infections when combined with bleeding. This condition can be fatal. Sometimes the urinary bladder may also be expelled further complicating the situation as it can prevent urination. The expelled tissue should be cleaned, supported to remain alive while outside and retained into the animal.
Role of the farmer
So what should you do as a farmer when it happens to your animal?
The first thing is to call in a veterinary doctor to examine and treat the affected cow. As you wait for the vet, try to keep the expelled tissue clean. Clean the hindquarters of the cow to avoid contamination if the cow is standing.
Laying down a clean polythene bag can be used to contain the expelled mass. Use warm and not cold water to clean the expelled mass. A warm solution of salt and sugar can be used on the expelled mass to help keep the tissues alive and shrink the mass for ease of returning the expelled tissues back.
What causes Prolapses?
Vaginal, cervical and uterine prolapses are as a result of intra-abdominal pressure associated with calving, certain diseases or trauma. Hormonal changes can also result in prolapses. Difficult birth which results in excessive straining could easily result in a prolapse. When a lot of pressure is applied for example when pulling a calf during birth could also result in a prolapse. Similarly, injuries caused during assisted calving or irritations to the birth canal can cause prolapse.
Poor nutrition
Poor nutrition and obesity (common in vaginal prolapse); high legume diets can also cause prolapse. Vaginal prolapse is common in certain breeds and when observed it should be a basis for culling. Prolapse is common with retained after-births which also have a genetic predisposition.
As noted earlier, cervical prolapses are common in old cows. Cows that give birth to twins have a higher probability of developing a prolapse.
What can a farmer do to prevent prolapse?
Good nutrition for gestating cows will help prevent prolapse. Do not allow the cow to be very fat in late pregnancy. When your animal suffers vaginal prolapse consider it for culling as it can be passed down its lineage. A recurrence of vaginal prolapse will be problematic to fix and once reported in a cow will always recur. Prevent dystocia (difficult birth) by not using big breed bulls on small cows. If your cow experiences difficult birth do not attempt relieving the cow. Instead, call in an animal health expert quickly. Uterine prolapse is not hereditary and if the case is handled well, the animal should not be culled.
[The writer was the Vet of the Year Award winner and works in the Division of Communication and Vet Advisory Services within the Directorate of Veterinary Services; [email protected]]