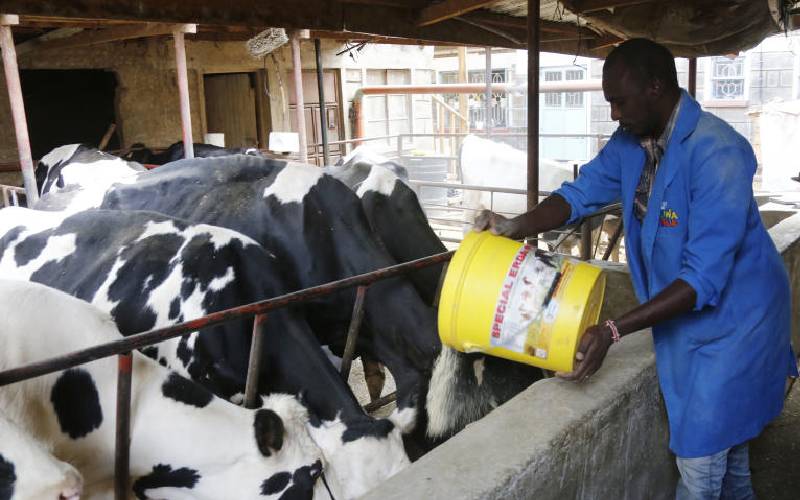 Dear Daktari
Thank you for your informative articles. I have been a dairy farmer for some years and this year I ventured into poultry. I attended a workshop recently and one of the topics was bio-security as a disease preventive measure. Kindly educate us more on this. [Samuel Ndegwa]
Karatina
Thank you Mr Ndegwa, for reading us and most importantly, for your feedback.
Bio-security refers to strategies used on a farm to prevent infectious diseases from gaining entry into a farm or spreading. The goal of bio-security measures is to reduce livestock disease incidences. Bio-security can be defined by three main strategies - Sanitation, Isolation and Movement control (SIM).
Bio-security measures can be classified into two broad categories - internal and external. While external bio-security includes measures to prevent introduction of disease causing micro-organisms or vectors; internal are measures that prevent spread of such microbes within a farm or herd.
Threat of new animals
Both internal and external bio-security measures use sanitation, isolation and movement control to minimise disease incidences. Introduction of "new" animals onto a farm poses the highest risk of disease introduction. A closed farm that produces its own replacement stock is exercising animal movement restriction and therefore bio-security measure.
When introducing new animals to a farm, first isolate the newcomer through a pre-introduction quarantine. Next, vaccinate the animal before it is mixed with the resident livestock. In this instance two bio-security strategies have been applied – isolation, movement control and vaccination.
Farms should have restrictions on people and vehicles. People's feet or wheels of vehicles can spread diseases and vectors across farms. If they must visit ensure proper sanitation is in place. This may include but is not limited to having footbaths at the gate, change of foot ware once inside the farm, hand washing or changing of clothes. Veterinary doctors are a great threat in as far as this is concerned because of their movement from one farm to another.
Isolation strategy
Isolation strategy is applied in segregation of animals and poultry according to age. Layers and broilers should not be kept in close proximity. Older animals should be separated from the young ones as they are likely to act as disease reservoirs to the young ones. So should sick animals be separated from the healthy ones.
Sanitation is an important component of bio-security. Thorough cleaning of animal houses will reduce insect populations and disease incidences. Keeping the cow shade clean reduces mastitis prevalence in dairy production. Maintaining good air quality inside livestock houses will reduce outbreak of respiratory diseases. On a farm with different ages of animals the direction of wind should be from the younger to older animals and not vice versa. Clean farm equipment like milking machines with disinfectants to reduce pathogen levels. Similarly, personal hygiene of farm hands should be combined with sanitation.
Good drainage should be maintained and manure should be well disposed away from the animal. Manure when left in contact with the animal for long causes digestive diseases, mastitis and foot rot.
[The writer was the Vet of the Year Award winner and works in the Division of Communication and Vet Advisory Services within the Directorate of Veterinary Services; [email protected])