Herb exporter upbeat despite tough season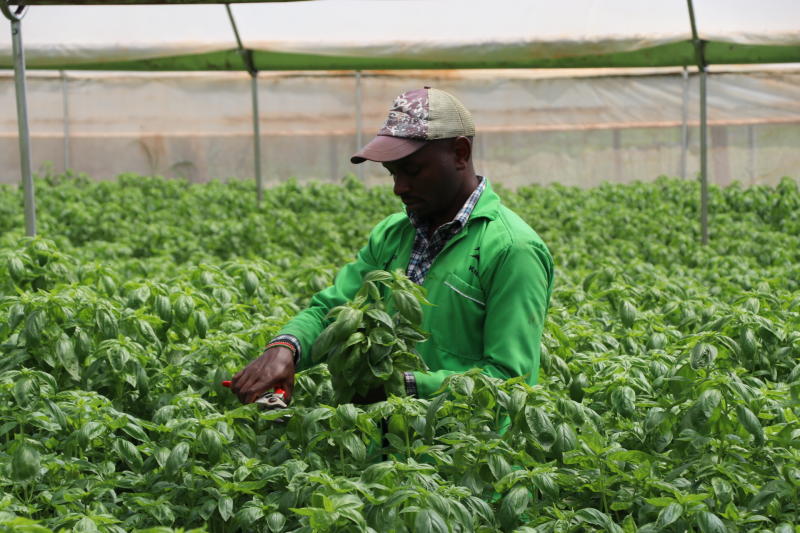 It is a busy day at Nelson Rintari's herbs farm in Embu County. With herbs maturing in two months' time, his team is working round the clock to hit targets.
Rintari started his farm, Jambo Fresh, with three business partners. They grow basil, rosemary, sage, lemon grass and mint for export to Italy, Germany, Spain, Russia and the Middle East. When they first started out, demand was high.
"We discovered that there was a rich market for herbs abroad. We grow the herbs over two seasons in a year and produce 60 tonnes per season. We produce 120 tonnes annually for the international market. Basil is our main crop and it is on high demand," says Rintari.
Though business has always been good, when Covid-19 hit, it took a dip.
Up until March this year, they were selling four tonnes of herbs every week at Sh400 per kilogramme, making a turnover of Sh1.6 million per week. But now, they have only exported 200 kilos of herbs.
Wasting away
Rintari says since international airlines stopped operations to contain the spread of Covid-19, they have watched their mature herbs, which would ordinarily fetch millions of shillings, go to waste.
"Since February, we have lost about 60 tonnes of herbs because we have no storage facilities. Most of it has gone bad. So we have been picking herbs and discarding them for the last three months," he says.
The farm's agronomist, Silas Mutuma, says value addition would have saved the situation, but the facilities for doing so are very expensive and they are yet to invest in them.
As a coping measure, the farm has been disposing of the herbs by giving them away to neighbours who use them as mulch on their crops.
Take a quick survey and help us improve our website
Take a survey
Mutuma estimates that they have incurred losses of about Sh24 million during the pandemic season. Consequently, the farm has reduced employees from 50 workers to just five and is finding it hard to continue operations. But the team remains optimistic despite the harsh times.
The agronomist says they are approaching the next season of herbs farming and with the reopening up of economies, there is hope for better times.
"Times are tough but we refuse to give up. We are hoping the sector will pick up and we will rehire our workers and engage in all other activities that keep the farm going," he says.
Marketing manager Gabriel Keya says all is not lost as their clients have promised that they will buy from them during the high season, which starts in September (winter season in Europe).
Waiting for high season
In preparation, he says they are tending to their basil, which sits on three quarters of the farm.
"The tender, leafy and fragrant basil dominates the farm because of its high demand. It is popular because of its positive benefits on health," he says.
According to the agronomist, basil stimulates circulation, immune response and is full of anti-oxidants.
For those interested in growing herbs for export, Mutuma says quality is everything. To guarantee that, the farm grows the herbs in greenhouses, which has ideal conditions for the crops to thrive.
Mutuma says Embu has the ideal climatic conditions for herbs to thrive.
"The temperature is moderate; neither too hot nor too cold. It's also a fertile land and favourable for horticultural crops," he says.
The intricacies of herbs farming
Mutuma says they import seeds from Israel, which they propagate in beds at the farm and plant inside their greenhouses measuring 8X30 metres. A greenhouse yields 80 to 100kg every week.
"We harvest the crop for eight weeks after which its life cycle ends. You then uproot and start again," he says.
The common pests are thrips, and diseases to watch out for include downing mildew.
"Another challenge that we face is on the sensitivity of herbs to high temperature. About 20 minutes after picking, the herbs start withering. To avoid that, one should have cold room facilities," says Mutuma.
The farm is working closely with the Embu County Government to encourage the youth to take up herbs farming.
Embu Agriculture executive Jamleck Muturi says herbs farming is low risk, lucrative and low maintenance.
"One can plant herbs along the fence or on a quarter acre farm and earn well. This is an agribusiness that can empower youth, women groups and people with disabilities. Youth do not want a crop that takes long to mature and herbs suit them since they grows in 60 days, and they will earn between Sh150 and Sh300 per kilogramme," he says.
Muturi also appeals to banks to extend loan repayment periods for such enterprises hit by Covid-19.
The county is also working to link herbs farmers with Kenya Industrial Estates and Kenya Industrial Research and Development Institute to set up drying and storage facilities to add value to their harvest and also reduce losses.