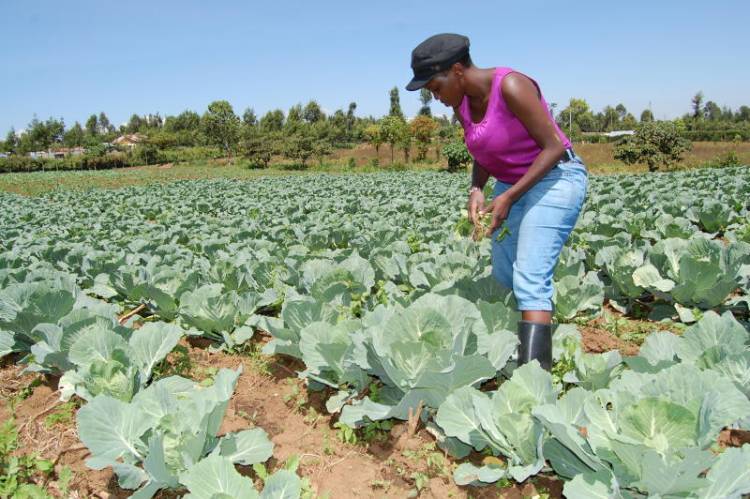 Despite the many opportunities that agriculture presents for the unemployed youth and its potential to revolutionise the economy, sadly many still avoid it like the plague.
Latest statistics by the Ministry of Agriculture show that the average age of a farmer in Kenya is 58 and the age is not getting younger.
But why do the youth still shy away from this economic activity and how can the tide be changed so that more can come on board? These are the pertinent questions that were addressed last week at the Farm Kenya Initiative webinar hosted at KTN News between the Ministry of Agriculture, United Nations Food and Agricultural Organisation, Practical Action and youth leaders.
To address all the bottlenecks impeding youth from achieving their full potential in agriculture, Ministry of Agriculture Chief of Administrative Staff Annie Nyaga stated that the government had set up the ambitious Kenya Youth in Agribusiness Strategy 2019/2020 that seeks to revolutionise agriculture.
Targeted financing
The State, she said, has established financing models tailored with specific needs like grants and loans with affordable interests.
Towards that end, she pointed out the ministry was working with country governments to actualise the agribusiness strategy plan.
"We are working with a number of county governments to make various tools available for youth in financing. We have realised that youths have different needs. Some want to be financed as individuals while others as groups. We are taking all these needs into consideration to come up with relevant products," she said.
The current loan options, Ms Nyaga said, range from Sh50,000 to Sh4 million depending on the individual/group proposal.
But Jacob Ochieng' of Practical Action pointed out that young people are looking for practical solutions in their quest for financing, but they face several barriers.
"It is easier for a bank to accept furniture as collateral as opposed to dairy cows. For most financial institutions, an agribusiness plan is not something they are keen on funding."
With regard to the ambitious Youth Agribusiness Strategy, he challenged the State to relook it so that it is not just another master plan, but a bold and fresh step to empower youth and plug into food security gaps.
In addition to financing, he noted that the youth also need targeted information in order to thrive and shine in farming.
"To achieve this, we need extension service officers on the ground so that they can advise young people accordingly."
From the forum, it also came out clearly that young people are looking for more opportunities in agriculture beyond production.
Caroline Mwangi, a young agriprenuer noted that many young people have no land to farm and are therefore looking at other opportunities in the agriculture value chain to explore.
A recent World Bank report noted that of the total land mass in Kenya, only 10 per cent is arable, which means those who intend to go into agriculture must look beyond production of the food on land.
Some of the opportunities in the value chain that were cited include marketing, cold room, warehousing and supply services.
Rodgers Kirwa who goes by the moniker Mr Agriculture on Twitter also challenged young people to think out of the box and explore agri opportunities in transport and marketing.
Mary Thiongo from Food and Agricultural Organsation said there are many opportunities in the agricultural value chain that the youth can exploit.
"If they do not have land, they should not lose hope. There are many other activities in the value chain they can explore. There are opportunities in agroprocessing, hydroponic farming, export market and urban farming," Ms Thiongo said.
According to the FAO official, communication is also a challenge the young people face.
For more impact, Thiongo observed that stakeholders that deal with youth programmes need to package information in mediums that are popular with young people like Facebook and WhatsApp groups, which they visit frequently.
She stressed that information gaps should be identified and addressed appropriately.
She also cited vernacular FM stations as being relevant and impactful in communicating agricultural material to youth.
To help youth make a lasting contribution in agriculture and change their livelihoods, the role of mentorship was also cited.
"Mentorship is a powerful way of communicating to young people because it is experiential. Mentorship programmes help to bridge the gap between research and industry," Ochieng' of Practical Action said.
To tap into the demographic dividend that the youth offer, he challenged the State to bring on board at least 20 per cent of employable youth into the agriculture bandwagon.
"To achieve food security status, the young people need to be supported and empowered to be the next generation of great farmers. Or else we will continue to have 58 year olds in the frontline in matters agriculture," he said.