Spilt milk: Farms get smart to remain afloat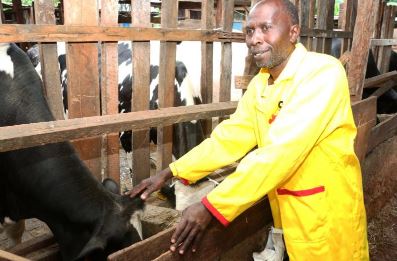 From low prices to dwindling markets, for dairy farmers the journey has been tough. Then corona happened.
Peter Njoroge from Mukurwe-ini, Nyeri County, has been a dairy farmer since 1992, and with 28 years of experience in the sector, he has been facing tough times during the Covid-19 pandemic.
"The cost of feeds has increased by between Sh50 to Sh100 and this is being attributed to a shortage of raw materials such as cottonseed and sunflower seeds, which are usually imported from Uganda and Tanzania," he noted.
The increase has forced him to source for alternatives like sweet potato vines, which he gets from neighbouring Kirinyaga County.
A decrease in the amount of feeds given to the animals has led to a decrease in milk production.
"I have had to sell my milk at a throwaway price after the three hotels and the school I used to deliver milk to were shut down. Now I have no choice but to accept as little as Sh32 per litre down from Sh45," Njoroge says.
With the reduced income and low production, Njoroge has had to dispose of five high yielding heifers reducing his herd to nine cows.
"The heifers were expected to calf in April but I had to sell them off because the milk would have been a waste and the cost of production was too high to maintain them," he says.
For John Chege, also a dairy farmer based in Gatanga, Murang'a County, the story is not different.
He noted the cost of maize germ has increased from Sh1,150 to Sh1,250 while pollard has shot up to Sh1,450 up from Sh1,250. Wheat bran has also increased from Sh600 to Sh800.
"I ended up reducing the amount of feeds I was giving my animals and substituted them with lucerne, which I sourced from Naivasha as well as silage," Chege stated.
Currently, he is selling a litre of milk at Sh31, which is too little compared to the amount he spends on feeds.
A recent foot and mouth disease outbreak in Murang's worsened the situation for him.
"The disease and change in feeds has reduced my production from 450 litres per day to 156," he noted.
Michael Gitonga, who owns a dairy farm in Runyenjes, Embu County, says feeding his cows hasn't been much of a hassle as fodder is readily available for the farmers who make and store silage.
He, however, wondered why the cost of feeds is still high yet fuel cost has gone down and maize is plenty.
Gitonga, who is an official at Mutugi Commercial Dairy, which collects milk from farmers and delivers to the New KCC, says milk production has increased in Embu as farmers there are able to manage the cost of feeds by making their own silage.
For Gitonga, the cost of production has remained constant at Sh22-Sh25 per litre as was the case before the corona pandemic. They sell a litre at Sh31 to the milk processors.
Though marketing is not a challenge, Gitonga says he had partnered with some farmers in the region and started processing their own milk even though they are still facing marketing challenges. He says he is optimistic things will fall into place at the right time.
Gitonga says dairy farmers have been a bit lucky for the last few months as no disease outbreaks have been reported in the area lately.
"During the rainy season, we ensure our livestock are vaccinated against anthrax and foot and mouth diseases, which are a great risk to any dairy herd," he adds.
Timothy Kinuthia, a dairy farmer in Nyeri Town, said the cost of animal feeds has increased by at least 20 per cent, which has made things difficult for them.
"I have been relying on farm fodder and hay which has become cheaper lately with a bale of hay costing Sh120," he noted.
While the animal's physical condition had improved, this change in feeds has led to decreased production, with his milk production dropping from 450 litres per day to 280 litres.
"I had a large market for my milk in local hotels and cafes in Nyeri town, but with the closure of businesses due to the Covid-19 pandemic, I had no choice but to sell my milk to KCC which is buying milk for as little as Sh28 per litre," Kinuthia said.
He noted that even farmers who were engaged in value addition such as yoghurt making had scaled down, which means that they also don't buy as much milk as they used to.
"Luckily the New KCC is absorbing all the milk I am producing otherwise I don't know where I would be taking the milk," he stated.
He explained that to overcome the challenges of closed markets, he had sold off four of his in-calf heifers because they would have been a liability given the high cost of feeds.
He noted that in-calf heifers are usually uneconomical to have on a farm because they have little or no milk and in hard times like what the country is going through, they can be a great burden.
Kinuthia's cows are currently recovering from an outbreak of pneumonia which had affected the animals in April and May.
"I lost four cows to pneumonia, but I am glad it has cleared in the rest of the animals," he noted.
Post Covid-19, Kinuthia says he will expand his farm as this pandemic has made it clear that food production and health are some of the key sectors likely to thrive after the pandemic.
"The demand for food has remained high during the pandemic. I will expand my farm and also go into cheese production so that I can avoid selling my milk at low prices when there is a demand for it in the market," he explained.
[Additional reporting by Joseph Muchiri]
Want to get latest farming tips and videos?
Join Us