Cyclist mints money from poultry farming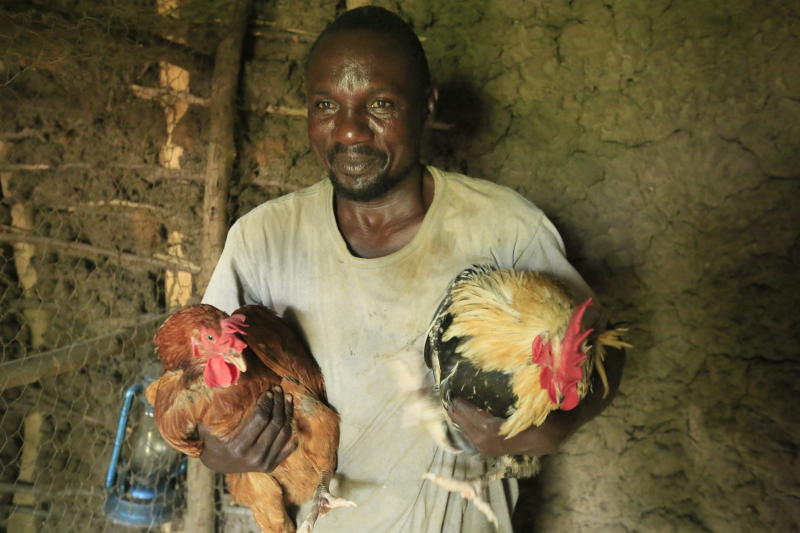 Charles Amurono juggles poultry farming and riding boda boda to earn a living.
The chicken project occupies a section of his quarter acre farm in Ematende village, Butere Sub-county.
Mr Amurono rears chicken, which he crossbreeds locally to enhance production.
The farmer was collecting eggs from the coops when the Smart Harvest team arrived at the farm.
"I collect the eggs in the morning, at noon and in the evening," explains Amurono.
He says the mud wall structure with an iron roof protects the birds from harsh weather. It cost him more than Sh30,000 to set up the structure and make partitions that separate hens from cocks and the chicks.
Amurono used savings from his boda boda business to venture into poultry farming five years ago to supplement his income. "I find it hard to manage the chickens due to a myriad challenges including lack of a proper structure for housing the birds, diseases and predators," he says.
"I woke up one morning to find 50 chicken mauled by a wild animal. Later, my four-week-old chicks were wiped out by a disease. I was discouraged and quit poultry farming for a while," he says.
Benefited from training
Later, he bought a brooder that could house at least 100 chicks and placed an order for day-old chicks from Kenya Agricultural and Livestock Research Organisation (Kalro) at a cost of Sh10,000.
Take a quick survey and help us improve our website
Take a survey
"I also demanded that experts at the research institution train me on poultry management before the chicks were delivered. My wife, Dorcus Asiko, also benefited from the training because she assists me in running the farm," he says.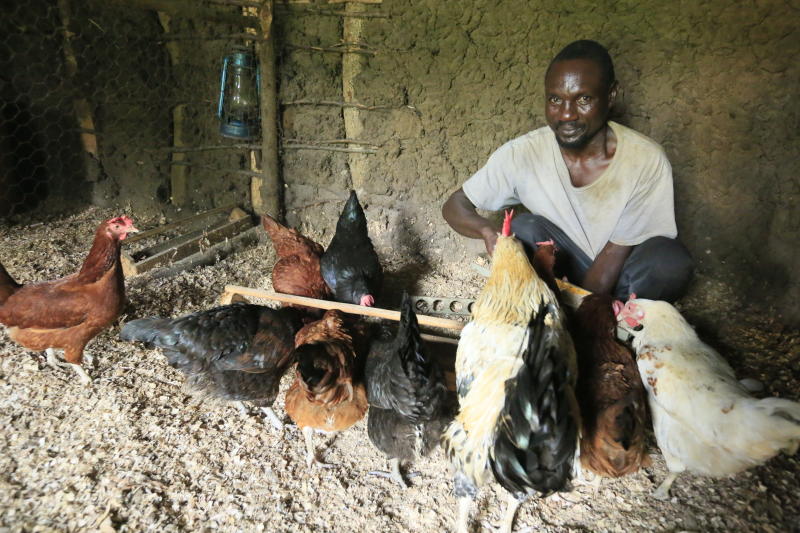 Amurono was introduced to vets who assist him whenever there is need and has since been managing his poultry farm smoothly.
"Sometimes, I buy fertilised eggs from Kalro or certified poultry supply firms in Kakamega town at Sh20 and hatch them locally. It is less expensive compared to buying day-old chicks," argues the farmer.
Huge demand for eggs and other poultry products saw Amurono venture into poultry farming.
"I sell my birds locally because people prefer improved and pure kienyeji chickens, because of the sweet meat and resistance to diseases," he says.
Amurono observes the vaccination calendar of the birds to keep diseases at bay. "Recently, some of my flock started exhibiting swollen body and dizziness. I lost at least five birds before a vet came to my rescue. The disease was related to poor hygiene and I have been doing my best to ensure the coops are clean and free of pests," he says.
"Sometimes, a disease can break out and before you know it, all the birds are infected," he adds. Amurono recalls how he lost 72 chicks out of the 100 he had ordered from Kalro.
Simon Wesechere, a poultry scientist argues that farmers have no option but to maintain high level of hygiene and observe biosecurity on their farms to control diseases.
"Maintaining high standards of cleanliness in the coops and giving your birds the right feed rations while observing routine vaccination is the secret to successful poultry farming," says Dr Wesechere.
The farmer has capacity to rear 500 birds at a given time. "The chicks I hatch on the farm are sold at different ages and prices going by the buyer's preference. We also sell fertilised eggs to other farmers and usually the mature birds are sold between October and December in preparation for restocking," he says.
Besides diseases, Amurono grapples with expensive commercial feeds. "Just recently, we started formulating food rations to complement what we buy from agro vets as a cost-cutting measure," says the farmer.
Amurono plans to expand the farm and focus on hatching chicks by June.
"Many farmers would like to have a reliable source of pure kienyeji and improved kienyeji chicks, but they have to go to Kakamega or place orders from Kalro in Naivasha. I would like to be the one selling the chicks across the county," he says.