Lows and highs of farming chicken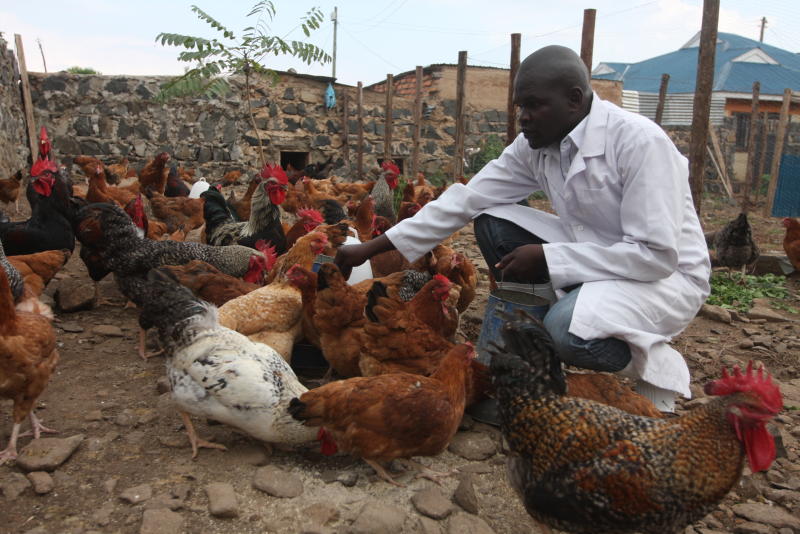 It is about 5pm when we approach Victoria Eco-Farm on the shores of Lake Victoria.
From a distance, the winged beauty hovering in the swamp near the lake makes it look like an exotic bird sanctuary.
As we enter the farm, we are ushered in by birds ranging from ostriches, peacocks, cranes and fantail pigeons to swans, Egyptian geese, vulturine Guinea fowls, Italian silky and Japanese bantam chicken.
"These are highly prized and have a unique demand. I keep them because they remind me how love for birds pushed me into this business," says Nicholas Omondi, the farm's owner.
Omondi, also a journalist is by any means a manifest of what passion, resilience and hard work can achieve.
What started sometime in 2012 with 40 hens and 10 cockerels has grown into one of the biggest poultry ventures in the region.
"I went into poultry farming to feed my passion then one day I decided to attend an agribusiness training on poultry and it served as an eye-opener," he says.
After the training, he invested in a manual incubator which he later sold at Sh25,000.
"But those taking the chicks had problems brooding them and many suffered losses. I decided to raise the chicks until they were one-month-old," he recounts.
The demand for his chicks got better by the day. From Sh70 per chick, his prices shot up to Sh250.
Then sometime in 2013, came the quail craze, with it came his greatest breakthrough. As the frenzy for quail eggs saw prices rise to a high of 300 a piece, he made a killing.
"At the height of the craze I stopped selling the eggs. Instead, I incubated and sold the birds. It was a booming business," he recalls, the eggs took just 16 days to hatch," he recalled.
When this frenzy busted like a bubble about a year later, he had made enough money to put up his own home. He then went back to chicken.
"I used the proceeds to set up the Victoria Eco-farm which also serves a training centre for other farmers interested in farming," he says.
On this parcel measuring about two acres, he practices a semi-free range model.
"I have about 3,500 birds rainbow roosters, kuroilers, KARI chicken and kienyeji of between one month and four months old at the moment," he says.
There are 2,500 three-day-old chicks in the brooders. These, he says have been booked by Kakamega County government for distribution to women farming groups
"Currently we major on hatching and sale of chicks from day olds to a month old," he says.
The farm, he says, has trained and created a network with 167 individuals and groups of farmers. Through this network, he comfortably meets the high demand for poultry products in the region.
"We train and supply the contracted farmers with both chicks and feeds which we ourselves formulate. And when the birds are mature, we offer them ready market by buying from them," he says.
Baby steps
Omondi, a morning show host at Dala FM says the key to his success has been passion and determination.
"I had to be patient to grow this venture. I had to make baby steps and learn from the challenges that are always part of the journey. One of the mistakes people make is diving in headfirst with the aim of making money," he advises.
He says whereas the venture is profitable and has a lot of room for more investors, there were key things one ought to know before starting off.
"You must, for instance, know and stick to the vaccination schedules because most losses arise out of failure to immunise against common poultry diseases," he adds.
He says one must also be hands-on and always monitor crucial aspects such as vaccination. "There are things you should not do over the phone. A helper may tell you a vaccination was conducted even if it wasn't and, if you sell the chicks and they end up dying, this may cost you trust and business."
Omondi wakes up to 3.30 am every morning for a routine inspection.
After signing off from the studio later in the day, he heads straight to the farm to join his 13 workers.
He advises further that those buying the chicks should ensure they visit the farms of origin "so that you can know the history of the birds that of the parent flock and their vaccination schedules."
He says those rearing the improved kienyeji should go for locally formulated feeds after the first month.
Mixing of breeds, he says should also be avoided by those wishing to run commercial hatcheries.
In addition to poultry rearing, Omondi keeps dairy cows and has also installed 54 beehives on the farm. The honey is sold to schools in the area.