Meet cock that loves chapati and ugali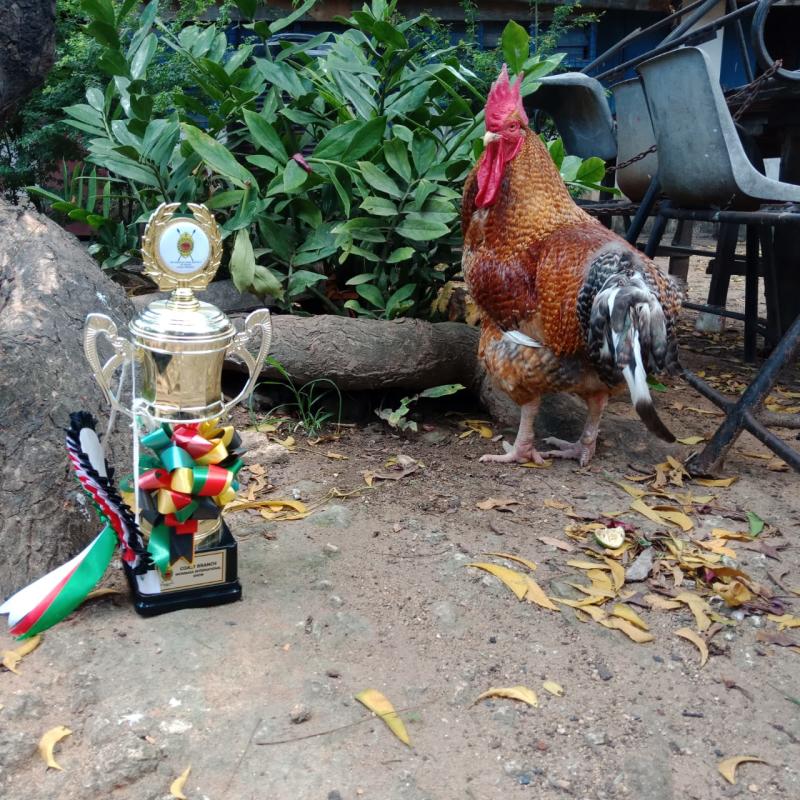 The just-concluded Mombasa International Show (MIS) had many offerings and one of them was the award winning cock that weighs 6.5kgs.
The two and half year-old cock, a Rainbow Rooster, emerged the 2018 Champion of Birds. Its owner, David Muturi was so elated that he gifted the bird to President Uhuru Kenyatta.
"I am happy that I reared a champion. President Uhuru Kenyatta is my champion too and I have decided to present him with the Champion of Birds as a gesture of saying thank you Mr President for guiding Kenya to prosperity," Muturi, an employee of the County Government of Mombasa's Education Department said.
But what is the story behind the award winning bird? Muturi got the cock as a day old chic from Eldoret-based poultry breeder KukuChic, whom he described as professional breeders.
"They have extention officers who offer advice on how to manage poultry right from day-old chic to maturity,'' he said.
But what does its diet contain?
"Apart from feeding on normal poultry feed, this Rainbow Rooster whom I have nicknamed Champion, likes feeding on chapatisand ugali,'' he told Smart Harvest. This is not the first time Muturi, whose interest in poultry keeping started when he was 10, is being fetted.
Last year, he was also a winner after the same cock that weighed 4.5 kilogrammes emerged tops at the show.
"But this is probably my best ever show result. This same cock has been a champion previously in the same category last year when it weighed 4.5 kilogrames,'' he said.
Kukuchic Senior Extention officer Jackson Kiptanui said the Raibow Rooster breed is an improved kienyeji chicken which can be reared for meat and eggs.
"These bird matures between 4 and 5 months. By that time, the male will weigh 3kgs and the female 2kgs. The female will start laying eggs at 5 months,'' Kiptanui said. The extention officer said the bird is high resistant to many poultry diseases.
"We urge farmers to follow the vaccination programme provided for better yield results,'' he said. Other couple of advantages for Rainbow Rooster is that they are free range. In addition to commercially formulated feeds, the chicken can feed on grass, sukuma wiki, tomatoes etc...
"Rainbow Roosters meat has low fat. It is sweet and tender meaning it cooks faster than traditional kienyeji chicken."