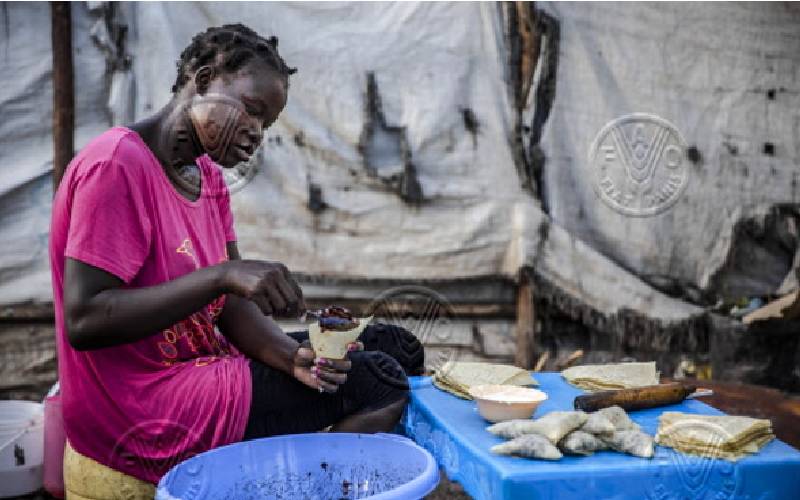 Everyday at the crack of dawn, Josephine Abuba wakes up to prepare beans-filled samosas. The 25 year old refugee from South Sudan got this idea after attending a training with FAO on nutrition and how to make the best use of the food stuff available within the settlement, and match them up to meet the daily healthy meal requirements.
She got the idea to make samosas that are filled with beans and other vegetables as a one-stop snack that provides the three foods – carbohydrates, protein and vitamins. At first, she didn't think that the samosas would be a hit among the refugee community. It was a new idea.
Surprisingly, they became popular in a very short time. There are days, she says, that she runs out and comes back to make more. Each morning she makes a dough from the 1kg packet flour which translates to 50 medium sized pockets which she fills in with the pre-cooked beans and raw vegetables for added flavour.
It is an intense process that requires full concentration.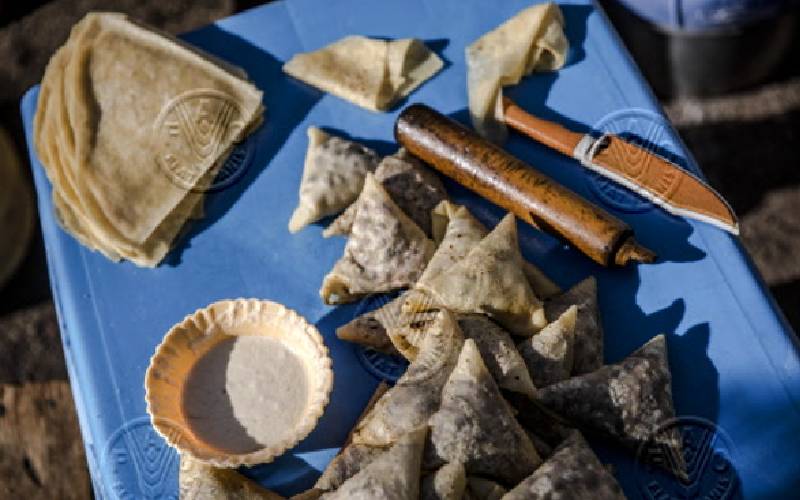 'I'm so used to it, it feels like nothing,' says Josephine, as she deep fries the samosas in readiness for the market.
By 0830hrs, Josephine is already seated at the market waiting for customers. The scotching sun does not deter her, nor the buyers, who are of all ages. In a short time, they are sold out. She makes a monthly profit of Ksh 600.
In addition to pairing available foods in a balanced way, Josephine also learned how to preserve vegetables when there's a surplus. She loves to dry tomatoes and cowpeas leaves, which she easily gets from the farmers at the water pan, as well as from her kitchen garden.
'Since I learned how to sundry vegetables, I have a good stick of cowpeas leaves and tomatoes. We sometimes use the tomatoes to cook, and other times, eat it as is. I have a child and feeding him a balanced diet has made him very healthy, with little – if any visit to the doctor,' said Josephine.