Biovision to train more farmers on organic farming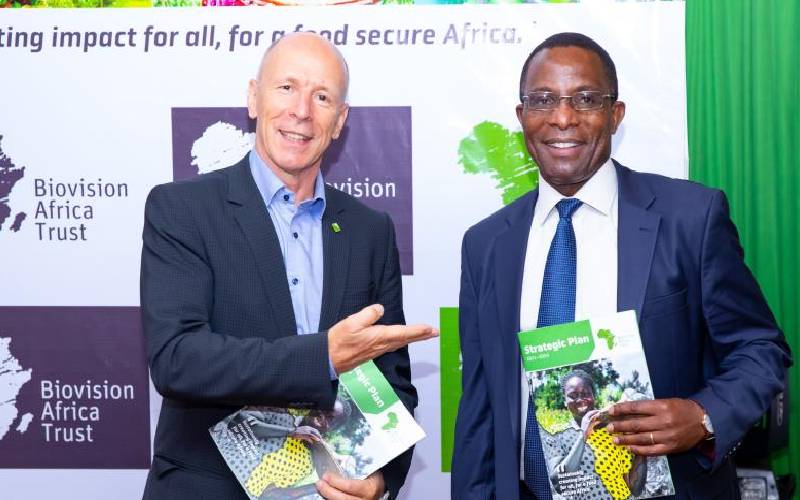 With lifestyle diseases taking root, more consumers are now opting to buy organically grown food. To tap into this new interest, Biovision Africa Trust is seeking to empower and have more smallholder farmers adopting agroecology organic agriculture practices especially women and youth.
Speaking during the launch of the organisation's Strategic Plan 2021-2024, Dr David Amudavi, Executive Director, Biovision Africa Trust said the programmes are already being implemented in Kenya, Uganda, Tanzania, Ethiopia and Rwanda.
The organisation now in 12 counties, was started in 2009 to promote environmentally friendly and sustainable agriculture, together with government through Ministry of Agriculture and other stakeholders.
In line with changing consumers preferences, he noted that more farmers are now thinking of alternatives of pesticides and chemical fertilisers.
"Our approach contributes towards more sustainable farming, a healthier diet for citizens, reducing the pace of climate change and minimising its negative impacts. We see ourselves as an agent of change that helps to alleviate poverty and improve the livelihoods of smallholder farmers particularly women and youth in Africa," he said.
Despite the initial resistance, the organisation is making headway because of the clear information offered to farmers.
"The information we share with farmers is informed by research. We work very closely with researchers and trusted information sources like Kenya Agricultural and Livestock Research Organisation and International Centre of Insect and Physiology and Ecology that promotes technologies we share with farmers," explained Andreas Schriber, Board Chair, Biovision Africa Trust.
Farmers' concerns
Schriber said they also produce information and share with farmers through radio programmes Kilimo Hai and ecological farming agriculture magazine called The Organic Farmer, which is designed to answer concerns that farmers face daily.
"We also share success stories of farmers to others and this has worked very well influencing farmers taking up ecological agriculture farming."
Dr Amudavi said the ecological organic agriculture is supported by the Swiss government and African Union. The German government through GIZ is also establishing hubs which are centres of providing information, training and linking farmers to markets.
One of the farmers who attended the launch, Rose Mwonga from Machakos County, said it was costly using pesticides and fertilisers.
"As a farmer growing maize and beans, l would spend a lot of money on fertilisers for planting and topdressing, plus pesticides whenever the crops were attacked by pests. By the time l harvest, l would have spent a lot," she said.
For Mwonga and other farmers, this changed when they were introduced to ecological farming agriculture.
After training, she explained that they now make own manure from materials within the farm. On pest control, Mwonga said they were trained how to mix various crops before spraying, which works well.
"I never knew we could mix plants and come up with strong chemicals that kill and keeps away pests and diseases," she shared.
Dr Amudavi said they can still work with fertiliser manufacturers by looking at solutions that can be used which are environmentally sustainable and healthy to people.
"These multinationals can invest money in research or development, and benefit by investing in the right technologies, right systems. It is an open avenue that can be explored and we believe people can do business and ensure we are producing food safely," he said.
He challenges fertiliser companies to manufacture environmental friendly pesticides known as bio-pesticides and fertilisers.
Dr Amudavi lauds Biovision Africa Trust saying its the institution that is now being recognized to support the comprehensive agriculture development programme of the African Union Commission on the side of ecological sustainable agriculture.
Ms Anne Nyaga, Chief Administrative Secretary, Ministry of Agriculture, Livestock, Fisheries and Cooperatives, lauded Biovision Africa Trust for becoming a Pan African Organisation working in Africa and in Kenya advancing ecological organic agriculture in Kenya and African continent.
"We are happy to see Trust's remarkable recognition by the African Union Commission as its official host of the continental Secretariat to the Continental Steering Committee overseeing the coordination of mainstreaming ecological organic agriculture in food systems in Africa," she said.
She said the government is taking the issue of sustainable agriculture and food systems seriously because they understand the benefits derived from this form of agriculture.
Schriber explained that some of the strategic objectives are creating ecological agriculture value chain diversification and development for markets and trade at local, domestic and international levels.
"We also enhance policy and industrial framework conditions for ecological organic agriculture sector development in Africa through influencing and enacting ecological agriculture policies or strategies," he said.
Want to get latest farming tips and videos?
Join Us