Engineer quits, sets eyes on "peaceful" farming in Narok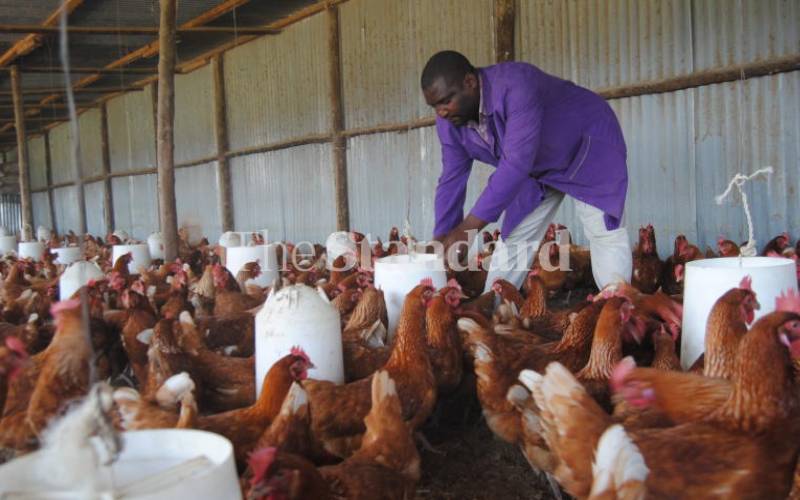 Four years ago, Lenny Gitonga, a telecommunications engineer traveled to Narok County on a work assignment. While there, he 'saw the light'.
"It was my first time in Narok and I visited a farmer who was doing some impressive poultry farming. He was not making millions, but he was leading a comfortable life from the proceeds and he looked peaceful. I was totally impressed," he recalls.
Having a high-pressure job, after thorough soul researching, when he came back to Nairobi, he made a radical decision. He quit.
"A few months later, I resigned from my job to venture into farming. I used my networks in Narok to source prime land for farming. Using my savings, I bought an acre in Nkoben. That is how I started poultry farming," Gitonga recalls.
With no prior experience, to start off, he bought a batch of several day-old chicks asked a fundi to construct the structures and it was bingo.
Play smart
After several wrong steps, today, he has more than 3,000 layers and the business is growing.
Because he was a greenhorn, he lost 120 chicks in a day. The biggest challenge he faced was attacks from common diseases like Newcastle and Fowl Typhoid. Luckily, the loss of his fowls did not dampen his spirit.
"Having suffered losses in the first season, for the next cycle I decided to play smart. I went to a leading poultry company and got valuable information on feeding, egg production and disease management," he says.
More importantly, Gitonga learnt that vaccination, proper brooding and hygiene are key factors in egg production.
"For the first five days, the chicks need regulated heat, light, feeds and water. After 14 days, the chicks can regulate their own water and feeds consumption," he adds.
He also learnt the value of buying chicken feeds from trusted dealers.
Gitonga reveals that the eggs market is insatiable.
"The market for eggs is huge. I sell all my eggs to outlets in Narok town and the demand is always high," he says.
Having tasted success, he advises young graduates to consider venturing into poultry farming and be job creators instead of seeking white-collar jobs.
"Education is good but one cannot fully realise their potential while in employment. Youth should get capital and venture into agribusiness."
Though farming cannot match up the huge money he was earning as an engineer, he has no regrets.
"I used to get a good salary but I had to work for six intense days consecutively. I had little time for rest, family and there was no personal growth and development. I am now happy and fulfilled," says Gitonga.
Gitonga has employed five youth at his farm and plans to diversify into other agribusiness ventures.
"I plan to buy 100 acres of land to rear beef cattle, poultry and other livestock purely for commercial purposes," reveals Gitonga.
Erick Nyang'au, a farmhand at Gitonga's farm says he has been inspired to venture into poultry farming after seeing his boss' success.
"Before I came here I had little knowledge on chicken rearing but I have gained a lot of experience here and I'm planning to set up my own back at home in Kisii," says Mr Nyang'au.
How to boost egg production
For those interested in layers, there are fundamentals one must get right.
According to Gregory Rutto, a livestock officer, for successful chicken layer production, one must consider the following: Hygiene. Rutto says a clean environment is crucial to prevent disease spread.
He advises that the layers should be provided with clean water in clean containers and this should be changed regularly. Same to food.
Vaccination
He says fowl diseases spread rapidly and prevention through vaccination is the best arsenal.
He says a disease outbreak can sweep an entire flock leading to heavy losses.
Supplements
For quality eggs with hard shells, Ruto advises poultry farmers doing layers to provide their chicken with feeds rich in calcium to strengthen bones and eggshells.
Laying boxes
For clean eggs, farmers need to make adequate laying boxes that are well-spaced to prevent egg breakages and ensure cleanliness.
Debeaking
To prevent cannibalism among the flock occasioned by stress, farmers need to debeak their chicken using modern technology such as infrared. He says manual debeaking leads to the beak regrowing.
Want to get latest farming tips and videos?
Join Us