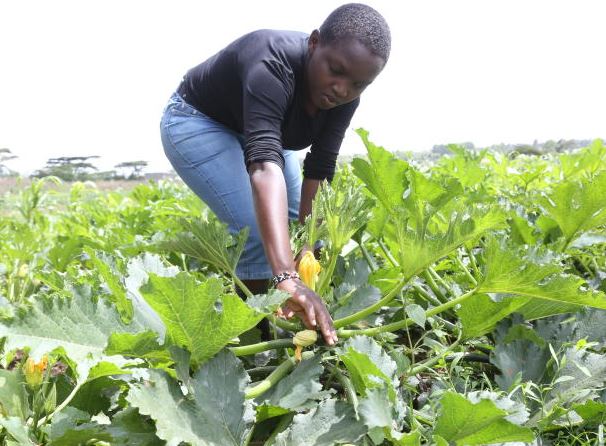 Lillian Mona had always wanted to venture into commercial vegetable farming.
However, lack of water was a challenge.
"This area is arid and gets little rainfall, making it difficult to do any farming," she told Smart Harvest and Technology at a past interview in Matinyani, Kitui County.
Despite water challenges, high demand for vegetables in nearby areas pushed her into doing some little farming.
"Even watering the few stems wasn't a walk in the park. I left in the morning and spent many hours looking for water. At times, a long dry spell caused my vegetables to wither and die completely," she said.
It was celebration on few occasions when it rained. Luckily, she started harvesting and on good days, Mona would pocket, from the few stems between Sh500-1,000 in a week.
Though passionate about farming, Mona says she couldn't expand her farming venture due to lack of enough capital, farm inputs, reliable source of water and farming skills.
Informed investments
Lucky for her, some Christian NGO trained locals in farming, provided them with farm inputs and dug sand dams for farmers.
Just like Mona, despite the immense work millions of women farmers contribute to the agriculture sector, they however face a number of key structural barriers that limit their access to land, information, finance, infrastructure, technologies and markets.
According to Food and Agriculture Organisation of the United Nations (FAO), agriculture remains one of the most important areas of women's work globally with more than a third of employed women in the sector.
"Closing the gender gap in agriculture through informed investments that remove these barriers represents a huge opportunity for women's empowerment, economic development and societal resilience," says FAO.
It is against this background that FAO and UN Women have jointly launched the Kenya Economic Empowerment of Women through Climate Smart Agriculture in arid and semi-arid areas. The project is funded by the Korea International Corporation Agency (KOICA).
The four-year project seeks to strengthen women's capacity to meaningfully engage in Climate Smart Agriculture (CSA) in three arid and semi-arid lands counties of Laikipia, West Pokot and Kitui.
Carla Mucavi, County Representative, FAO lauds the project saying it is unique because it targets women, who have been traditionally neglected.
"We recognise that food security starts and ends with women, who account for 60-75 per cent of the labour force in smallholder agriculture in Kenya, as well as in many other countries in Africa. It is therefore crucial to leave no one behind in the quest to attaining food and nutrition security for all," she said during the project signing.
Anna Mutavati, the UN Women Kenya Country Representative said the project intends to increase technical know-how of farmers on Climate-Smart Agriculture approaches, unlock market driven value-chains for women and improve their capacity to participate in productive land and water management and increase the women in agribusiness' access to finance.
Women, adds Mutavati are disproportionately affected by overlapping challenges of poverty and food insecurity caused by floods, droughts, locusts and now Covid-19.
Choi Yeonghan, Ambassador of Republic of Korea to Kenya lauded the partnership saying adaptation to climate smart agriculture is fundamental in production and ensuring food security.
"Evidence shows that adoption of Climate-Smart Agriculture practices significantly mitigates the frequent climate shocks the smallholder farmers encounter during droughts and floods, and in times of food and pasture scarcity," he said.
Prof Margaret Kobia, Cabinet Secretary for Public Service and Gender lauded the project and said it aligns with relevant State policies and will go a long way to advance women empowerment.