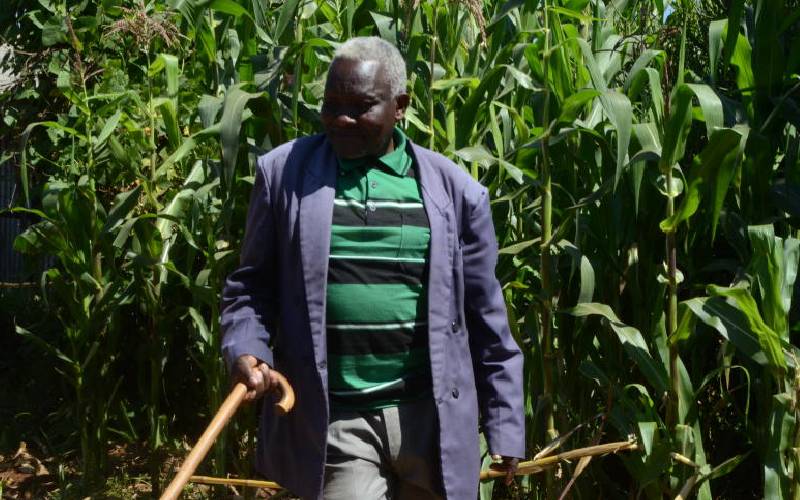 A 73-year-old man from Githunguri in Kiambu County is crying for justice over what he claims is illegal invasion of his land by a tea factory for the last 48 years.
Peter Mwicigi and his family have unsuccessfully filed complaints against Kambaa Tea Factory management, accusing them of grabbing their land.
Mwicigi alleges the police have in the past refused to act on complaints the family has lodged against the factory over the property. Instead, he says, his family has been receiving threats from senior officials at the tea factory.
Armed with documents, including from the Office of the President, Mwicigi told The Standard his attempts to seek legal assistance have hit a snag.
"I am aware of the matter, but Mwicigi's family had an issue with succession as his father, who was the legal owner, had two wives. He also declined the offer we gave him back then," said David Chuchu, the chairman of Kambaa Tea Factory.
Mwicigi says upon his lawyer contacting the factory in July 2019, he was summoned and asked to drop the suit so that they could strike an out-of-court settlement.
He, however, declined the offer by the factory, saying the property was not worth the Sh950,000 compensation they wanted to give him.
"The factory had agreed during the talks to compensate me with a paltry Sh950,000 for the land, which I vehemently opposed. It was laughable that such piece of land was worth the figures they were ready to give me, yet the same land in this area goes for Sh2.5 million. Not to forget that the company has used my land for the last 48 years," Mwicigi said.
He says in 2019 he approached another lawyer who asked for Sh59,000 as legal fee, which he honoured. But the lawyer withdrew his services under inexplicable circumstances and vanished.
Since then he has lived under threats and intimidation whenever he attempts to seek justice over the property.
"Some factory officials have been intimidating me by saying I do not have the financial muscle and connections to fight such a multi-million-shilling enterprise and I should forget about the land," says Mwicigi.
He says he doesn't understand why the tea factory managers are acting with impunity, trampling on his constitutional rights in a country governed by laws.
Mwicigi says he, together with his family, have written petitions to various government agencies seeking their intervention in vain.
When contacted, the factory management said they were aware of the matter. They say it involved four families and three settled for the initial offer of Sh950,000. The other family has been uncooperative.