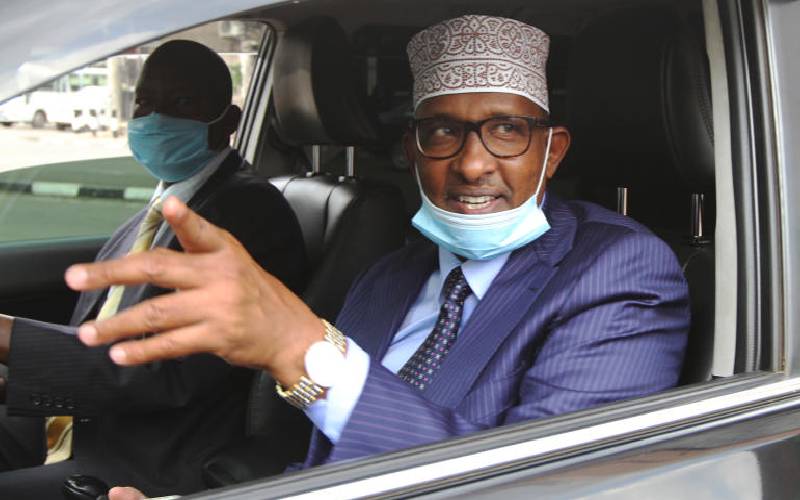 Former National Assembly majority leader Aden Duale has been declared persona non grata in Meru, a section of leaders in the miraa growing region have stated.
The Garissa Town MP drew the anger of the miraa community when he claimed the Jubilee Party duped them into voting for it in 2017, after pledging to revitalise the ailing sector.
The miraa sector has been in unprecedented turmoil since 2014, when the UK banned the stimulant, claiming it was a drug and it made their environment dirty.
So when President Uhuru Kenyatta and the Jubilee brigade landed in Meru in 2017 in search of votes as it competed with ODM's Raila Odinga, it found a helpless community reeling under the weight of the ban.
In the wake of the ban of the twig by the UK and other lucrative markets, miraa prices plummeted, and an entire community was thrown into disarray.
Farmers were having it tough in the regional markets as well.
But last week, Duale and a section of MPs said Jubilee had had difficulty penetrating Meru, and had to dangle the miraa issue to get votes.
"We (Jubilee) could not penetrate the Meru region. So those are the things we dangled," he said.
He added: "The moral and religious question that we must answer is that miraa affects the social, economic and family set up in Kenya. And even the traffic flow and accidents," he said.
But Meru leaders led by Governor Kiraitu Murungi and Senator Mithika Linturi told Duale off.
Governor Kiraitu, who has 10 acres of miraa, said Duale was not speaking on behalf of the government, "because he was sacked from the job (majority leader) he was given by the government."
Kiraitu said President Uhuru Kenyatta (who appended his signature to recognise miraa as a cash crop) was not a liar.
"What I know is that Uhuru's government has not distanced itself from miraa. Uhuru is helping miraa as much as he can because he has allocated funds to miraa. How comes Duale was not talking when he was a boss only to do it after leaving the government?" Kiraitu said.
Igembe Central MP Kubai Kiringo said they now, after Duale's comments, understand why it took President Uhuru Kenyatta two years after MPs passed a law that recognised miraa as one of Kenya's legal cash crops.
Kiringo claimed Duale delayed in the process of presenting it for President Uhuru Kenyatta to assent.
During a charged meeting attended by six MPs, over 10 MCAs and hundreds of miraa farmers and traders, Duale was on the lips of many who said he was no longer welcome in Meru.
East African Legislative Assembly MP Mpuru Aburi said: "Duale has hurt us by saying they duped Nyambene (miraa growing zones)." Aburi owns 11 acres of miraa in his Mikinduri home.
Buuri MP Mugambi Rindikiri whose constituents grow miraa, albeit on small scale compared to Igembe region, castigated Duale.
MCA Adamson Muriki who is the leader of MCAs in the miraa growing sub-counties said Duale's sentiments had sowed seeds of doubt in the Jubilee Party as residents now believe they were lied to, in return for their votes.
The Agriculture CS warned against using miraa as a political tool and blamed a section of politicians of trying to do that.