Sh184m modern markets to boost Meru region trade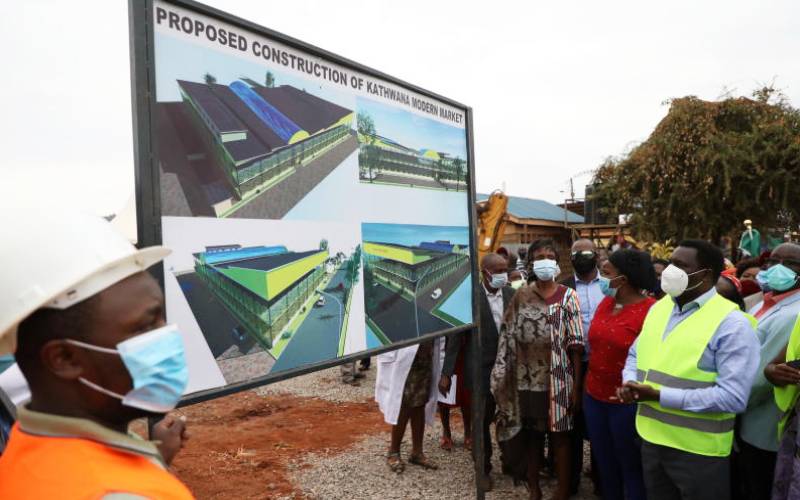 Meru and Tharaka Nithi have separately launched construction of two markets worth Sh184 million, which upon completion, will tilt trade in favour of their regions.
Tharaka-Nithi Governor Muthomi Njuki yesterday launched construction of Sh70 million two-storey municipality modern market that will accommodate over 3,500 traders in Kathwana township, the county headquarters, which is being elevated from a small dusty town.
In Meru, Governor Kiraitu Murungi launched the Sh94 million Ntharene modern market, which will offer better return on sales for the fresh banana trade in a county that has the highest production in Kenya.
Speaking in Kathwana, Njuki said the modern market will transform the working environment of the traders, who currently sell their goods on make-shift structures in the fast growing township.
The facility will have space for traders, administrative office, ramps, washrooms, waste collection, driveway and loading bays. It will also have provisions for fire safety, rainwater harvesting and collection, ramps and a lift.
"We have started the journey of transporting Kathwana town into the status of a city as I promised during my campaign," said Njuki.
World Bank
The market funding is being drawn from the World Bank's Kenya Urban Support Programme (KUSP) that is targeting municipalities such as Kathwana.
"We envisage once completed, this market will promote the status of the county headquarters and serve as a regional market drawing traders from the wider Tharaka Nithi, Meru, Embu, Kitui and Kirinyaga counties and beyond," Njuki said at the launch.
The market will operate on all days of the week and Njuki believes it will spur job openings and enable traders to reap more from their businesses.
The county has already constructed 1.5 kilometres of urban roads in formerly dusty Kathwana township looping through its Central Business District and the county headquarters and connecting them to Mate Road, the new highway that connects Embu, Tharaka-Nithi and Meru counties through the low lying Tharaka region.
"These are modern urban roads complete with walkways, storm water drains, street lighting, parking and loading bays that have drastically reduced dust and flood water management in our youngest but most important town," said Njuki.
At Ntharene in Meru with a weekly turnover of Sh5 million from banana trade, market chairman John Mutugi said 7,000 traders will benefit.
"This construction is under the National Agricultural and Rural Inclusive Growth Project (NARIGP) implemented by the Ministry of Agriculture with funding from the World Bank and participating counties," Kiraitu said at the launch.
NARIGP benefits banana, avocado, macadamia and potato farmers in 20 wards spread in Meru region.
"A total of Sh285 million has been received as a conditional grant and the county has contributed Sh18 million, making a total of Sh303 million,'' added Kiraitu.
Want to get latest farming tips and videos?
Join Us