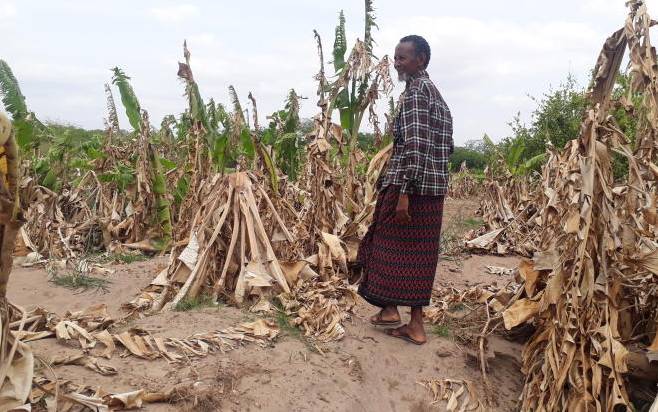 Farmers in Tana River County are yet to recover from the effects of heavy floods that destroyed an irrigation canal running through their farms three months ago.
The floods swept through mango, orange and vegetable farms, leaving them bare.
For months now, the farms have remained dry and unproductive.
Hopes to irrigate the desolate lands were dashed because water pumps, estimated to be worth at least Sh1.2 million, were either destroyed beyond repair or washed downstream.
Abafodho group of farms in Lagbana lost more than 1,500 fruit trees. At the farm, only skeletons of orange trees with rotting fruits that survived the flooding, and remnants of banana plants remain.
A canal that feeds the 220-acre farm and constructed by the Kenya Red Cross in 2012 was destroyed by the floods rendering the entire farm worthless.
"This farm is among the largest. From here we used to harvest at least two lorries of mango, oranges, lemon, onions, potatoes, tomato and chili every week, but now there is nothing to harvest," said Abdi Hussein, one of the farmers.
Hussein, who lost 30 mango trees and about 55 orange trees, told The Standard that he can no longer pay for his family's upkeep, months after the flood.
He is now left with only three mango and seven orange trees.
The farmers are now accusing the government of not doing enough to get their investment which they estimate at Sh50 million, back on its feet.
"These bananas need a lot of investment to restart production, but now there is no canal to irrigate them," said Mohamed Hussein, farm's vice chairman.
"We have written several proposals to government agencies but we have never received any reply even as our families continue to suffer," he said.
The farmers called for a permanent solution to perennial flooding, some of it caused by rains upstream.
"As it stands no one cares about our plight, farmers lose huge investments every time it rains, can't the government find a solution to this menace?" he said.
Another farmer, Arafa Hussein, said locust invasion and the Covid-19 pandemic have made matters worse for many villagers.
"We are appealing to the government and other donors to come to our aid and help us resume agricultural activities," she said.
The farmers said so far they have only received about Sh5,000 in cash transfers from Arid Land Development Focus, a local non-governmental organisation.
The organisation's emergency programme officer, Mohamud Ali, said it could only reach the most vulnerable farmers hit by April floods.
He said the farmers need seeds, water pumps and farm tools that were destroyed by the floods to re-start farming activities.