Waiguru gives out 100,000 Hass avocado seedlings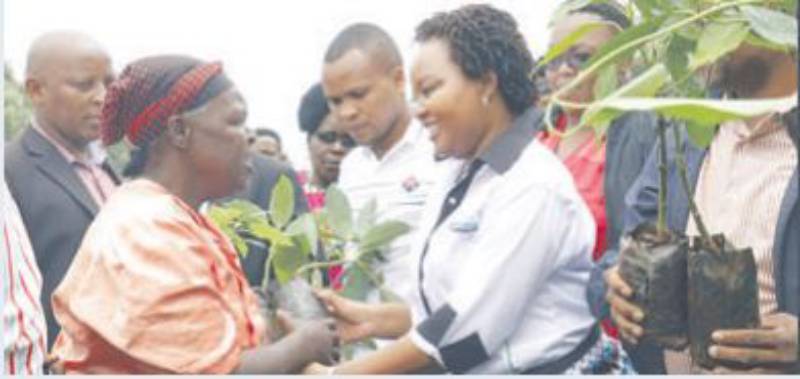 Kirinyaga Governor Anne Waiguru has issued at least 100,000 certified Hass avocado seedlings as part of making more residents export-ready when the crop matures.
Kenya is emerging as one of the top ten avocado producers and exporters in the world, as just overtook South Africa as the top exporter from Africa.
The Governor's Press Service said in a statement that about 120,000 seedlings will be issued by the end of the year. The current rain season, officials said, is a perfect period of planting the tree that takes at least three years to start fruiting.
The Chinese market is the latest addition to potential Kenya's export destination markets, in addition to the United States, Europe, The Middle East and the greater Asia.
In Kirinyaga, seedlings are being given through organized farming groups. Among the groups that have benefitted from the free avocado seedlings program is Muthigi Women Group from Gichugu constituency. Each of the 137 members of the group received three seedlings which they have been nurturing.
The group's chair, Rose Wambui Gitari, says that they have already embraced the avocado farming initiative since it presents them with an opportunity to empower themselves financially.
"We look forward to the maturity of our avocado trees so that we can start harvesting. The sales will help us in meeting our needs that include educating our children. Our village will also be changed by this fruit," she said. One Hass avocado tree can yield up to between Sh8,000 to Sh9,000 worth of fruit.
According to Horticultural Crops Directorate, avocado has a fair share among leading export crops while Kenya is the leading exporter of the crop.
The Economic Survey of Kenya 2019 indicates that the value of horticulture, exports increased from 33.3 percent to 153.7 billion in 2018 on the account of production and improved international prices.
Want to get latest farming tips and videos?
Join Us