Failure couldn't dampen Kilifi group's spirit in prawns trade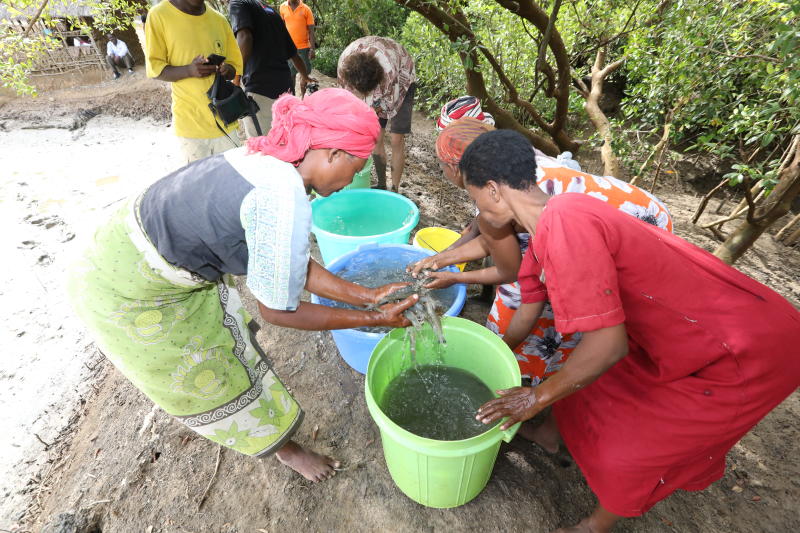 Walking barefoot on a dusty footpath, 59-year-old Wanje Kalenge leads us to the site of three massive ponds.
We are headed to Mtwapa creek, Kilifi County to check out a community group's prawn project that has picked up after years of struggle.
Prawn is a common name for small aquatic crustaceans with an exoskeleton and 10 legs, some of which can be eaten. Here we meet an excited Mtepeni Community Mangrove Conservation Group that has had its first prawns harvest.
The group's chair Kalenge says they started in 2013 to protect the mangrove forest along the Mtwapa creek. Of the three ponds, one covers 1.35 acres and the rest 1.2 acres.
"Mkundazi, the largest pond adjacent to the mangrove trees at the Mtwapa creek was constructed through the help from Food Agricultural Organisation in 2014," says Kalenge.
Started with 35 members, the original goal of the group was to preserve mangrove forest cover along the creek and fishing was not their core business.
Along the way, many members lost enthusiasm and quit the group to seek alternative sources of income.
"The membership shrunk from 33 to 23 people after some members felt that the venture was not economically viable. You see, the mangrove tree takes between 10 to 15 years to mature and many members had no patience for that," Kalenge tells Smart Harvest.
To revive the group, in 2014, the remaining members decided to construct a fish pond to boost the mangrove venture.
And step by step they soldiered on.
"It has not been an easy ride. Our first prawns harvest was very poor but we did not give up," says Kalenge.
In 2017, the group bought more than 80,000 wild prawns fry caught from Mtwapa creek but they all died days after they were put into the pond.
Death of prawns
Managing Director of Mtoni Life Aquatic Iain Olivier, who is also an aquaculture engineer, says the fry died because of high salinity and pH (acidic levels in water) at the pond.
Prawns do well in water with salinity below 45 per cent and pH is below 7 or 8.5 per cent. High salinity or pH could lead to the death of the fry.
"We lost approximately Sh500,000 following the death of the 800,000 prawns. This also led to a massive walk out of members from the group," recalls Kalenge.
Only seven members were left to soldier on. In December 2018, they partnered with Mtoni Life Aquatic that supplied them with 17, 500 hatchery-reared prawn fry.
The two species of the fries, 3, 500 black tiger (monodon) and 14,000 banana hatchery-bred prawn fries were reared in the hatchery for 6 weeks before were taken to the ponds.
They spent Sh6,000 on feeds in the five months until the prawns matured.
At the ponds, it took five months for the prawns to mature ready for harvest.
According to Kalenge and Olivier the first harvest "looks promising" as they harvested over 80 per cent of the prawns we stocked in the pond.
"We are happy with the number of prawns harvested but on kilos we are still not there because a pond of this size should give us a half a tonne but we harvested 170 kilos," says Kalenge.
Tastey delicacy
Kilifi County Director of Fisheries John Mwangi says the prawns weighed between 20 to 25 grams each but "we have room to improve to between 50 and 70 grams."
One fry goes for about Sh5 or Sh7, says Mwangi. Demand for the prawns is high since many tourists hotels along the Coast buy them. And now after a long slow start, things are looking up.
A Mombasa-based firm, Sea Harvest Kenya Limited, has signed a deal with the group to buy the produce at Sh650 per a kilo.
"This is great news for us given that we did everything on trial and error basis," says Kalenge.
The group now plan to expand their farming to cover all the ponds and venture into rearing Jumbo and King prawns which weigh between 180 to 200 grams each and fetch more.
According to Rober Kiiri the General Manger of Sai Rock Hotel a plate of fried prawns at popular tourists' hotels along the Coast is sold at Sh1, 000.
He says firms in aquaculture have of late gained investors' attention adding that the sector was yet to fully exploit.
Kilifi County has started the commercialisation of prawns and crabs hatchery to supply the fry to seven huge ponds it has built for the communities in different parts of the county.
"Stocks of wild fry has diminished because of the destruction of mangrove and climate change so the hatcheries will play key role if the sector is to be exploited fully," according to Brendan Muli the director of Kwetu Centre, an NGO that sensitizes communities' leaving near the creeks to preserve mangrove.
Other challenges, they continue to face is availability of the feeds, predators and lack of storage facilities.
Want to get latest farming tips and videos?
Join Us