Chicken rearing gives Turkana woman sense of ownership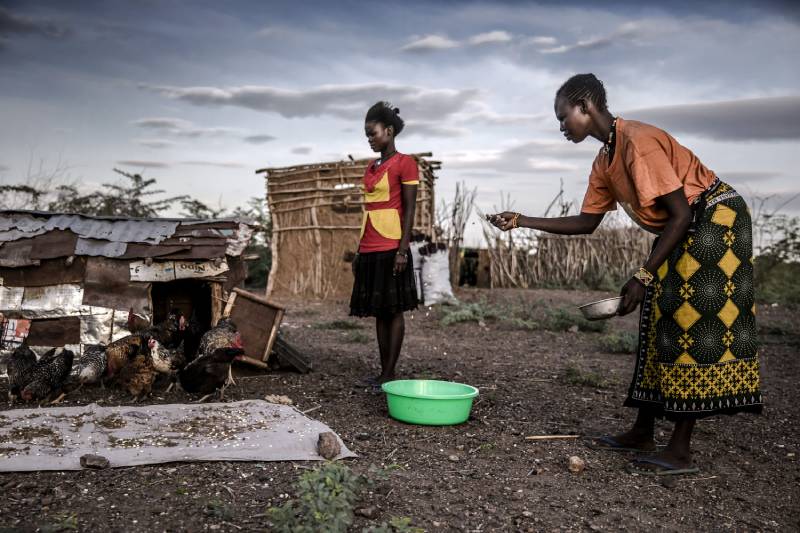 Turkana is mainly a pastoral community and the main source of livelihood is rearing goats and cattle. The bigger the herd the richer the man is perceived to be. But this wealth did not trickle down to the woman.
Before a goat is slaughtered, a ritual is performed by the male elders to thank the gods for what they are about to consume. This goat is then roasted with its skin on, known in Turkana language as tope tokon. Loosely translated to mean 'roast it until it cooks.'
Tope tokon, is an only men affair. They sit in their traditional rest stools in a circle from the eldest to the youngest. At the center is the fire made from firewood collected in the nearby forest, of which the goat is placed directly on top of. In front of the men is a heap of leaves that act as a table. Almost each man is armed with a circular traditional steel knife to cut meat pieces.
From the 'kitchen' to the circle, cooked meat is passed to an older man who cuts his piece and passes it along to the next. Before the meat is roasted, a leg is put aside for the wife of the goat owner, as a token of appreciation for having taken care of the goat.
This is the furthest that a woman has ownership to the goats and cattle that she works hard to take care of. Arukudi Erupe was introduced to chicken rearing in 2016 by FAO. To the people of Turkana, chicken is not traditionally eaten nor reared. FAO, with funds from European Union, therefore had to do extensive training on the nutritive value of chicken and eggs, as well as how to keep them.
Arukudi is an early adopter of chicken rearing, having witnessed the fast pace at which they multiply compared to goats. The improved breed that was introduced by FAO also fetch a good price – Sh1,000-1,200 per mature chicken, and the eggs can also be consumed by her children.
'I was convinced to start keeping chicken because it was finally something I could fully take ownership of. Traditionally, we take care of goats but we do not own them. If I have a visitor, I cannot decide to slaughter them a goat. But now with chicken, I have full autonomy of decision,' says Arukudi.
The men do not pay any attention to the chicken. Arukudi's daughter has also started keeping chicken. To keep the snakes and mongoose at bay, Arukudi uses raised oil barrels introduced by the Norwegian Refugee Council, in partnership with FAO. She diligently vaccinates her chicken as trained by FAO, and sometimes incorporates indigenous knowledge like the use of neem, aloe vera and chilli to protect against Newcastle disease.
Arukudi, who is 31 years old and has six children, now has a flock of 23 birds, from the initial seven she received from FAO to start her off. She also now uses the chicken droppings to grow kale and amaranth in her kitchen garden. Since the improved breeds introduced by FAO only lay eggs and don't brood, she has two local breeds for that.
Livestock Farmer Field Schools was a project funded by the European Union to teach the pastoralist community on better livestock management, including the introduction of chicken rearing.
"Since I started keeping chicken, I earn money from the sales, my children eat eggs and we now also have access to vegetables that we use to supplement our diet of traditional meat and milk," Arukudi adds.