Premium
Kienyeji chicken business winning tips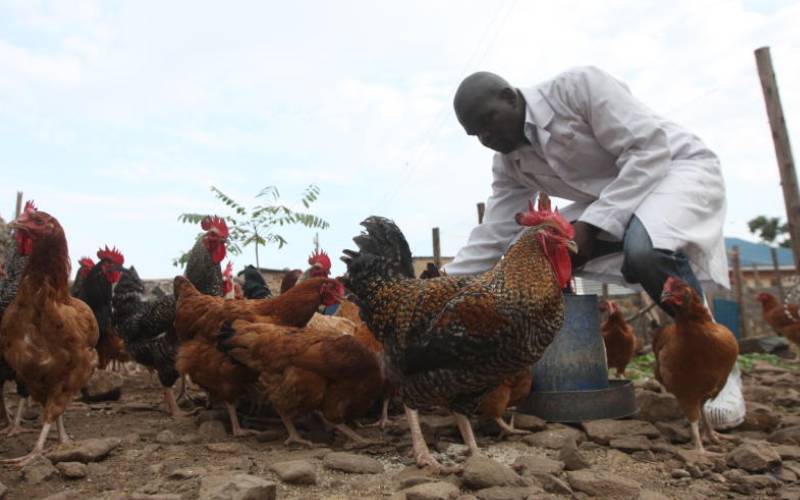 Hello Dr Watson, I am a small-scale poultry farmer in Nandi County. I would like to venture into commercial Improved Kienyeji farming, for eggs and meat. Kindly assist me with more information on the house plan, good poultry management practices and a rough estimate of a start up of 500 improved Kienyeji day-old chicks.[Cheruiyot Biwott]
Dear Bwana Cheruiyot, Improved Kienyeji chicken farming is slowly growing in popularity in Kenya since the well-established indigenous chickens cannot cope up with the demand for tougher and sweeter chicken menu largely being consumed by our middle-income population. More breeding companies are churning out breeds like Kenbro, Sasso, Kari, Rainbow rooster, Kuroiler in the name of improved backyard flocks. These breeds are mainly disease-resistant and easy to manage with limited resources compared to high yielding commercial broilers or layers.
Majority of Improved Kienyeji poultry farmers practice what is called free range system, where there are minimal interventions in terms of farm house, human resource, equipment, vaccination and treatments. However, with large numbers, they must be reared in restriction. To commercialise this form of business, here are the five key things to focus on.
Business planning
This is the most critical aspect of farming that you need to go through. It must be crystal clear from the beginning what kind of product you want to sell and who are your target clients. How much funds do you want to initially pump into this business? How are you going to market your business? To grow the birds to market weight or to point of egg production, you will spend approximately Sh450 per bird and that translates to Sh225,000 for 500 birds.
Housing
The ideal house should provide the birds with a comfortable environment and protect them from the extremities of the prevailing weather (rain, wind, sunshine). In the tropics, the ideal house is open-sided to allow natural ventilation and have an east- west orientation to minimise the amount of sunlight entering the house directly. The wall should be two feet high from the floor and the rest of the five feet high wall made of chicken wire mesh which is totally wild bird proof. Any type of roofing will do however in hot climates like the coast, 'makuti-thatched' roofs are the best. It costs about Sh250 per bird to do a decent unit. It is important that the house be rectangular and have wall not higher than three feet (3) on the longer side. To accommodate 500 birds, you will spend approximately Sh125,000 for poultry unit construction.
Good poultry husbandry practices
The moment you decide to rear your birds in enclosure, in restricted quarters, the immediate challenge that comes with this decision is the ability to master the animal husbandry skills. You will need to engage in a short training session on the benefits of choosing a good breed, chick quality, brooding principles, vaccination programme, animal husbandry practices and most ideal feeding and watering equipment. When it comes to commercial farming, there are no shortcuts, every detail counts, and level of commitment must be commensurate to the expected benefits. The overall aim is to achieve low mortality, rapid weight gain, sweet and tasty meat or eggs, efficient feed utilisation and acceptable bird welfare.
Marketing
Marketing is the driving force of any business. Start with your friends, friend to your friends and neighbours. Advertise your products by word of mouth, leaflets, posters, local radio stations, fliers, visit eateries, clubs, joints, hotels, schools, wedding parties and sell your products. Strive to know your customers by name, location and telephone numbers.
Value addition
Try to add value to your products. If it is meat, have it inspected by registered meat inspectors, keep it halal, do cut-ups (breasts, thighs, legs, wings, necks, backs etc) and pack them hygienically before you present to the consumers.
[The writer is Head Vet at Kenchic [email protected]]
Want to get latest farming tips and videos?
Join Us