Ejiao: Why donkey skin trade continues to thrive despite ban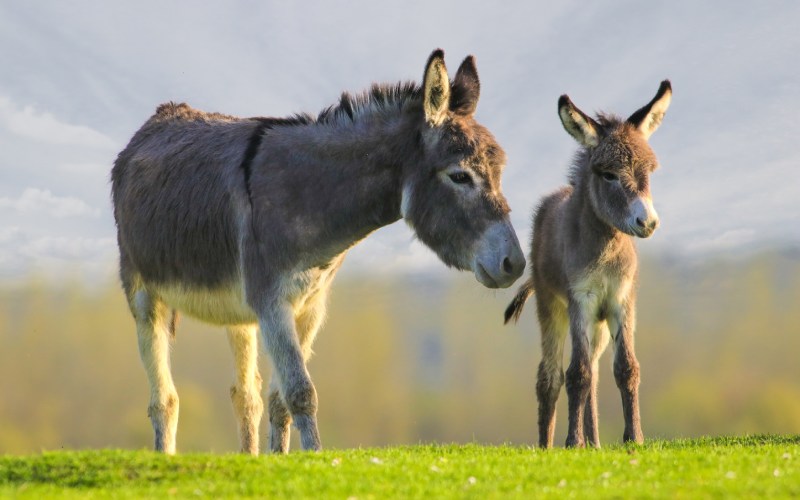 When Josephine Ndunda, a donkey keeper from Ikalaasa village in Machakos county, affectionately refers to her donkey as a second wife, one may not understand the depth of their symbiotic relationship.
Not until she breaks it down. For her, the donkey is a lot more than just a beast of labour. She stands next to me poised, but with the frailty that comes with age. Her two donkeys, best regarded as her crutches, now stand in the place she stood years ago, when strength and youth were on her side. They ferry water from the river and firewood from her farm to her household, and occasionally transport her produce to the marketplace, responsibilities that were initially extremely taxing to her wellbeing. And for these reasons, May 17 remains boldly marked on Ndunda's calendar, the significance of the day known only to her.
At the Ikalaasa chief's camp, all and sundry gather for the national donkey day. Present also are animal welfare stakeholders such as the Alliance for Donkey Welfare Organisations in Kenya (ADWOK) as well as Inades-Formation Kenya (IFK). They are gathered to recognise the role of the donkey in economic development. Donkeys are also present. They have been brought to enjoy the overgrown grass around the camp, but more importantly to receive dewormers and multivitamins as a health boost, a move gladly welcomed by the donkey owners.
There are barely any men present at the camp. This is clearly a female affair, a grim reflection of the role that women play in their homes. A quick look around and the makeshift muzzles dangling on the donkeys' necks are hard to miss. They are made from all sorts of materials. The women are afraid of the very donkeys they love so dearly. Donkeys are said to bite when agitated, and for that reason muzzles are a must-have. And in true Kenyan fashion, the women of Ikalaasa have turned to innovation to meet the need for muzzling. From plastic containers to woven kiondos (baskets) and in some instances metallic gauzes wrought to fit the mouth, the donkeys are kept from harming their caretakers.
But while the celebrations are largely to recognise the role of the donkey in economic development, it is easy to tell that the real joy felt here comes from the banning of the commercial slaughtering of donkeys.
Why ejiao is popular in China
According to The Donkey Sanctuary, donkeys remain among the most trafficked animal in the world with up to two million trafficked for slaughter every year. The Donkey Sanctuary further finds that donkeys bound for their skins suffer deeply cruel and inhumane conditions from source till slaughter. Pregnant, young or injured animals are not spared the cruelty, and this has seen donkey populations across the globe dip.
The high demand is largely caused by the demand for ejiao, a traditional Chinese remedy made using donkey skins, and the collapse of the domestic Chinese donkey population has led to a spike in trafficking as skin traders look for supply at any cost.
According to Brooke, an organisation that purely deals with donkeys, ejiao is a hard gel that can be dissolved in hot water or alcohol to be used in food or drink, or in beauty products such as face creams. Believed to improve blood circulation, ejiao is used as a blood tonic by people with anaemia, low blood cell counts or reproductive problems
Monicah Maichomo, the director of veterinary sciences research institute at the Kenya Agricultural and Livestock Research Organisation (Kalro), explains in a write up on The Conversation that to meet this high demand, four export slaughterhouses were licensed and began operating in 2016 here in Kenya. These abattoirs had the capacity to slaughter 1,260 donkeys daily. Donkeys were sourced from donkey keepers, while others were stolen and brought in both legally and illegally from Ethiopia. Despite the licensing, there were no donkey farms in Kenya that had the capacity to supply the slaughterhouses.
A study by Kalro on the status of donkey slaughter in Kenya and its implications on donkey population and community livelihoods between 2016 and 2018, projected that by 2022, with all factors held constant, the donkey population would be entirely wiped out in Kenya. Notwithstanding, the study further revealed that the donkey was ranked as the most important livestock in comparison to chicken, goats, cows and ducks in areas where the cross sectional survey was undertaken, these being, Turkana, Nakuru, Machakos, Baringo, Narok, Kajiado and Kirinyaga.
In 2016 the donkey population stood at 1,965,632 with the population projected to grow to 2,091,236 without commercial slaughter. However, a total of 301,977 donkeys, which represented 15 per cent of the donkey population were slaughtered in four export slaughterhouses within the period April 2016 – December 2018. Even worse was the revelation that the annual rate of donkeys slaughtered was five times higher than the annual donkey population growth rate. With that, it became clear that donkeys would become extinct in the country within five years.
In 2020, citing the dwindling numbers, the government through the Ministry of Agriculture banned the commercial slaughter of donkeys, a move that was widely welcomed by communities that economically relied on donkeys. This is because, the direct effect of the reducing population of donkeys was felt directly by poor households that depend on working donkeys. Donkeys provide transport in households that are unable to afford motorised transport. A scarcity of donkeys could mean that children may need to provide labour as their families cannot afford to hire extra help, in turn keeping them from school.
While the ban on the commercial slaughtering of donkeys has been critical in allowing an increase in donkey population and providing a temporary relief to donkey owners, factors such as illegal slaughtering and the increase in the price of purchasing a donkey from Sh4,000 to Sh13,00 according to Kalro, continue to affect poor households today.
Want to get latest farming tips and videos?
Join Us