Farmers urged to sell livestock as hunger looms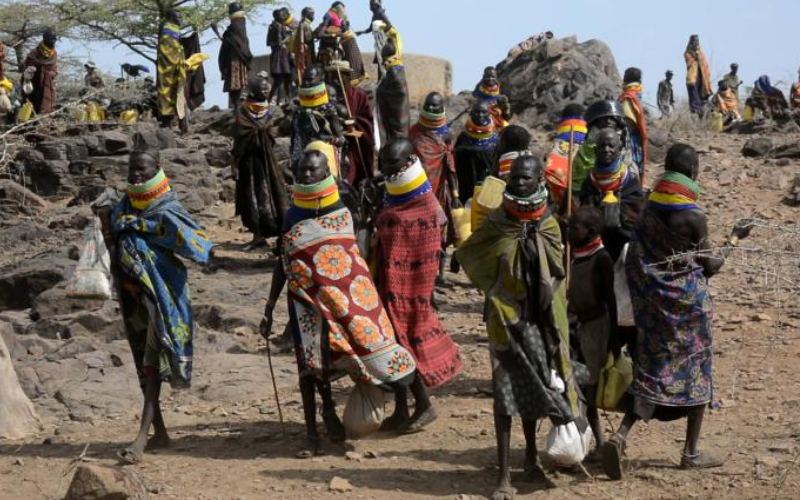 Farmers are staring at poor harvests this season following inadequate rainfall, which has caused crop failure.
Hundreds of thousands of residents of Kitui, Machakos and Makueni counties, which lie in the arid and semi-arid lower Eastern region of Kenya, foresee hunger, as the scorching sun continues to wither surviving maize and beans in farms.
Besides, the short rains expected last November were not sufficient either. This also left farmers counting losses.
The worst hit areas are parts of Mwingi and Ikutha in Kitui County, Kibwezi and Mbooni East in Makueni County, as well as Yatta and Masinga of Machakos County.
Machakos County Director of Meteorological Services Mr Dominic Kyalo says the arid and semi-arid region has borne the brunt of depressed rainfall, which will trigger between 70 per cent and 80 per cent of crop failure.
"The situation is pretty bad and we foresee a scenario where food production will be severely affected by the prolonged dry season. There is need for those concerned to put in place adequate mitigation measures to deal with looming food shortage," he said.
Mr Kyalo urged residents to heed to the early warning signs of shortage and plan for their livestock's pasture. "People have to devise alternative means of survival because we are entering into a long season of hot and dry weather. Those with many livestock may consider disposing of some before they run out of pasture and starve to death," said Mr Kyalo.
Dr Sonia Nzilani, an environmental scientist and senior lecturer at the South Eastern Kenya University (Seku), urged for action to tackle the harsh climatic condition.
"The problem we are experiencing in Africa is as a result of injustice meted out mainly through the activities of the developed nations. Sadly, the adverse effects are felt most in arid and semi-arid regions like Ukambani," Dr Nzilani told The Standard in an interview.
She also blamed the crisis on massive settlements and population pressure causing rampant environmental degradation.
"The situation in Ukambani has been aggravated by careless human activities such as interfering with forests and other critical water towers. What is left for the region is to adopt climate smart agricultural practices, including harvesting and storing of storm water," Dr Nzilani said.
She advised government to promote change of mindset among local farmers and sensitise residents to embrace drought resistant crops with the help of research institutions such as Kari and Karlo.
"It is not too late to recover from this crisis. If our people could heed the call to plant more trees and conserve the environment, it is still possible to pull out of the mess in the coming years," she said.
Her sentiments were echoed by senior environmental sciences lecturer at the University of Nairobi Dr John Musingi, who rooted for irrigation as a way of beating the erratic weather patterns in the region.
"We need to begin focusing on promoting irrigation-based farming instead of relying on rain fed agriculture if we have to remain food secure. National and county governments must map out all water catchment areas and set aside budgets to construct water pans to aid farmers," said Dr Musingi.
Dr Musingi warned that the looming food shortage could be aggravated by the prevailing international crisis. "We are staring at a worse scenario, especially if the current war in Ukraine lingers. Food prices are likely to go up and the number of those at the risk of suffering will rise," said Dr Musingi.
Former Yatta legislator Mr Francis Mwangangi urged the government to urgently construct the proposed Sh9 billion Yatta dam, which was initially positioned to feed the 52-kilometer Yatta canal in order to ensure uninterrupted water supply locally.
"The Yatta dam was supposed to address the shortage of farming water along the Yatta canal, but its construction has been halted by litigation regarding compensation. We urge the government to move swiftly and address the matter," said Mr Mwangangi.
Want to get latest farming tips and videos?
Join Us