Milk prices reduce as supply remains steady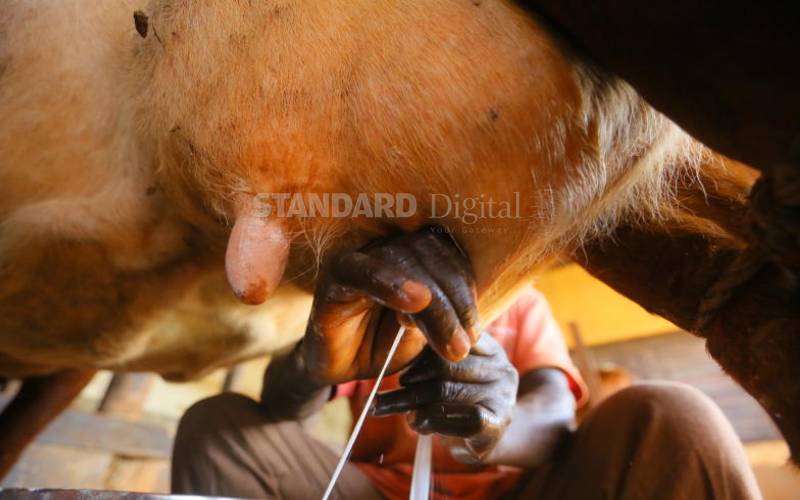 Dairy processors in Central have continued to meet market demands with a slight increase in milk production from local farmers.
Despite the current dry spell and pandemic, George Kinyanjui a manager at Githunguri Dairy in Kiambu, said the processor has not experienced any milk shortages.
"We are meeting the demand for our products and in fact, most of our stock is being sold in the market. We do not have any shortages," he noted.
Kinyanjui observed that when the milk stocks meet the market demand some smaller dairy processors report shortages and stockpiles so they can import and take advantage.
"Based on our sales and performance in the market, we have been selling our milk consistently and have even dropped our market prices by one shilling," he said.
He pointed out that farmers had not reduced milk production and the processors had no stockpiles.
Stock piles
In Nyeri County, Wakulima Dairy which collects milk from local farmers also reported a similar trend of stable milk production.
Peter Kamau CEO Mukurweini Wakulima Dairy said the processor had registered a slight decrease in production levels at the beginning of the year due to a dry spell.
However, in the last two months, the milk prices had been stable with the facility processing 63,000 litres of milk.
Take a quick survey and help us improve our website
Take a survey
"The climate has been favourable, and this has allowed us to recover from the shortages experienced in November last year," Kamau explained.
He noted the market prices for milk had gone down due to the steady supply.
"Most processors are reducing their prices and this might mean some are intending to import but for us as Wakulima Dairy our farmers have continued to supply milk consistently meeting the demand," he stated.
Good incentives
Meru Dairy Union CEO Kenneth Gitonga said the processor had increased their intake of milk from farmers.
"This is because we encourage our farmers to increase production, and they have the capacity to do so given the right incentive," Gitonga noted.
He said, the processor was offering Sh43 per litre of milk which was one of the reasons, their milk production was steady.
"We have good incentives in terms of payment and if processors would encourage farmers, the milk supply would be sufficient across the country," Gitonga said.
Machira Gichohi, a dairy value chain expert, pointed out climate was one of the major factors influencing milk production discrepancies.
"Central region has been experiencing favourable climatic conditions for the past few months which was not the case in other parts of the country. That may explain the shortage in other places," Gichohi noted.
When farmers have enough silage and forage to support their herds, milk production remains steady.