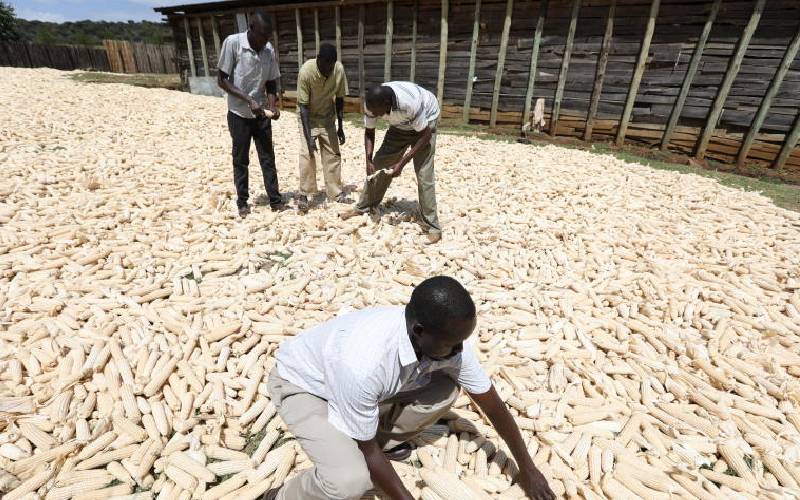 On what the government can do to ensure food for all, Crop Development and Agricultural Research PS Hamadi Boga says the worst part is over.
However, he said about 1.3 million Kenyans are food insecure. They are mostly located in the Northern, Northeastern and Eastern parts of Kenya.
Speaking at an event organised to mark the World Food Day in Embu town on Friday, Prof Boga said the majority are known and are supported through cash transfers.
He said there is a need for partnerships, even with the private sector, to meet the needs of the vulnerable in society.
The PS cited a deal between the ministry and the African Development Bank, where families were trained on setting up kitchen gardens.
The project aims to create one million kitchen gardens so the vulnerable can grow their own food, including in urban areas. The ministry has a model kitchen garden which farmers can emulate as well as seeds and other inputs that are distributed to families.
According to Boga, the ministry is also implementing the Agricultural Sector Transformation and Growth Strategy, where it is working with small-scale farmers to accord them input at affordable rates.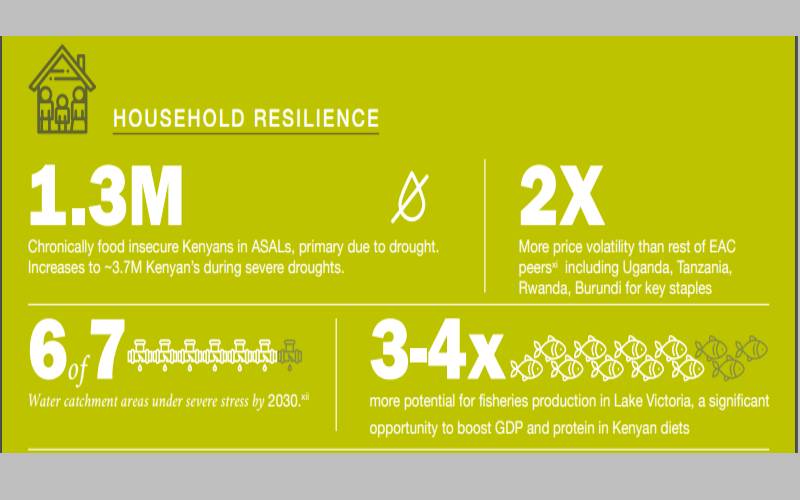 "This year our estimates show that we are going to have a good crop of maize - around 44 million bags - which is equivalent to what was obtained last year. The production for exports has also gone up."
Article 43 of the Constitution states that every person has the right to be free from hunger, and to have adequate food of acceptable quality.
The strategy is anchored in the belief that food security requires a vibrant, commercial and modern agricultural sector that sustainably supports Kenya's economic development, national priorities, and commitments to the Malabo Declaration under the Comprehensive Africa Agriculture Development Programme (CAADP), and the United Nations Sustainable Development Goals (SDGs).
Early estimates show that the strategy has the potential improve the lives of ~3.3 million small-scale farming households (~15 million Kenyans), and contribute additional agricultural GDP of up to KES ~170 billion each year in five years (~up to KES 460 billion).
An additional ~up to KES 230 billion each year can be added to total GDP from other sectors (e.g., construction and manufacturing) as a result of transformation in agriculture.
Since the turn of the year 2020, the world has been battling an outbreak of the highly infectious new coronavirus disease 2019. Of particular concern is the negative effects of the pandemic on food security and food systems.
The Food and Agriculture Organization of the United Nations (FAO) recently estimated that in 2019, there were 2 billion people in the world who did not have regular access to safe, nutritious and sufficient food, whereof nearly 750 million experienced severe food insecurity. Covid-19 is currently predicted to cause a steep rise in numbers, forcing an additional 83-132 million people to go to bed hungry in 2020.
As we know, the pandemic comes on top of climate change shocks and other challenges threatening the food systems. The impacts hit the most vulnerable population hardest. We argue that efforts to safeguard the welfare of the people and secure their access to nutritious food should be a top priority. We need ambitious interventions that secure our food systems from various shocks – urgently as well as more long-term.
One very important intervention, we believe, is increasing efforts to support smallholder farmers in more sustainable and resilient land use, particularly agroforestry. Agroforestry is a shock-resistant and sustainable way of growing food. The method increases ecosystem services such as biodiversity, erosion control, drought resilience, carbon sequestration and increased soil moisture.