Flour-blending project and the quest to uplift small-scale sorghum, millet farmers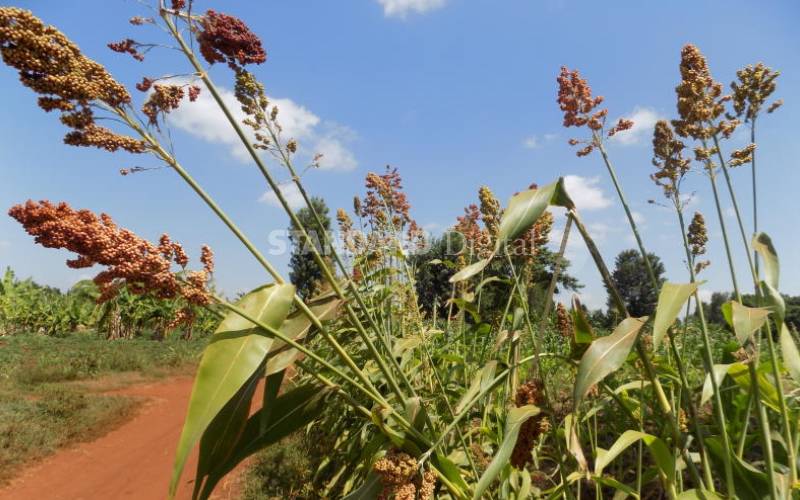 The government's plan to blend flour is expected to improve profits for sorghum and millet farmers.
According to the CGIAR Research Programme on Grain Legumes and Dryland Cereals (CRP-GLDC), major food policy changes are underway in Kenya.
The project that started in 2018 involves blending flour to increase the demand for millet, sorghum, cassava, sweet potato and amaranth.
An article on the CRP-GLDC research says some of the under-utilized high value foods are produced by approximately four million smallholder farmers.
"This initiative envisages that maize flour will be blended with a minimum 10 per cent of either one or a composite of the underutilised high-nutrition crops."
The initiative, according to the GLDC, is premised on the need to reduce over-reliance on maize.
It is meant to promote more climate tolerant crops since sorghum and millet can be grown in low rainfall.
Further, some of the nutrients that are available in the crops is absent in maize.
The CRP-GLDC article sought to explore how the flour-blending project could be leveraged for poverty reduction and nutritional impact.
"We think this policy change could trigger a major innovation in the agri-food system in Kenya and deserves much more attention."
Take a quick survey and help us improve our website
Take a survey
The article questioned whether the project will benefit small-scale farmers who grow the crops.
" The answer is: not necessarily so. The team has conducted a detailed scoping study, exploring trends in sorghum and millet production, mapping the Kenyan sorghum and millet marketing value chain, and conducting interviews with policy, industry and consumer representatives to gauge reactions and perceptions to the proposed flour blending."
According to ICRISAT's Amos Tirra, "There are no guarantees for smallholders. Value chains might not pass on price premiums to smallholders. The new demand for sorghum and millets could be supplied by large scale commercial farmers or even through imports."
The CRP-GLDC research further added that nutritional benefits might be mostly felt by urban, high income consumers who buy commercially milled flours.
"Similarly, implementation of the flour blending policy may raise grain and food prices in rural areas that traditionally depend on sorghum and millets as staple foods. Small-scale millers that can't make the shift might also go out of business".
But the research says pro-active and coordinated response is required to support smallholders farmers to take advantage of the emerging opportunity.
It cited effective seed systems to provide seeds of the varieties that the flour market would demand; arrangements to better connect small volumes of grain from the smallholder sector into the supply chain and the development of marketing mechanisms that distribute benefits to producers.
It encouraged education campaigns to push for changes in consumption patterns and incentives for large-scale millers to procure from the smallholder sector.
ICRISAT's Mequanint Melesse added that "a coordinated response in both production, market and policy is needed and would require an ongoing dialogue with a range of stakeholders across the sector.
The article stated that the proposed flour blending initiative will only be successful if it pays more attention to the smallscale farmers.