Covid-19 takes its toll on Kilifi cassava farmers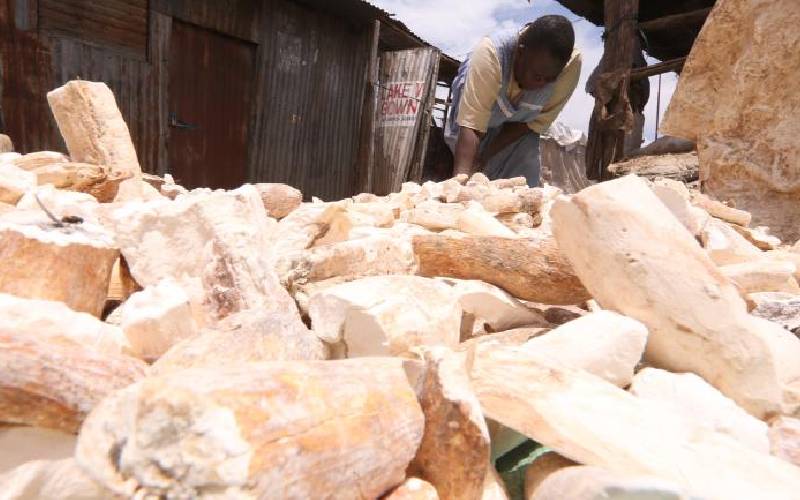 Two large scale farm operations and exports to the overseas market came to a halt this year due to the COVID-19 pandemic coursing fear of scarcity of farm produce in Kilifi County.
The advent of coronavirus changed the face of farming in Kilifi county as many large scale farmers were left with no option but to close down their operations, many losing their source of livelihood.
Kingsley Kelechi, a Nigerian largescale farmer based in Kilifi County stares into massive financial losses as large quantities of his cassava produce is left rotting in the farm.
''I used to transport almost 100 tons per month to the east African market but with the ban of airline cargo freight, my activities came to an abrupt halt,'' says Kelechi.
He owns a 200-acre farm of cassava and a processing plant where he manufactures chips and cassava flour and also uses the by-products to make animal feeds in ensuring that nothing goes to waste.
''I had about 150 farm workers, some were managing the plant and some in the cassava farm, but with the closure, I had to send them home because there was no cash flow and I couldn't afford to pay their wages," Kelechi explains.
He says even with the return of the cargo flights, he doesn't see his farm operating like it used to because of the losses he already incurred
Kahindi Charo, is another farmer who lost heavily. He says the closure of the farm affected him since it was his only source of income and he now depends on his small farm of vegetables where he sells the vegetables to the locals but this has not been of help since he gets too little compared to the mouths he has to feed.
''I have a wife and five children, the firstborn is in Form Four … with the opening of schools, I couldn't even raise my daughters' school fees," says Charo.
Take a quick survey and help us improve our website
Take a survey
Cassava farmers in Kilifi have been grappling with many challenges given that consumers are increasingly preferring maize as their source of starch.
Erick Njue, an Agricultural Project Officer with the USTADI Foundation in Kilifi County, has encouraged farmers to plant legumes as an income alternative to the cassava as the Covid-19 crisis bites.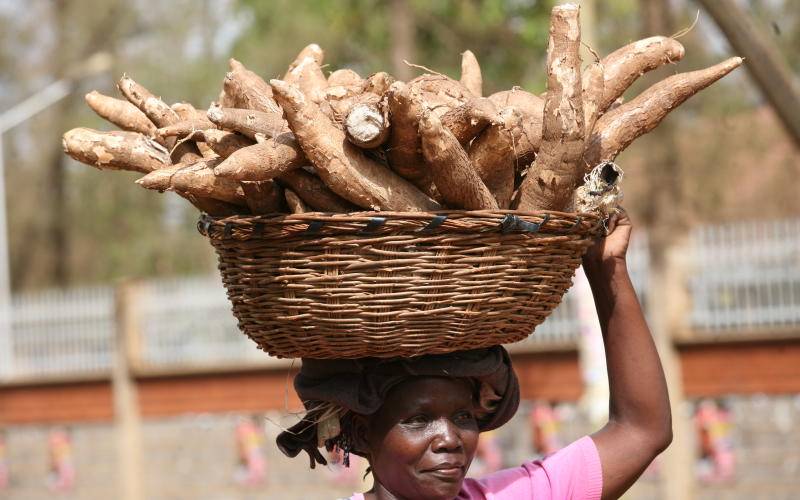 ''I encourage the cassava farmers especially at this time of crisis to embrace good agricultural practices and short term farming like growing vegetables just to find ways of surviving since the veggies only take a month to be ready," he says.
He also advises the farmers to make and store cassava chips until market forces as favourable instead of letting them rot.
Another large-scale farmer Rev. Remus Mngumi Jali, of Baguo village in Kakuyuni Ward Kilifi County, has also heavily invested more in cassava growing after quitting his job as an accounts clerk in Malindi.
Even after moving out of the formal employment, Rev. Mngumi does not regret the ten years in his farm since he now earns more in farming than what he earned when he was an employee.
''I left my job ten years ago and turned into agriculture with a single stem of cassava which I bought for five shillings at the Kenya Agricultural and Livestock Research Organisation [KALRO]in Mtwapa," he recalls.
He grows the Tajirika variety of cassava in his seven-acre piece of land. This variety only takes eight months to mature and doesn't require much rain to thrive.
Due to his diligent farming, he got a scholarship to go for a ten-week sustainable farming course at Harper Adams University in Shropshire in the UK after Self-help African Organisation chose him.
''The organization mentored and choose me for the scholarship to grow cassava cuttings but unfortunately, the training was moved to next year because of the Coronavirus pandemic.
On the completion of the course I will give back to the society through sensitization and training the farmers at the community on cassava farming," he says.
Through the proceeds from his farm, Rev Remus has educated his children but with the advent of the coronavirus pandemic, his farming was also affected after customers stopped buying.
''The effects of corona pandemic were massive because of cancelled orders. There was a buyer who wanted to buy a big number of my cuttings but abandoned the idea when the virus knocked on the doors of the country. The orders were worth a million shillings but with the cancellation, the cassava and the cuttings were left rotting in the farm: he laments.
The farmer had several plans among them to own his cassava processing plant which he says will come in handy to make his farming a sustainable venture.
''I wanted to have my cassava processing machines because I have a lot of raw materials. I want to process animal feeds and also this will be able to create job opportunities for the jobless youths around," he says.
Like any other farmers, he has faced several challenges while growing the crop, which include theft and wildlife feeding on his crop.
''When I started planting I had to acquire a loan for fencing because the animals around were destroying my cassava,'' he added.
He also encourages the farmers to embrace cassava growing because it is self -sustaining.
''I don't want to be employed because farming pays," he says.
Research by KALRO shows that Kilifi is among the three highest producers of cassava in the country.
The Kilifi County Government has made several interventions to improve the cassava value chain.
This includes the construction of the Sh25 million cassava processing plant at Tezo that will serve thousands of farmers.
The construction work is complete and waiting for the installation of the machinery.
County Agriculture Executive Ms Luciana Sanzua said the plant will process between three to ten tons of cassava daily with the end product being flour and cassava chips.
''The first phase of the plant is complete and we want to procure the third phase of the project on installation of the equipment that is already on the ground,'' she said.
The devolved government is roping in small scale farmers, supporting them at the household level to process their cassava and build them cassava collection centres.