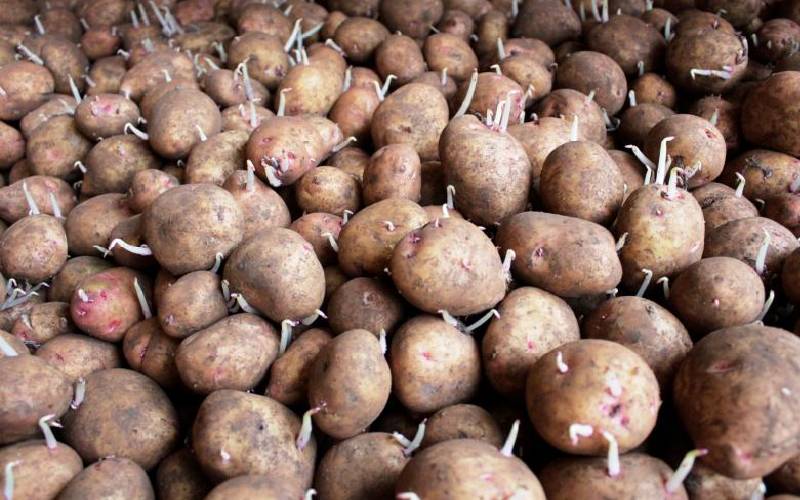 Farmers in potato producing zones of Lelan and Kapyego wards in Elgeyo Marakwet are staring at losses after heavy rains rendered roads impassable.
The roads have made it difficult for farmers to ferry their produce to the market in time as they are forced to spend several days on the road after the vehicles get stuck in mud.
Unlucky ones have left watching desperately as their crops rot in the farms because of the poor state of roads.
The situation has been aggravated by blame game between the two arms of government over the responsibly of repairing the dilapidated road.
Traders from as far as Nairobi, Kisumu and Eldoret make trips to the area to buy potatoes.
"The poor state of the roads in the two wards has denied us access to market places. Potatoes is our economic lifeline but we are now impoverished due to poor roads which makes it even hard to respond to emergencies," said resident Patrick Chemweno.
He said traders spent several nights on the road when their vehicles get stuck. They now fear going there to purchase the produce.
"It is unfortunate to see people stuck with their produce after doing the donkey work throughout the year. Coming out with harvests is not a joke, the government should put its act together and alleviate our suffering," added Chemweno.
Another resident Timothy Kosgei said the region is also a milk producing zone and has for decades experienced a transportation crisis during the rainy season.
"When you hear people talk about productivity, they don't just target farm products alone, there are other issues like medical emergencies, school children, business men who get stranded on the road," he lamented.
Kosgei said residents have taken it upon themselves to repair the road but in vain since it needs gravelling and proper drainage.
"Schools are opening from today (Monday) and the majority of farmers here can't raise fees for their children yet they had a good harvest," said Chemweno.
Marakwet West MP William Kisang said the road are under the jurisdiction of the county government but he will ask the Roads executive to prioritise its construction.