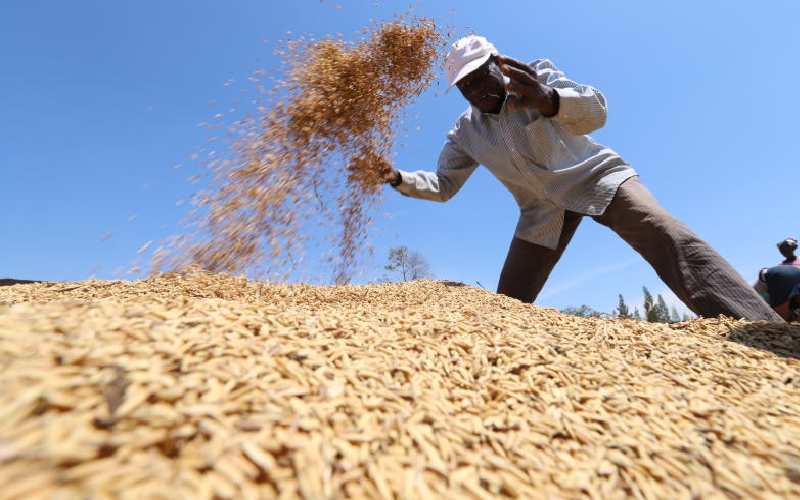 President Uhuru Kenyatta's intervention to safeguard food security in the face of Covid-19 has brought a sigh of relief to maize farmers.
Cereals producers who have over the years suffered huge post-harvest losses and exploitation by middlemen due to lack of storage facilities stand to benefit from the latest presidential directives to the National Cereals and Produce Board (NCPB) on grain management.
Maize farmers who spoke to The Standard from the North Rift welcomed directives to the board to provide drying and storage services at affordable costs and the pronouncement of Sh2,500 baseline for a 90kg bag of maize for the current harvest season.
They said the latest initiatives will protect cereal farmers who have been forced to dispose of their harvest at throwaway prices to brokers and middlemen because of lack of storage.
Farmers said Sh3 per 90kg bag storage charges per month is affordable to those who would wish to store their produce and sell when prices are favourable.
"We expect NCPB to implement the president's directives to the letter. It is a positive step that will enhance and preserve the quality of food to the population. It will also protect producers from exploitation," said Tom Korgoren.
Korgoren, a large-scale maize and wheat farmer from Uasin Gishu, said by supporting farmers, the government is creating more employment opportunities thus empowering a larger population.
Kimutai Kolum, another large-scale farmer from Uasin Gishu, said if implemented, the new measures will see maize prices stabilise at Sh3,000 per 90kg bag.
On Monday, Uhuru noted that Covid-19 had posed challenges to agriculture-based livelihoods and food security.
"To ensure our farmers are able to dry and sell their maize with minimal post-harvest losses, I direct that maize drying charges at NCPB be reviewed downwards by 50 per cent from the current Sh40 per moisture unit drop to Sh20," he said.