Kiraitu: Coffee farmers should not rely too much on state aid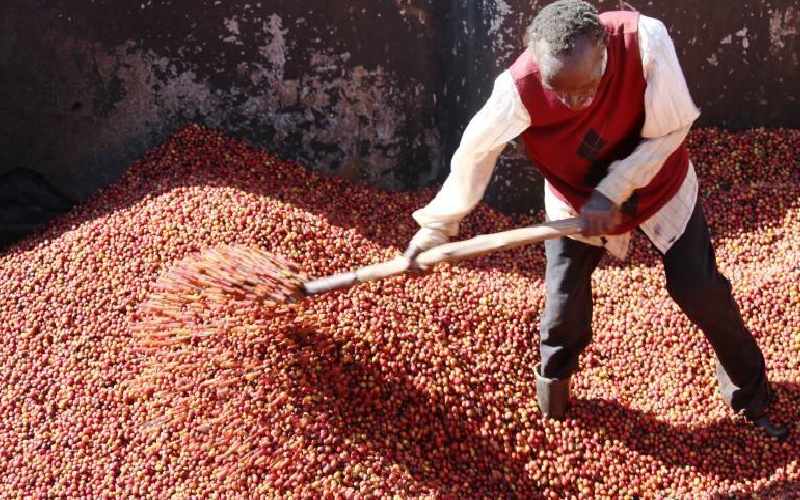 Coffee farmers must work as hard as tea and dairy farmers instead of relying on the national government to succeed, Meru Governor Kiraitu Murungi has said.
Visibly irritated by the wrangles and conflicts bedeviling the coffee sub-sector, Kiraitu said coffee farmers have to work hard to free themselves from dependence on the government.
He said dairy and tea farmers in Meru had been able to succeed and build their own processing plants, unlike their coffee counterparts.
"Coffee farmers have been favoured. You have heard the government gave them Sh3 billion. How much have dairy farmers been given? How much were tea farmers given? We have had this noise about coffee for 20 years. Unless the coffee farmer stops relying on government and concentrates on their produce like dairy farmers, this noise and theft will not stop," Kiraitu said.
Speaking when he addressed residents in Imenti, Kiraitu insisted that coffee farmers must become independent of the state like dairy and other farmers to succeed.
"There is no crop that is led by the government has succeeded. The tomato being harvested in Mwea, is the government telling them [farmers] what to do? I said if your tea is not bringing in money, you uproot and plant French beans. The farmer has freedom because you own the farm. You will farm according to how much income you get," Kiraitu said.
The governor said he and dairy farmers in Meru had worked hard, and even built a milk processing plant from their effort, in addition to the Kionyo Tea factory in South Imenti.
"Which government built the milk factory? Even the Kionyo tea factory, wasn't it built by farmers? Even coffee farmers will have to build their factories," said the county chief.
But Ayub Bundi, a coffee estate farmer who is also the Meru assembly leader, disagreed, saying coffee farming is different.
Bundi said coffee farming and marketing is a long process.
"Coffee farmers go through a long process before getting their money. The Sh3 billion Cherry Advance Fund is helping coffee farmers," said the Abothuguchi Central rep.
Speaking on Sunday during an interview on Weru TV, Deputy President William Ruto said farmers in the region had to diversify.
DP Ruto said, "We must seek alternative ways. In Rift Valley, many farmers are going into planting macadamia, avocado and other crops because they fetch good money. That is the plan that the Agriculture Ministry will pursue in Meru, to ensure they have crops that will sustain their livelihoods."
Want to get latest farming tips and videos?
Join Us