I overcame market stress to build poultry business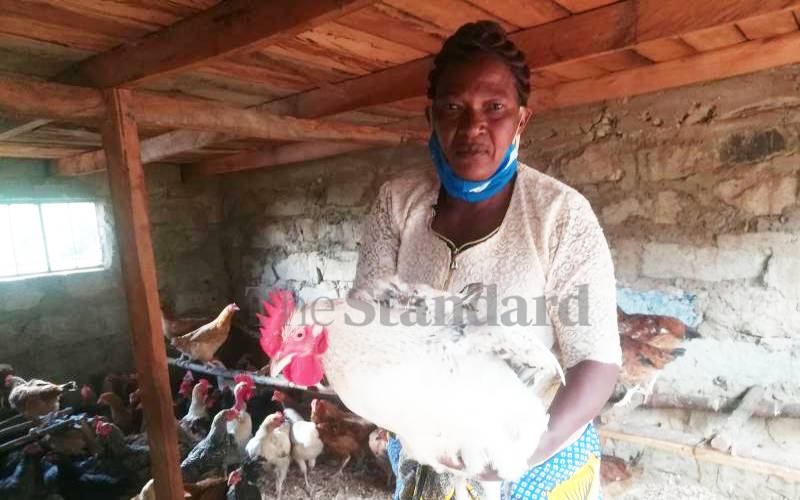 When the Smart Harvest and Technology team visits, Emma Mwania is feeding her chicken at her farm in Mathunya village, Machakos county. The mother of three quit maize crop farming to venture into poultry keeping few years ago.
Mwania, 50, started commercial poultry farming in 2013 when commercial chicken rearing was being introduced in the region by the County as a substitute for food crop farming.
To start off, she bought 50 day-old chicks from a local supplier. It was a baptism by fire experience.
"My husband and I sold three sacks of dry maize that we had harvested from our one-acre farm and used the Sh6,000 to buy the chicks," says Mwania.
Chicks died
Due to lack of knowledge on proper chick management, most of them died within a month.
"That did not dampen my spirit. Slowly I soldiered on. My other challenge was how to multiply my stock after the birds that survived started laying eggs. I had to outsource egg incubation service since I had not bought an incubator," she recalls.
Mwania engaged the services of a local trader in the nearby shopping centre that was doing eggs incubation business. That was almost a business suicidal move.
"I was very frustrated at this stage. I would deliver a consignment of about 300 eggs to the trader for incubation but only end up with only 50 chicks. The trader would claim most of my eggs were not fertile and that explains why they did not hatch. I highly doubted his word. I was recording losses after losses," she says.
Pushed to the edge, she made inquiries and was given contacts of another established dealer.
"From these episodes, I learnt the value of dealing with honest people. That setback would have driven me away from the venture if I were faint hearted," she says.
Despite the many challenges she faced while learning the ropes in the business, poultry farming turned out to be more profitable and reliable than maize growing.
Business expansion
Mwania later expanded her business by injecting Sh42,000 she received from a merry-go-round to restock the birds and buy commercial feeds. With the business starting to pick up, she ditched maize farming completely.
"It does not pay to till a small piece of land to plant maize and beans and rely on rainfall. Because of erratic weather patterns, rains always fail and crops dry up leaving households with no food to eat or sell. But chicken rearing will always pay off in season and out of season," she says.
Thanks to her hard work and determination, today, Mwania is one of the prominent poultry farmers in the area with more than 5,000 birds and a wide market network.
After securing two high capacity eggs incubators to boost production, she now sells hundreds of chicks every week to different customers in the area.
"My biggest setback now is the coronavirus pandemic which has cut most of my market outlets like hotels and restaurants. But I will not give up," she says.
Her husband, Alex Mwania has been putting up more housing structures to accommodate the increasing bird numbers.
"We are modifying the housing into storey structure to accommodate more birds," Mr Mwania says.
The couple says the venture has enabled them to educate their three children. "Our last born son is now doing his second year at Moi University while others have completed college and are employed," Mr Mwania says.
As a way to give back to the community, Mrs Mwania has been training several local groups on poultry rearing. They include Muuo Kwitu Mathunya CBO, Wendo Wa Masia women group, Muuo wa Syuuni and Kwitu ni Kwenyu women group.
Want to get latest farming tips and videos?
Join Us