Tea Sector lobby supports Coffee Bill 2020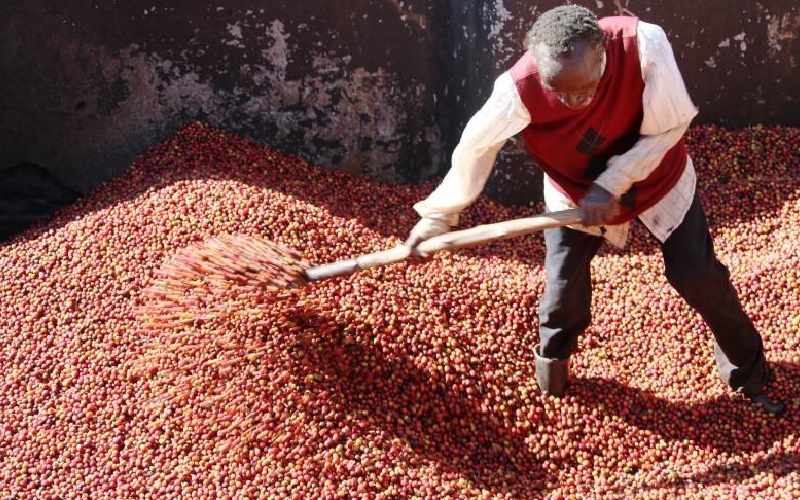 Tea and Coffee Sectors in Kenya are critical to the economy, with 32 counties growing coffee and 25 counties growing tea.
Some counties have both tea and coffee with Kiambu, Nyeri, Muranga, and Kirinyaga, accounting for more than 50 per cent of Kenyan coffee exports.
According to Kenya Tea Sector Lobby Group chairman Irungu Nyakera, despite being one of the leading export earners in the early 1990s, the production levels have declined to the current 750,000 bags per coffee year (0.2 per cent of global production).
He says about 95 per cent of Kenya's coffee is exported earning the country around Sh20 billion every year, with more than 800,000 households depending on coffee.
Similar to the tea sector, coffee farmers are facing a myriad of challenges; that require strategic industry interventions to make the coffee sector globally competitive and increase returns for farmers.
Nyakera said the coffee sector has suffered similar challenges to the tea sector; poor yields, low competitiveness, lack of corporate governance in sales and payments, and mismanagement of cooperative societies.
"The proposed Coffee Bill 2020 offers a lifeline to the sector, similar to what the Crop (Tea Industry) Regulations, 2020 did to the Tea Sector."
Kenyan farmers have smaller coffee farms compared to other East African growers, low productivity levels, underspend on fungicides leading to pest and disease attacks, overspend on-farm input due to poor agronomy practices, suffer supply chain inefficiencies, and most critical, suffer deep exploitation by middlemen, marketers, and cartels due to weak corporate governance.
The lobby chief said Kenyan farmers receive 19 per cent of what farmers in Brazil get in yields and the supply chain costs are three times higher than in Brazil.
The Ministry of Agriculture, through the Coffee Bill 2020 seeks to improve the fortunes of the Coffee farmer through various proposals that will streamline critical areas in the coffee value chain; production, processing, sales, and payments to farmers.
The bill proposes the establishment of a direct Settlement System (DSS) into which all sales will be made and payment made directly to farmers without involving middlemen.
Coffee sales will be done through the coffee auctions, with direct sales being validated against auction prices to ensure competitive pricing and outlaw borrowing by cooperative societies which have seen many go bankrupt.
Further, farmers will directly appoint their millers, with a requirement of at least three millers bidding, farmers must be present during the milling process, milling charges have been capped at $40 per tonne (currently $70) and milling losses have been capped to a maximum of 18 per cent (currently at 24 per cent).
Through the Act, the government is proposing the creation of a government cherry fund to lend to farmers and outlaw marketing agents from lending to farmers, revamping research and extension services aimed at improving farm yields, as well as creation of other governance structures to protect coffee farmers from the current rampant exploitation.
"The Kenya Tea Sector Lobby Group urges all coffee farmers and stakeholders to submit their input to the Coffee Bill 2020, before the November 18, 2020, deadline. A win for the coffee sector is good for the tea sector and the economy," Nyakera noted.
Want to get latest farming tips and videos?
Join Us