Pastoral community turn to farming for secure livelihoods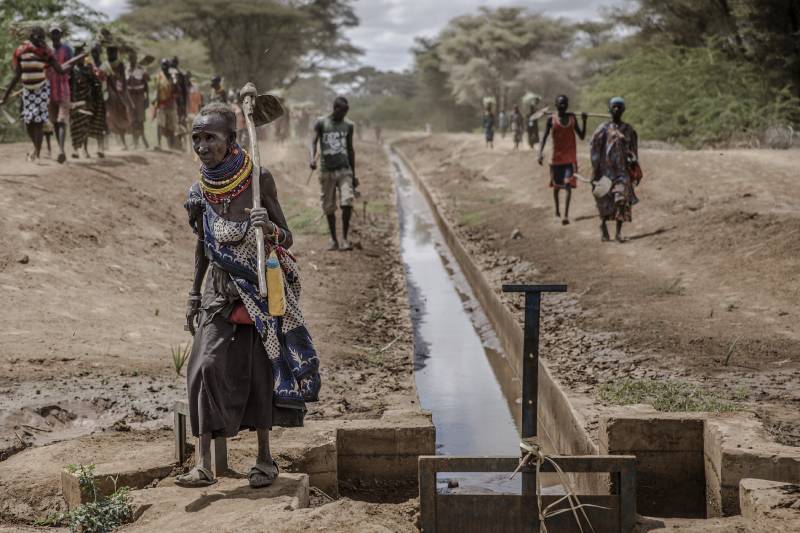 Northern Kenya – Turkana. It is just nine o'clock in the morning and we are sweating by the bucket loads in the sweltering heat.
Even in this heat, men, women boys and girls are hard at work to de-silting the canal after heavy rainfall the previous day that had sent sand filling in from upstream.
In synchronized moves, one shovel after another, the Nanyee Irrigation Scheme community fork out the sand.
In 2018, with funds from European Union, Food and Agriculture Organization in partnership with World Food Programme rehabilitated 1.2 kilometers of the irrigation canal.
It was a semi-permanent structure, which was a difficult task to de-silt when it rained. Many times the canal walls merged with the silt and had to be re-constructed.
Nanyee Irrigation Scheme is one of the nine irrigation schemes that were started by FAO in 1974, that uses water from Turkwell and Kerio River.
The group of 760 farmers were then trained on good agricultural practices, which they implemented on their 230 acres of land.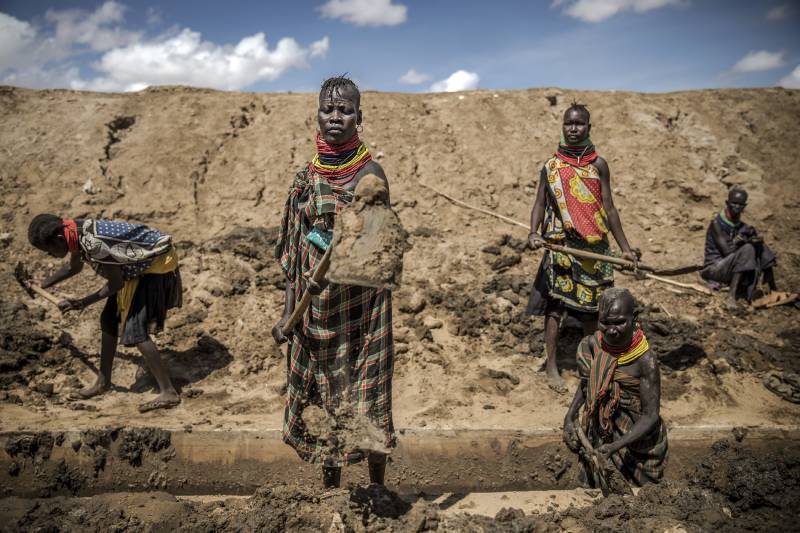 They planted green grams, cow peas, kales, tomatoes, capsicum, maize and sorghum. They had a 32% increase in productivity after the first phase of trainings and implementation. That first season, each farmer waked away with a minimum of 50-60 kilos of sorghum.
"For a long time we had believed that no food can grow here in Turkana. But with the irrigation schemes, we have been able to grow highly nutritive food that is resilient to the hot climate here, earn an income, as well as have a surplus to sustain us for some time," said Moses Tiyan, the chairperson of Nanyee Irrigation Scheme.
Turkana County has 51 irrigation schemes, and Nanyee was the only scheme with good crop productivity. Some of the green grammes harvested were sold in Lodwar, and the sorghum surplus was sold to the pastoralists who live 50 kilometers away.
The exceptional success of this irrigation scheme is attributed to the use of Trainer of Farmers who taught and kept close tabs of the farmer progress, as well as well-coordinated management of the canal by the community appointed officials.
"Our attitude towards farming and irrigation has completely changed. Before the training by FAO, we used to let cattle graze within the irrigation scheme. We now know there is money to be made, as well as sufficient and diverse foods to be grown. We still love our cattle and feed them on stalks post-harvest," adds the chairperson.
Want to get latest farming tips and videos?
Join Us