CS Munya launches liquid nitrogen substation to aid AI in Nyandarua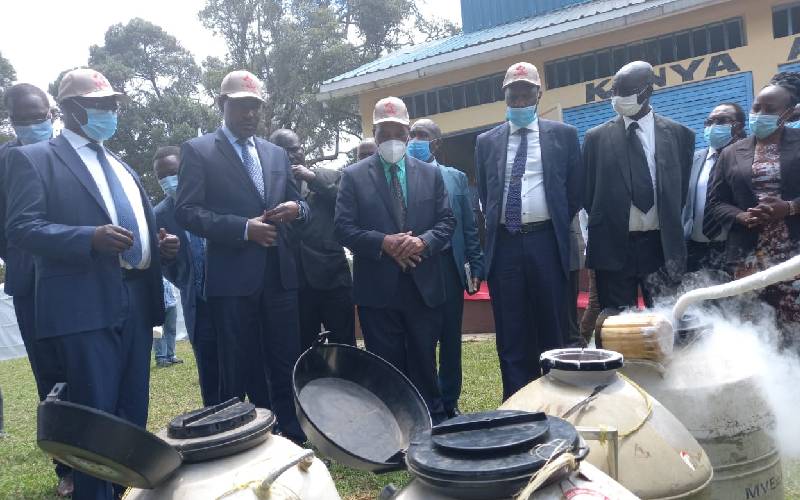 Agriculture Cabinet Secretary Peter Munya commissioned the Kenya Animal Resources Centre (KAGRC) liquid nitrogen substation at the Kenya Agricultural and Livestock Research Organisation at Oljoroorok, Nyandarua County.
The station will ease access to high-quality semen for Artificial Insemination (AI) to the residents of Nyandarua, Nakuru and Laikipia counties. These counties have been going for long distances to look for sexed semen.
The substation will have a capacity of more than 400,000 straws of semen preserved in the liquid nitrogen plant. This will reduce the cost of AI services for the residents.
It will also go a long way in improving the reproductivity of dairy cows in the said counties.
Additionally, the station will play host to young bulls that will be used for semen production for use across these counties.
The CS also donated 60 liquid nitrogen cans to the three counties (20 per county). Each can has a capacity of 9,000 sexed semen.
The cans will be issued to cooperative societies for use among members.
The CS was hosted by Nyandarua Governor Francis Kimemia and MPs from the three counties.
The Ministry of Agriculture has been on the frontline in the capacity building of farmers.
Previously, the ministry approved Sh60 million for infrastructure and laboratories at the Animal Health Training Institute (AHITI).
This comes as a huge boost especially to Nyandarua County which is a leading producer of milk in the country.
The county seems to have borrowed a leaf from Elgeyo Marakwet county.
Five years ago, Elgeyo Marakwet county administration in a bid to revive its waning dairy sector introduced subsidized Artificial Insemination (AI) services as a way of revitalising the fortunes.
Initially farmers relied on bulls to breed their cows resulting in rampant inbreeding, eventually lowering production in their livestock.
But the scenario is changing for the better as many farmers are recording increased milk production and superior breeds after embracing the 'sexed semen' AI technology initially accessed only by established dairy farmers.
Sexed semen, is 100 per cent sure to produce the female calf.
Interestingly farmers are christening their calves 'Tolgos' in gratitude of the area Governor Alex Tolgos bid to revamp the sector that was on its knees.
Patrick Kurui from Kabiemit ward narrated how bull breeding was the only option to farmers because the AI services was expensive.
"Like the majority of farmers around, I used to serve my cows with a bull, and they gave birth to bulls and also produced less milk. AI service was expensive to us, especially the sexed semen that would go up to Sh10,000, depending on the breed," he recalled.
Kurui said despite owning five lactating cows, they hardly produced eight litres of milk a day.
"I remember on several occasions I would get five litres to sell and my family sometimes went without consuming milk. But not anymore, because on a bad day the cows produce more than 50 litres of milk on a daily basis courtesy of AI services," he noted.
Another farmer, Samuel Kosgei, from Kamariny ward, said a milk chilling plant that was in the area was about to be relocated.
Want to get latest farming tips and videos?
Join Us