How deaf couple runs a thriving dairy farm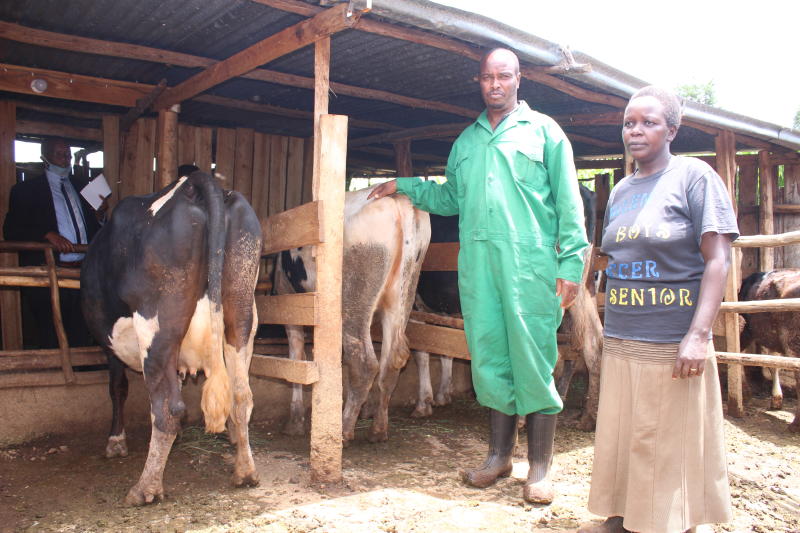 They say disability is not inability and one couple is proving this reality in Chepkolon village, Kericho County.
A hearing impairment has not stopped the couple David Langat and Caroline Langat from establishing a thriving dairy unit.
With limited resources and a fairly modest farm, the couple has demonstrated that with the right attitude and perseverance, one can run a profitable dairy unit.
"This farm sits on an acre and here we have managed to establish our dairy farm that is our main source of income. It is also a source of inspiration for other persons living with disability," says David through sign a language interpreter.
The journey started five years ago, after Mrs Langat took a Sh400,000 loan to start the dairy project.
Before they launched the project that was fairly new in a predominantly tea growing area, Langat says he noticed that villagers were walking several Kilometres in search of milk for home use.
"Most people are tea farmers and few keep dairy despite the huge demand for milk. I saw that opportunity and milked it," he says.
Never give up
Given that he was venturing into new ground, when he was starting off, many locals discouraged him from taking such a risk but he ignored them and soldiered on.
To avoid venturing out blindly, he embarked on extensive research both online and visiting expos to learn more about dairy keeping.
When they were ready to start he travelled to Githunguri in Kiambu to buy Fresian cows, which were going for Sh150,000.
Githunguri is known to be home of dairy farming hosting veterans and while he was there he took advantage to also learn best practise from them.
Disease management
"I learnt about disease management, feeds formulation, disease control and how to boost milk production lessons which have steered my project to greater heights."
Fresian cows are heavy feeders and once he brought the animals to the farm, it was obvious that buying commercial feeds would prove a challenge.
To supplement the commercial feeds, he started to grow Boma Rhodes and nappier grass on an acre of their farm.
On average, his cows produce 50 litres of milk daily which he sells to local dairies and individual farmers.
He sells the milk at Sh30 per litre. Lucky for him, market is not a challenge because neighbours flock the farm every day to buy milk.
On a good month, they make a profit of Sh45,000, an amount he says is more than what he used to get from tea farming.
Like all ventures, challenges abound.
Other than the high cost of buying commercial feeds, he also misses the services of Agricultural extension officers who offer advice on breeding, artificial insemination and disease control.
To improve his craft, Langat says he relies heavily on online research and agricultural expos which he attends religiously.
"Because calling in a veterinary doctor is expensive, I have learnt to research online whenever I need to learn something new. One of the skills I am learning online is feeds formulation," he says.
Once in a while, his dairies get mastitis which he says is costly to treat.
But to keep such incidences minimal, he maintains high hygiene standards at the farm particularly the milking sheds.
"My wife and I clean the cow pens morning and evening to keep away flies that bring diseases. When milking the cows, we also ensure that the person doing it has clean hands and also thoroughly cleans the cow's teats," Langat explains.
To boot milking production, the farmer says the secret is in keeping the animals happy and comfortable.
Milking tips
Research shows that a cow that feels stressed will release adrenaline which in turn inhibits the release of oxytocin, the hormone which stimulates milk let down.
"To create a peaceful environment, when milking, I keep calm and I always maintain consistency so I keep the milking routine as close to the same as possible for each milking."
Though dairy farming has been a source of pain for many farmers, for Langat it is still a worthy investment.
"With money from this project, I pay school fees for our children and do other development projects," he says.
The 40-year-old who also teaches at St Kizito School for the deaf in Kericho County, plans to tap into value addition.
To achieve that goal, the couple is researching on how to make affordable yoghurt.
Want to get latest farming tips and videos?
Join Us