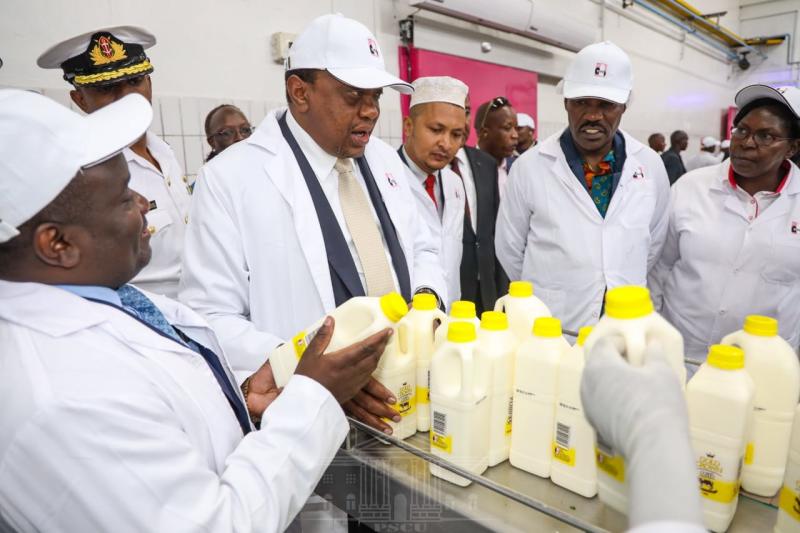 Trade Cabinet Secretary Peter Munya has moved into action to reverse the possible catastrophic collapse of the dairy sector following a sharp price decline of producer milk prices that have led­ farmers gasping for alternative investment.
However, Munya's interventions will first benefit the processors who are then expected to pass those benefits to the farmers, meaning a longer wait for the squeezed producers.
The proposed measures are therefore not expected to offer an immediate solution to an industry already in shock and which has exposed the weakness of the government's own food security policy, that now punishes farmers when they produce more and rewards them when they produce less.
Top among the new measures is that all of the Export Processing Zone (EPZ) companies that use milk as a raw material for manufacturing must buy the produce locally. The effectiveness of this directive will be seen if its enforcement will be helped by the fact that EPZs fall under Munya's ministry.
"There are several companies we have licensed in our EPZ that import powdered milk to produce fortified foods and other products. They must also obey the Buy Kenya Build Kenya policy unless the product is not available in the country," he said.
EPZ companies mostly buy powdered milk. The key beneficiary may be the New KCC when has admitted of holding stocks of powdered milk worth Sh1 billion because its clients in Africa and the Middle East are buying the same milk at cheaper prices from other markets. The question will be whether the processor will discount the price for the EPZs that will be forced to buy locally.
The second measure is the banning of all powdered milk imports by various government agencies in order to clear the stocks of local processors.
"Most Government agencies are importing powdered milk when we have surplus locally produced powdered milk. We will ensure that any government agency is buying food and especially milk. They must procure locally if it's available," Munya said.
He noted that major producers of powdered milk in the country like Brookside and the New KCC is not currently supplying the commodity to any government agencies.
The CS noted that the move is part of the government enforcement of the Local Content Policy "Buy Kenya Build Kenya" saying that it's a major policy shift that will help expand the milk market in the country and help farmers earn more from their products.
"If we are enforcing the policy on uniforms and leather products in our forces and government institutions, why can't we enforce the same on our milk for the benefit of our farmers and the country's economy?" the CS posed.
The third measure is to send a verification mission to Uganda to ascertain if truly the milk that is coming from that country is locally manufactured.
The East Africa Community (EAC) has a common market agreement which allows most of the goods and services to be sold without being levied duty in other member countries as long as at least 75 percent of such goods have been manufactured in the exporting country.
"We want to ensure that there's a level playing field so that if products from Kenya going to other markets are attracting Value Added Tax (VAT), either we too impose VAT or the VAT be removed from our products because that's what the rules and regulations of the E.A Community dictate," Munya said.
Munya revealed a shocking statistic that half of the dairy market in Kenya is dominated by imports. He, however, cautioned that dairy imports are not just from Uganda.
"Some rogue importers have been bringing in dairy milk including liquid and powdered milk from other countries," said Munya while speaking at an event to reward top dairy farmers by Brookside.
"We have government officials that are allowing milk imports from outside East Africa is not paid for duty."
Documents presented to parliament by Livestock Principal Secretary Harry Kimutai showed that Kenya is currently producing 5.6 billion litres of milk and consumes 5.17 billion litres, meaning there is a leftover of about 430 million litres.
Yet, the government still allows imports of 120 million litres from the East African Community and two million litres from non-EAC members. This means that the country has excess milk of more than 550 million litres.
If Munya's statement regarding the domination of the local milk market by illegal imports its true, it means that the actual imports of milk are in their billions and not as captured by the official records.
Further, even by going by official records, the challenge appears to be Uganda imported milk which is hitting Kenya shelves at a highly discounted consumer price. This has been attributed by the ministry officials to the low cost of production in Uganda at the equivalent of Kenya shilling 12 compared to local's Sh20 per litre.
In our previous series of stories regarding the status of the dairy industry, dairy farmers called on the government to remove taxes on raw materials used to make animal feeds in order to significantly lower the cost of production and be able to compete with imports.
Devastating
"If we do not act now, this sector will collapse just like others that have collapsed before," Munya said in a parting shot.
To get the gravity of the matter, the Kenya Economic Survey shows that the marketed value of all milk in Kenya was Sh22 billion, supporting more than 2.5 million small scale farmers.