From sunflower, I have expanded my venture to dairy and poultry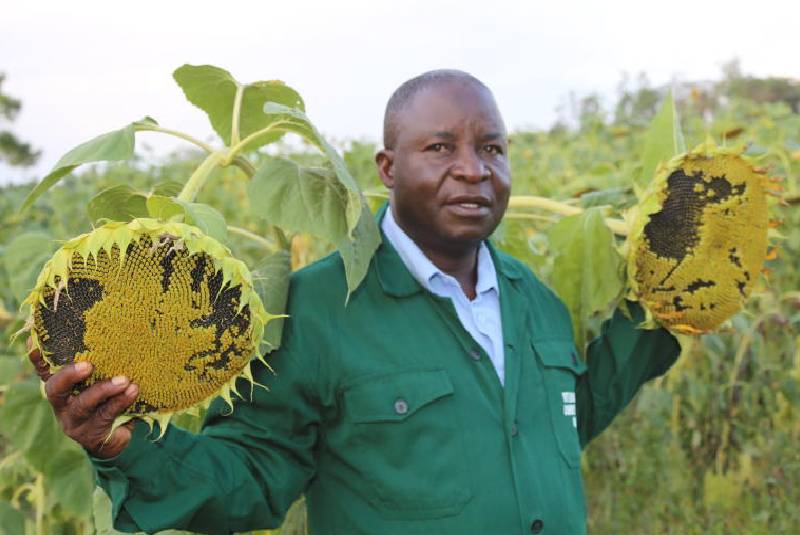 Fed up with low returns from sugarcane and maize farming, some farmers are embracing more promising ventures - sunflower farming.
Vincent Wechabe, from Kimatuni in Bungoma County, is one of such farmers.
Mr Wechabe, the Agricultural Sector Development Support Programme Coordinator in Bungoma County, says he did his math and research and it was clear sunflower had better prospects.
Wechabe had planted 6-acre parcel of land with sugarcane in 2013 and upon harvesting by Mumias Sugar Company in 2014, he was to get a gross of Sh525,000 but ended up with a partly Sh79,000 as net pay.
"They told me they had deducted a total of Sh446,000 to repay the loan they had advanced to me in form of fertiliser, ploughing and transport. I was very disappointed," he says.
In early 2016, they harvested cane again but this time round, he was to get Sh490,000 and after deductions, he received Sh228,000.
"I uprooted the canes and started thinking of Plan B."
Wechabe then ventured into sunflower farming and planted just two acres out of the six-acre parcel of land. After two and a half months, he harvested 20 bags of sunflower.
"I took my produce to Mabanga Agricultural Training Centre in Bungoma and crushed it. One bag of 50 kilos produced between 20-25 litres and sold a litre of sunflower at Sh300," says Wechabe.
Going by the statistics, if a 50 kilo bag produced 25 litres of sunflower oil, then he got 500 litres and upon selling it at Sh300 a litre, he got Sh150,000 in total.
The ASDSP coordinator says he was motivated by what he got after selling the sunflower oil locally, adding that he now planted the entire 6 acres in 2018 and got over 70 bags of sunflower.
Wechabe says he got a ready market for his sunflower oil from local secondary schools, government institutions and locals.
He says locals prefer sunflower oil compared to solid cooking oil since its cholesterol-free.
Sunflower cooking oil is a good source of protein, potassium, iron, phosphorus, calcium, iodine, magnesium, and vitamins B, C, and E.
He says the cost of production in sunflower farming is manageable compared to cane and maize farming.
"I am asking farmers from Western Kenya to embrace sunflower farming as it is viable and profitable."
"After crashing the sunflower seeds, the husks I use them to feed my dairy animals after mixing it with maize germ which has high nutrition value to animals. I also feed my poultry with the husks," says Wechabe.
From his profits he has bought three dairy animals, 500 indigenous chicken and is running his own restaurant. He also has 1,000 fingerlings in his fish pond.
Want to get latest farming tips and videos?
Join Us