Reality Check: Two presidents, two Coronavirus 'cures'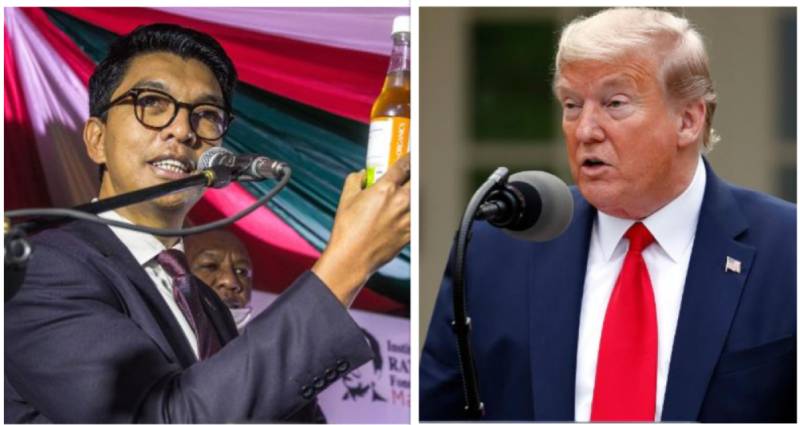 The rapid spread of Coronavirus has led several countries to device means on how to deal with the infection that has affected five million people in just five months.
Figures from the World Health Organisation on Saturday showed over five million people had been infected and a total of 342,122 fatalities recorded.
As the numbers continue increasing, the global health body has raised concerns that the coronavirus pandemic is a long way from being over.
With no vaccine available, two malarial drugs, hydroxychloroquine and a herbal mixture, Covid Organics (CVO), have come to the fore in recent weeks over claims that they could help combat the virus - even as their efficacy is hotly debated.
The two drugs have been hyped by US President Donald Trump and President Andry Rajoelina of Madagascar.
Some countries have opted to use the "cures" despite the global health body warning against their usage.
Is Hydroxychloroquine effective?
There has been widespread speculation about whether hydroxychloroquine and chloroquine could help coronavirus patients.
The drugs are approved by the Food and Drug Administration (FDA) of the USA to treat malaria, autoimmune conditions such as chronic discoid lupus erythematosus, systemic lupus erythematosus in adults, and rheumatoid arthritis.
But US President Donald Trump has continuously touted hydroxychloroquine use as a preventive and treatment for Covid-19.
The US president says he is taking the malaria drug as a defense against Covid-19 – despite warnings by doctors that it is dangerous and does not work against coronavirus.
Trump says hydroxychloroquine shows "tremendous promise" ignoring FDA's warning.
FDA issued a safety warning on April 24 on its website that "cautions against the use of hydroxychloroquine or chloroquine for Covid-19 outside of the hospital setting or a clinical trial due to risk of heart rhythm problems."
Trump also dismissed a study published by Veteran Affairs that had found that hydroxychloroquine had not benefited coronavirus patients.
He claimed the study was done by "obviously not friends of the administration" who wanted to "make political points."
The study posted on April 21 also showed an increased risk of death associated with Covid-19 patients treated with hydroxychloroquine alone.
But several countries have since adopted the use of the drug in a desperate move to end the pandemic.
Brazil's health ministry on Wednesday issued new guidelines for wider use of the drug in mild coronavirus cases. The treatment has been touted by President Jair Bolsonaro in defiance of public health experts.
On Friday, Brazil overtook Russia to be second to the USA which has the greatest of Covid-19 infections in the world.
It recorded 330,890 infections and 21,048 deaths while Russia had 326,888 infections and 3200 deaths.
USA infections stood at over 1.6 million with over 96,000 deaths.
Last month, Kenya's Health Ministry Acting Director-General Dr Patrick Amoth said that the government was planning to adopt the use of hydroxychloroquine since it had yielded good results in some countries like the US. He said it could be helpful but dangerous for Covid-19 patients with heart problems.
On Thursday, British healthcare workers began taking part in a University of Oxford-led international trial of chloroquine and hydroxychloroquine anti-malarial drugs to see if they could prevent Covid-19.
According to Reuters, the 'COPCOV' study will involve more than 40,000 frontline healthcare workers from Europe, Africa, Asia and South America to determine if the drugs are effective in preventing coronavirus.
Reuters reported that in Europe and Africa participants will receive either hydroxychloroquine or a placebo for three months. In Asia, they will receive either chloroquine or a placebo. The results are expected by the end of this year.
Will Covid Organics yield results?
Madagascar President Andry Rajoelina officially launched herbal drink, Covid Organics (CVO) last month claiming that it can prevent and cure patients infected with Coronavirus.
"Let's drink this herbal tea to protect ourselves, to protect our family and our neighbours," Rajoelina said, adding that the drink produces results in just seven days.
The drink was developed by the Malagasy Institute of Applied Research. The institute said the herbal tea is produced from Artemisia, a plant with proven efficacy against malaria.
Al Jazeera television reported that the plant was first imported into the island nation in the 1970s from China to treat malaria.
The WHO said the drink should be tested to see if it is effective as there was no evidence the drink works.
''WHO welcomes every opportunity to collaborate with countries and researchers to develop new therapies and encourages such collaboration for the development of effective and safe therapies for Africa and the world,'' it said in a statement.
Tanzania, Liberia, Equatorial Guinea and Guinea-Bissau have placed orders or have already received consignments of the herbal drug.
Tanzanian President John Magufuli on March 10 said he was dispatching a plane to Madagascar to collect the drug.
Nigeria, on the other hand, has received a share of the purported Coronavirus herbal cure.
Nigerian President Muhammadu Buhari ordered that the consignment be sent to the necessary regulatory bodies for tests before a decision on administering is made.
"We have our institutions, systems and processes in the country. Any such formulations should be sent to them for verification. I will not put it to use without the endorsement of our institutions," he said.