Explainer: Understanding the bird that flew from Finland to Siaya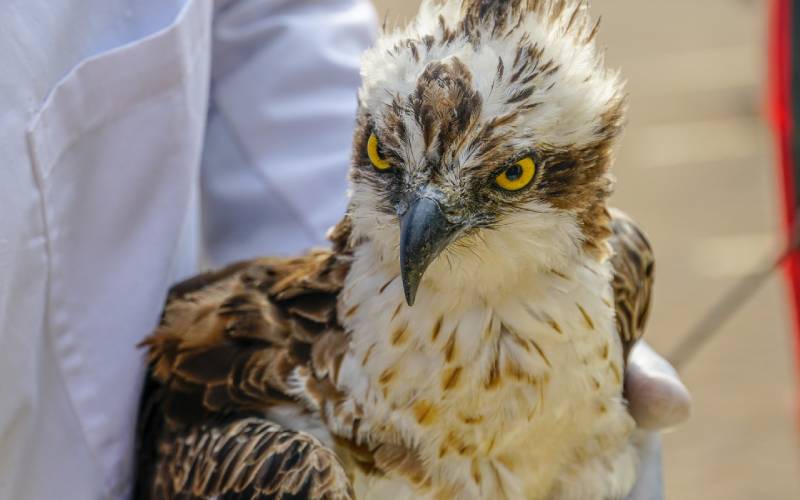 Without a visa but love from Helinski, Finland, a distinctively shaped hawk landed in Usalu village, Bondo sub-county, Siaya.
Walter Oloo spotted the slim bird with long narrow wings and raptor eyes on January 20. He alerted the Kenya Wildlife Service in Siaya, KWS Director of Communications Paul Udoto said.
The bird caught by a fishing net was confirmed to be an Osprey.
"It had some bruises on the leg but it appears healthy. Although, it lost some weight and is dehydrated," said Udoto.
He told Standard Digital that the 950-gram bird is receiving treatment and care at Raptor Centre in Karen, Nairobi.
"It will be stabilised by administering fluids and provided proper diet (mainly fish), then monitored until it regains its weight."
The Osprey is widely distributed across the world but mostly found in North America, Northern Europe, Asia and around the coast of Australia.
The Osprey bird spotted in Siaya was ringed in eastern Finland in June 2017.
So why did the bird leave Finland to cover a distance of 6, 948 kilometres to land to the Nyanza region?
Ospreys are migratory birds. There are two major reasons that explain their migration.
They, primarily, move from one place to another depending on weather patterns and travel 'for holidays' after their breeding seasons.
Mr Udoto says the bird might have come to Kenya to take a break from the winter season in Europe.
"Just like tourists come to Kenya to enjoy the sun, ospreys among other bird species migrate to tropical countries in winter. The bird was probably flying to the southern hemisphere in which Kenya lies along," he said.
Udoto said that the bird captured in Siaya will be released after treatment before the migration season towards North starts in early March.
The National Geographic writes: "Most ospreys are migratory birds that breed in the north and migrate south for the winter."
According to the Royal Society for the Protection of Birds (RSPB), ospreys travel during the day and make stopovers at their favourite feeding sites along the way where they can stay for up to a week.
RSPB says that each bird travels alone and follows its own route- probably explaining why the bird was spotted in Bondo alone.
The birds' protective agency has experimented how long ospreys would fly.
"These birds travel an average distance of 6,7000 kilometres at a rate of roughly 260 km per day, taking an average of 45 days to complete their journeys," said RSPB.
Ospreys feed on fish and they are termed as the 'greatest fishermen' on earth due to their fish hunting skills. They were once dubbed "fish hawks."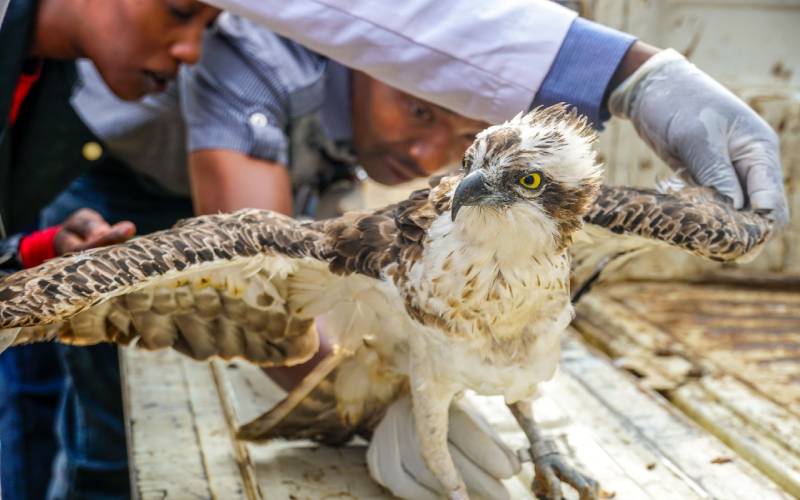 According to NatGeo, they hunt by making shallow dives from the water surface between 30 and 100 feet up.
"They have gripping pads on their feet to help them pluck fish from the water with their curved claws and carry them for great distances. In-flight, ospreys will orient the fish headfirst to ease wind resistance," writes NatGeo.
Various journals write that most Ospreys nest nearby freshwater lakes. This might explain why the bird was spotted at Lake Victoria.
Ring on the leg
The osprey bird caught in Siaya had a metallic silver ring on its left leg which had a unique number and an address indicating that the bird was from Museum Zool in Finland.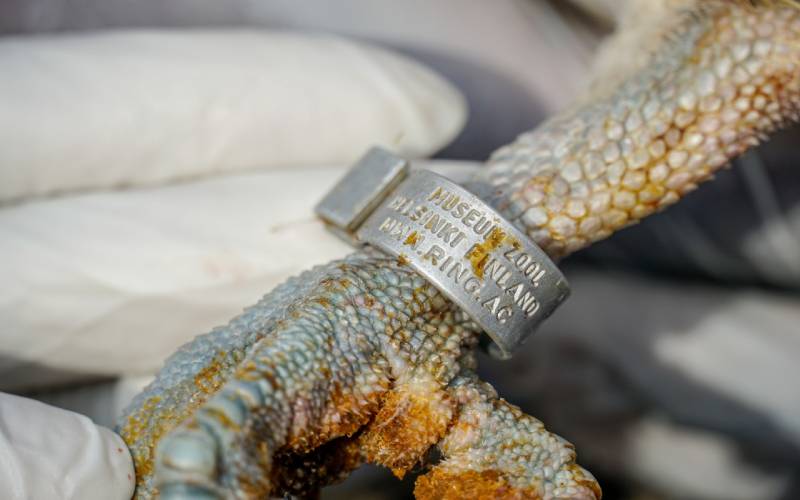 Udoto ruled out the chances of the ring being a satellite tracker as opined by some curious people online. He said the bird was ringed so that its finders would send the details to the organization.
"There is a website where you can enter the details on the ring and you will be directed what to do with the bird. It cannot be a satellite tracker because the trackers put on birds are not metallic," he said
The British Trust for Ornithology (BTO) notes that some ospreys have another plastic ring known as a Darvic ring which can be viewed from a distance with binoculars or a scope.
Ospreys' satellite tracker consists of a small solar-powered backpacks attached to their back and Teflon straps that are connected across a plastic template on the chest.
The straps are stitched together with hemp thread to hold the backpack securely and comfortably in place.