'Soul Boy' Shines at Africa Movie Awards
Local film industry is getting recognition beyond our borders as witnessed by GEORGE ORIDO during the prestigious African Movie Awards in Nigeria
Kenya's Soul Boy directed by Hawa Essuman bagged the Best Edited film in the star-studded Africa Movie Academy Awards (Amaa) held amid pomp and colour in Yenagoa City, Bayelsa State Nigeria.
The award was a face-saver for Kenyan film who had landed nine nominations with eleven actors, filmmakers and journalists present in the imposing Gloryland Cultural Centre in the heart of Yenagoa City, Bayelsa Sate.
Receiving the coveted award on behalf of the editor Ngethe Gitungo, Kenyan filmmaker Rita Wacera thanked the Amaa judges for recognising the dedication and creativity that the postproduction team had put in the film.
"This is a great honour to Kenya's growing command in the technical arena of filmmaking," she said amid deafening applause of 2000-packed auditorium.
Soul Boy had six nominations at the Amaaa, including Best Film, Best Director, and Best Screenplay.
The film beat a host of other nominees, including Izulu Lami (South Africa), Sinking Sands (Ghana), Hopeville, Tango With Me, and Viva Riva Riva (DRC).
Soul Boy is about a 14-year-old Abila who lives with his parents in Kibera slums in Kenya.
One morning the teenager discovers his father ill and delirious. Someone has stolen his soul and Abila is shocked and confused but wants to help his father and goes in search of a suitable cure.
Movie plot
Supported by his peer friend Shiku, he learns that his father has gambled his soul away in the company of a spiritual woman.
The teenager doesn't want to believe it and sets about looking for the witch.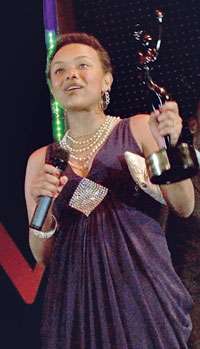 Rita Wacera receiving the Best Film Award for editing awarded to Kenya's Soul Boy during the Africa Movie Academy Awards [PHOTOS: GEORGE ORIDO/STANDARD]
Nigerian silver screen star actresses Genevieve Nnaji and Omoni Oboli who were up against each other in the Best Actress in Leading Role category for the movies Tango with Me and Anchor Baby respectively, lost out to Congolese Manie Malone for the movie Viva Riva.
Aramotu snatched Naija's given award in Best Nigerian film category.
The Nigerian Government aimed at injecting competition and motivation among Nollywood players endows the special prize.
Kenya swept the podium in 2009 with From a Whisper by Wanuri Kahiu, there were loud grumbling and whining about a foreign country scooping awards at a Nigerian home grown event.
Yet the Amaa 2011 decision vindicates Amaa as true African Oscar where merit counts.
The ambers of Nigerian politics with respect to the coming elections found some fan at the huge gathering with the incumbent Bayelsa State Governor Silver asking for votes for President Goodluck Jonathan who he described as 'a true son of Bayelsa."
Amaa founder and President Peace Anyiam also endorsed Mr Goodluck Jonathan for present and in her remarks challenged filmmakers in Africa and in the Diaspora to explore more stories that truly and positively project the continent.
Ms Peace expressed her desire to have Kenya host the Amaa Award ceremony in Nairobi in 2012 after the country hosted this year's nomination.
"I will be coming to Nairobi next month and talk to all film stakeholders, Government and corporate with the view to working out a strategy," she said, at the Best Western Hotel in Lagos when seeing off the Kenyan delegation.
Attack opinion polls with credible evidence
It is disheartening when politicians who should know better seek to gag information crucial to the public simply because it is not flattering. Vice-President Kalonzo Musyoka should back up with evidence his claim that the latest opinion poll released by a research firm is biased.