Home
/
Easy recipe: Delicious goat rice 'pilaf'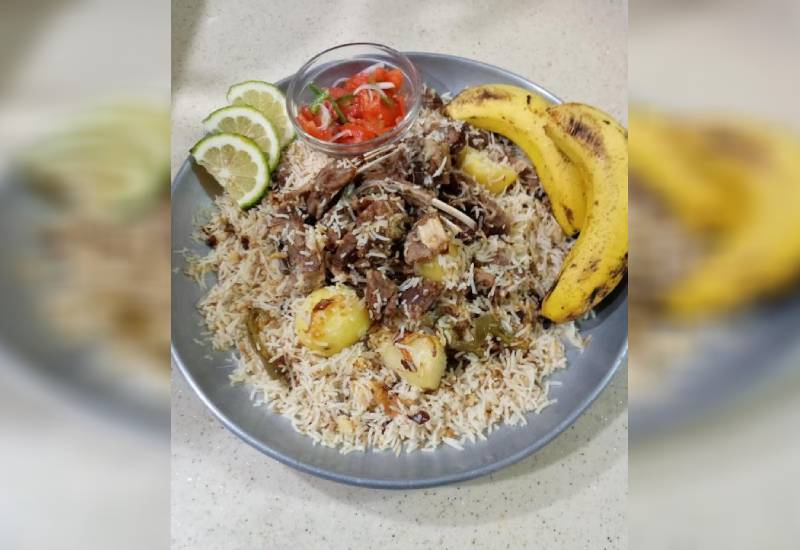 Goat rice 'pilaf' is a delicious meal. It has flavours from goat broth, fried onions and capsicum and is easy to make.
What you need:
1 and a half kg goat meat, cut into chunks
1 tablespoon ginger, minced
Half cup vinegar
2 tablespoons oil
3 onions, sliced
1 capsicum, sliced
1 tablespoon pilau mix
2 cloves of garlic
Half kg potatoes, halved
4 cups water
2 cups basmati rice
Salt to taste
What to do:
Put the meat in a pot and boil over medium heat. Throw in the ginger mince and vinegar and cook until the meat is soft. Once cooked, set aside.
In a separate pan add in the oil and sauté the onions and capsicum until golden brown.
Now pound the pilau mix and garlic in a mortar and pestle and add into the onion mixture. Mix well, then add in the potatoes so that they can get flavour from the onions.
Once the potatoes are covered with onions put them in the meat mixture, separate from the onions and capsicum.
Add the rice into the meat mixture, and stir. Pour in the water and season with salt and bring to a boil.
Once the liquid is almost evaporated throw in the fried onions and capsicum mixture on top of the rice.
Cover with a tight lid and set the heat to low. Let it steam for about 15 minutes or until the rice is fluffy. Enjoy with kachumbari and ripe bananas.
Related Topics