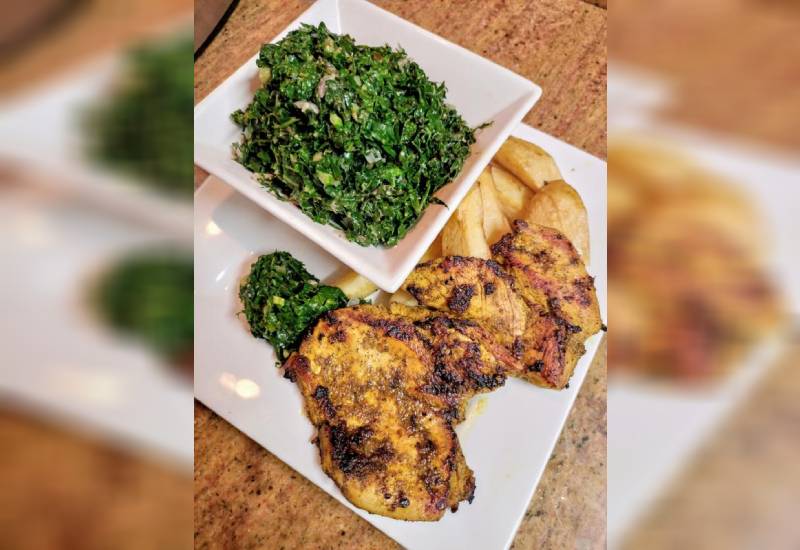 What you will need:
2 boneless chicken breast
2 tablespoons vinegar
1 teaspoon garlic ginger minced
1 tablespoon chopped rosemary
Salt to taste
2 tablespoon Oil
1 chicken cube
1 teaspoon turmeric powder
1 teaspoon black Pepper
Juice of one lime
What to do:
Pound the chicken breast into a flat thin layer, marinate with garlic ginger mince, turmeric powder, black pepper, salt and rosemary.
Crumble in the chicken cube, add in the vinegar and lime juice, mix well so that the marinade will soak on the chicken. Set it aside for about an hour so the flavours will infuse well.
Once the chicken breast is well marinated, get a non-stick pan and, over medium heat, add in the oil.
Pan sear the chicken about three minutes on each side or until golden brown, serve with creamed spinach and some fried cassava.
READ MORE
Tip: How to pound chicken breast
Place a single breast in a plastic zip-top bag, removing as much air as possible and sealing before pounding.
You can use almost any heavy, flat object to pound the breast a skillet, a meat mallet, even an empty glass bottle.
To make the spinach:
1 bunch spinach shredded
2 tomatoes diced
1 onion sliced
1/2 cup cooking cream
2 beef cubes
What to do:
In a separate wok over medium heat, add half a tablespoon of oil.
Add the onions and sauté until soft. Add the diced tomatoes, crumble the beef cubes, mix well.
Add the shredded spinach. Cook for about 5 minutes or until the Sukuma is soft and has reduced in size or shrink add in the cooking cream, cook for another 2 minutes adjust seasoning with salt if you wish and serve with the chicken.